Avid U-M supporters establish McLelland Endowed Professorship at the School of Nursing to address nursing's role in health equity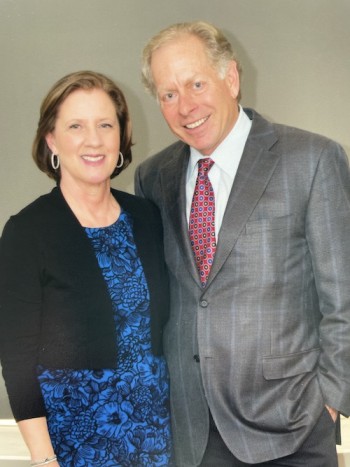 The University of Michigan (U-M) School of Nursing today announced that Mike (MBA '79) and Nancy (LSA '75, MBA '79) McLelland, longtime financial supporters of student scholarship at the University, have established the McLelland Endowed Professorship. The McLellands' gift establishing the new professorship will empower the School of Nursing to support a faculty member who conducts research that is focused on health equity and move the School's mission of providing healthcare for all forward.
Nancy McLelland is a member of the Board of Directors of Community Volunteers in Medicine, an organization in the McLellands' community that works to provide free medical and dental care to people without insurance. Her experience working with the organization helped inform her and Mike's decision to support research related to health equity.
"We see it on a daily basis," said Nancy McLelland, "How important it is to be able to provide quality healthcare to everyone and how it is unavailable to so many people."
U-M School of Nursing Dean Patricia D. Hurn believes the establishment of the McLelland Endowed Professorship is coming at a critical time for nursing and healthcare as whole.
"Since the McLellands first began supporting our School in 2007, it has been apparent to me that they have a really clear understanding of the role nurses can play in leading the transformation of healthcare," commented Hurn. "Mike and Nancy [McLelland] have done so much already in support of nursing students. Having their support with an endowed professorship will allow us to strengthen our faculty research in the area of health equity and move toward our goal of improving healthcare for all on several fronts."
In 2007, Mike and Nancy established the McLelland Memorial Fund to support need-based scholarships for students interested in attending the U-M School of Nursing. They were inspired to establish the fund by their belief that education is the key to making the American Dream more accessible, and their love for two family members who were nurses. The fund honors Nancy's late sister, Kathleen Harris Green (BSN '74), and Mike's late mother, Betty McLelland, for their love and dedication to the nursing profession. Since establishing this fund, they have helped a multitude of students achieve their goal of becoming a Michigan Nurse, while also supporting several other important initiatives at the School of Nursing, including the construction of an 80-seat interactive classroom in the School's state-of-the-art facility opened in 2015.
"As we look at philanthropic opportunities, the Nursing School is a perfect fit with our giving priorities," said Mike McLelland. "The simple reality is that the world needs more good nurses."