Patricia D. Hurn, PhD, RN, FAAN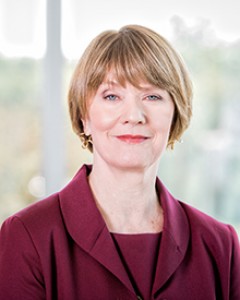 Dean and Professor
Suite 1320 NURS1
University of Michigan School of Nursing
400 North Ingalls Building
Ann Arbor, MI 48109-5482
Telephone: (734) 764-7185
Fax: (734) 764-7186
Interests
Brain injury
Stroke in women
Interdisciplinary biomedical research and innovation
Dr. Hurn is internationally known for her work in understanding the cellular and molecular basis of gender differences in response to experimental brain injury. Dr. Hurn has been the principal investigator on more than $20 million in grant-supported research as well as the co-investigator or collaborator on many other research projects.
Her leadership work focuses on collaborative bio-health research models, science education innovation and research technologies. She is an internationally recognized researcher on stroke and other neurological conditions and directs an interdisciplinary research laboratory that conducts biomedical research and applies findings to point-of-care patient applications. She joined UMSN from the University of Texas System, where she was vice chancellor for research and innovation and executive officer.
Notable Awards / Honors
Fellow, American Academy of Nursing, 2017
The Thomas Willis Award for Basic Science, American Stroke Association/American Heart Association, 2014
Oregon Health and Science University Technology Innovation Award; Recombinant Molecules for Stroke, 2011
Oregon Health and Science University Faculty Senate Distinguished Faculty Award for Outstanding Collaboration, 2010
Norma J. Shoemaker Award for Excellence in Critical Care Nursing, Society for Critical Care Medicine, 2001
Education
PhD, Johns Hopkins University, 1990
MN, University of Washington, 1981
BSN, University of Florida, 1974
Publication Highlights
Palmateer J, Pan J, Pandya A, Martin L, Kumar S, Ofomata A, Jones TA, Gore AC, Schallert T, and Hurn PD. Ultrasonic vocalization in murine experimental stroke: A mechanistic model of aphasia. Restor Neurol Neurosci. 2016 Jan;34(2):287-95. PMID: 26889967. doi: 10.3233/RNN-150583

Zhang W1, Cheng J, Vagnerova K, Ivashkova Y, Young J, Cornea A, Grafe MR, Murphy SJ, Hurn PD, and Brambrink AM. Effects of androgens on early post-ischemic neurogenesis in mice. Transl Stroke Res. 2014 Apr;5(2):301-11. PMID: 24323721. [Epub 2013 Nov 11].

Pan J, Palmateer J, Schallert T, Hart M, Pandya A, Vandenbark AA, Offner H, and Hurn PD. Novel Humanized Recombinant T Cell Receptor Ligands Protect the Female Brain After Experimental Stroke. Transl Stroke Res. 2014 Oct;5(5):577-85. PMCID: PMC4121525.

Hurn PD. 2014 Thomas Willis Award Lecture: Sex, Stroke and Innovation. Stroke. 2014 Dec;45(12):3725-9. PMCID: PMC4245388.

Ren X, Akiyoshi K, Grafe MR, Vandenbark AA, Hurn PD, Herson PS, and Offner H. Myelin specific cells infiltrate MCAO lesions and exacerbate stroke severity. Metab Brain Dis. 2012 Mar;27(1):7-15. PMCID: PMC3270145. [Epub 2011 Oct 12.]

Offner, H, Hurn, PD. A Novel Hypothesis: Regulatory B Lymphocytes Shape Outcome from Experimental Stroke. Transl Stroke Res. 2012 Sept;3:324-330. PMCID: PMC3501272.

Kosaka Y, Quillinan N, Bond CT, Traystman RJ, Hurn PD, Herson PS. GPER1/GPR30 activation improves neuronal survival following global cerebral ischemia induced by cardiac arrest in mice. Transl Stroke Res. 2012 Dec 1;3(4):500-507. PMCID: PMC3587667.

Cheng J, Uchida M, Zhang W, Grafe MR, Herson PS, and Hurn PD. Role of salt-induced kinase 1 in androgen neuroprotection against cerebral ischemia. J Cereb Blood Flow Metab. 2011 Jan;31(1):339-50. PMCID: PMC3049497.

Li J, Siegel M, Yuan M, Zeng Z, Finnucan L, Persky R, Hurn PD, McCullough L. Estrogen enhances neurogenesis and behavioral recovery after stroke. J Cere Blood Flow Metab. 2011 Feb:31(2):413-25. PMCID: PMC3049534. [Epub 2010 Oct 13].

Ren X, Akiyoshi K, Vandenbark A, Hurn PD, and Offner H. CD4+FoxP3+ regulatory T-cells in cerebral ischemic stroke. Metabolic Brain Dis. 2011 Mar;26(1):87-90. PMCID: PMC3070853. [Epub 2010 Nov 17].

Dziennis S, Mader S, Akiyoshi K, Ren X, Ayala P, Burrows GG, Vandenbark AA, Herson PS, Hurn PD, and Offner HA. Therapy with recombinant T-cell receptor ligand reduces infarct size and infiltrating inflammatory cells in brain after middle cerebral artery occlusion in mice. Metab Brain Dis. 2011 Jun;26(2):123-33. PMCID: PMC3111858. [Epub 2011 Apr 7].

Albers GW, Goldstein LB, Hess DC, Wechsler LR, Furie KL, Gorelick PB, Hurn PD, Liebeskind DS, Nogueira RG, Saver JL; for the STAIR VII Consortium. Stroke Treatment Academic Industry Roundtable (STAIR) recommendations for maximizing the use of intravenous thrombolytics and expanding treatment options with intra-arterial and neuroprotective therapies. Stroke. 2011 Sep;42(9):2645-50. PMID: 21852620. [Epub 2011 Aug 18].
Download CV