We Dare to lead substance use research

Sean Esteban McCabe is doing his life's work.
At the University of Michigan School of Nursing, McCabe brings the people and lived experiences that shaped him into his work as a professor and director of the Center for the Study of Drugs, Alcohol, Smoking and Health (DASH).
"My passion for reducing the stigma around addiction does not discern between personal and work roles. The purpose of my life will always be the same: Stay healthy to help people with substance use disorders and their loved ones recover and move forward," he explained.
McCabe joined the School of Nursing in 2017 and has been at the University of Michigan for more than 20 years. Last year, he succeeded his friend, mentor and founding director of DASH Carol J. Boyd, Ph.D., RN, FIAAN, FAAN, to lead the interprofessional research center dedicated to clinical, educational and research issues related to substance use, misuse and use disorders.
Growing up fast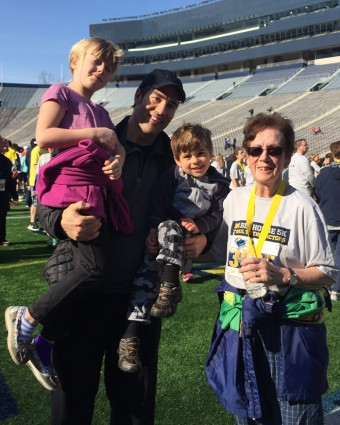 McCabe's personal and professional ambitions are rooted in his upbringing. His mother, Maria Rosa, is his wellspring of inspiration.
McCabe spent much of his early childhood in Puerto Rico with his mother and sister, Elisa. The three bounced between the island and other mainland U.S. cities in search of stability, with McCabe serving as his mother's primary translator.
A single mother, Maria Rosa worked three jobs while attending community college at night. McCabe was always at his mother's side, studying the world during her shifts as a short-order cook at an Ann Arbor Alano Club, which provides support services for individuals in addiction recovery programs.
"We did not have the money for babysitters, so I learned about life by shooting pool with courageous people who were in early recovery from substance use disorder with my mother working a few feet away," he recalled.
Maria Rosa earned her bachelor's degree and became a bilingual educator in Detroit Public Schools. While working full-time, she pursued her master's and eventually built one of the most successful advanced placement high school Spanish programs in Michigan. She earned her Ph.D. shortly before retirement, driven by the desire to increase the number of Hispanic women with doctoral degrees.
"My mother had to overcome multiple challenges, particularly as a woman and ethnic minority. She rebuilt her life multiple times, and my understanding of that drives what I do in my personal life and my professional roles," McCabe said.
Other defining life lessons came in San Francisco's Castro District, where McCabe spent summers with his father, Peter, and Peter's partner, Richard. Boyhood experiences in the Bay Area helped frame McCabe's worldview and fueled his persisting passion for health equity.
"Through my young eyes, I watched them make sense of early recovery from alcoholism amid the AIDS crisis," McCabe said. "As a boy, I often wondered why so many men I knew — those who took me camping at Yosemite, to sporting events at Candlestick Park or flea markets in Sausalito ­— were crying on the sidewalks of San Francisco.
"I learned these men were dealing with so many losses: the love of their life from AIDS or rejection from family. Many of them were in early recovery. Addiction and AIDS have taken the lives of so many of my favorite people, and my lived experience allows me to serve as a bridge between disparate worlds."
Realizing a dream
McCabe attended Kenyon College in Gambier, Ohio, and earned his bachelor's in psychology while playing football. As an undergraduate, he saw a future in substance use research for the first time after a conversation with Dr. Frederick Glaser, a pioneer in addiction medicine and former director of the U-M Substance Abuse Research Center.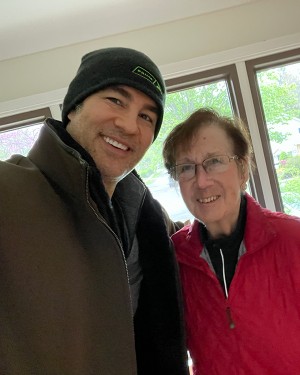 "After graduating from Kenyon, my dream of playing professional football ended and my dream of earning a graduate degree started in the same week," McCabe said.
He pursued that dream at the U-M and went on to earn his master's in social work along with a master's and Ph.D. in education. As a social worker, McCabe spent the early part of his career working in communities, correctional facilities, court systems and schools treating adolescents and young adults with substance use and other mental health disorders.
"Those experiences taught me how to meet people where they are, including with their substance use, and develop individualized solutions rather than trying to force fit one solution on everyone," he said.
McCabe is deeply proud of his Hispanic heritage, and he makes a point to use his middle name, Esteban, which is a tribute to his grandfather. While working as a social work intern in Washtenaw County, McCabe recognized a glaring lack of substance use disorder treatment for Spanish-speaking individuals. With a small group, he started the first Spanish-speaking mutual support meeting in the county. In what he considers one of the greatest honors of his life, McCabe was elected to serve as the regional representative for Spanish-speaking groups statewide.
"This role provided the opportunity to use my bilingual, bicultural and multiethnic lived experience to fulfill my primary purpose in life: helping others find recovery," McCabe said. "That first meeting was groundbreaking. It led to other mutual support meetings that remain active today and help Spanish-speaking individuals find recovery, improving their lives and strengthening their families."
A calling across disciplines
While working as a National Institute on Drug Abuse fellow, McCabe studied the epidemiology of substance use disorder and worked with Boyd, whose mentorship would ultimately lead him to the School of Nursing.
"We come at the issue of substance use from different perspectives and different backgrounds, but we have very similar values," McCabe explained. "The motto of our center is 'lift as you climb,' and I see it as a big responsibility to honor what she started."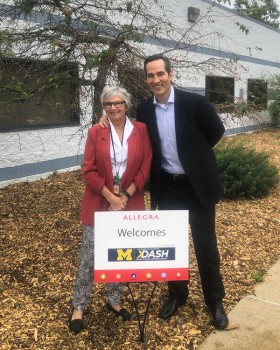 At DASH, McCabe works with a team of interdisciplinary scholars who focus their work on populations at highest risk for the negative consequences of substance misuse. Sexual, gender, racial and ethnic minorities as well as adolescents, pregnant women, older adults and those involved with the criminal justice system experience higher rates of overdose, HIV, injury, birth defects, suicide, cancer and liver disease resulting from substance use. Through cutting-edge research, the center is developing innovative solutions for the next generation of nurses and other health professionals who will help individuals form healthy relationships with substances.
"My experience coming to the School of Nursing has been a total game changer," McCabe said. "I have learned so much from my nursing colleagues, and I enjoy blending nursing perspectives and strengths with those from other disciplines. This fusion provides a number of insights and solutions to combat addiction."
"DASH's multidisciplinary base of nurses, social workers, demographers, public health experts and more represents some of the best team science I've seen at U-M. Its leaders, first Carol Boyd and now Sean Esteban McCabe, deserve great credit for this," said U-M School of Nursing Dean Patricia Hurn, Ph.D., RN, FAAN.
All DASH scholars share McCabe's passion for this work. They are actively engaged in a number of studies around substance use, health disparities and the complex needs of underserved populations. DASH projects include health care interventions, local and federal partnerships, workshops and educational programs, community outreach efforts and much more. Learn more about current DASH projects and initiatives and explore DASH research featured in local and national media on the center's website.
Helping people reach their potential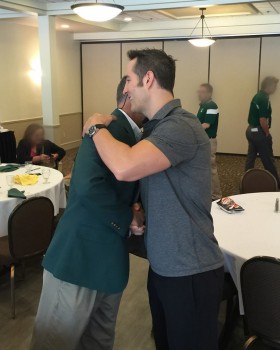 For his friends and community, McCabe strives to be a supportive force. Just as he's done throughout his career, McCabe represents the recovery community in a variety of settings, serving as a trusted advocate and knowledgeable resource for individuals and families in correctional facilities, courts, interventions, policy forums and schools.
"I think it's an honor, and I always try to make time for those things because it really helps inform our work at DASH," McCabe said. "I don't think you can do good research unless you're connected to the community and what's happening in the real world."
McCabe considers his role as a mentor among his greatest professional accomplishments. Over the years, he has counseled students at all levels, from high school to postdoctoral studies. At Michigan, McCabe has mentored a number of individuals recovering from alcohol and other drug use disorders.  
"One of my happiest moments each year is attending the Collegiate Recovery Program Commencement. I love watching University of Michigan students in recovery graduate," he said.
McCabe is an internationally recognized expert in his field. He has received three National Institutes of Health research awards, led 12 NIH-funded projects and authored or co-authored over 240 peer-reviewed articles. No matter the accolades, McCabe's work will always be about the people at the heart of it — the same people he met shooting pool at the Alano Club and on the streets of San Francisco.
"My greatest professional achievements do not show up on my CV. They all involve working with people struggling with addiction in the community and connecting them with the proper recovery resources," he said. "My goal is always to put them in the best position for healing, health and recovery to reach their full potential."