Nursing center eyes reusing simulated learning materials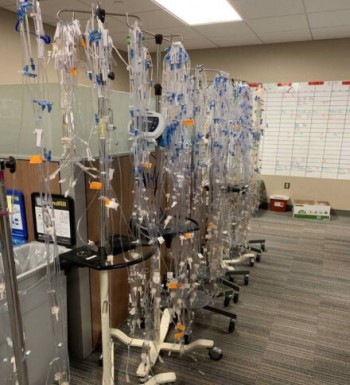 As various units work to advance the University of Michigan's commitment to carbon neutrality, the School of Nursing's Clinical Learning Center (CLC) is leading a new approach to waste reduction that it hopes may expand within and beyond the nursing field.
Proponents see the effort as environmentally sustainable, financially responsible, and scalable for adaptation elsewhere.
At the center, students hone their skills in a simulated environment, designed to replicate real health care scenarios. And because it is a simulated space, as opposed to one for critical care, practitioners are successfully reusing materials to reduce waste, and hoping to elevate their approach as a best practice.
"In one semester, we collected over 300 pounds of plastic IV (intravenous) tubing — a pretty astounding amount of plastic waste," said Melissa Bathish, the center's co-director and undergraduate faculty lead.
"So we created a task force, with students and faculty, to examine potential sustainability efforts. We also polled students for their input on what we can reuse and how much we can reuse it, and we came up with some guidelines."
Read more about efforts to elevate best practices in nursing and other health care fields that rely on traditionally single-use plastics in The University Record.