We Dare to create a space for men in nursing

At a time when many have struggled to find connection and community, two University of Michigan nursing students are building a new space for engagement around the distinct experiences of men in the nursing profession.
As they worked through an unconventional 2020-21 sophomore year in U-M's Bachelor of Science in Nursing program, Josiah Ratts and Neal Hautz teamed up to form the university's first chapter of the American Association for Men in Nursing. The organization works to improve gender inclusion in the profession and serves as a voice of support and encouragement for men in nursing on a national level.
The number of men who enter the nursing field is increasing, but at only 13% of the workforce, men are still an underrepresented and often overlooked population in the profession, facing social stigma and other unexpected barriers as they pursue and progress through their careers.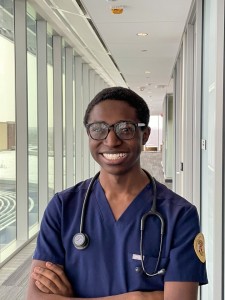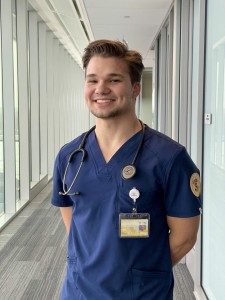 "The numbers have increased in recent years, but there's still a very limited amount of men in nursing. Having their issues and their ideas vocalized and giving that greater attention is important," Ratts said.
Ratts came to U-M from Illinois. He decided to become a nurse in high school and hasn't wavered in his commitment to the career path.
"When I was growing up and telling people I wanted to be a nurse, it was always met with happiness and encouragement, so I have been fortunate in that sense," he said.
Hautz grew up in Boyne City, Michigan, where healing from high school football injuries piqued his interest in nursing. While Ratts began his undergraduate nursing education with confidence, Hautz was admittedly having doubts.
"I think there's definitely a stigma associated with being a male in a female dominated field," Hautz said. "I experienced some of that when I was first applying to nursing programs. Certain comments made me second guess myself, and that continued into my freshman year."
Inspired to advocate
Ratts and Hautz became friends their first year on campus. That winter, the School of Nursing held a panel discussion that proved eye opening for the two aspiring nurses. "Candid Conversations on Men in Nursing" brought together a group of male nursing professionals from Michigan Medicine to answer questions and share their experiences building careers in a variety of roles, from executive leadership to emergency care.
"I went to that panel discussion when I didn't know my place in the profession or in the school," Hautz said. "I couldn't picture myself as a nurse, but after hearing about those diverse career paths and personal stories, it resonated with me."
For both students, the event inspired conversations that continued for months. In the fall of 2020, in coordination with the School of Nursing's Office of Diversity, Equity and Inclusion, they decided to take the lead in building an official on-campus organization for men in nursing. Now, as they launch the school's AAMN chapter, they are looking to spread the word, engage students and professionals of all backgrounds and open doors for future nurses.
Messaging, mentorship and moving forward
Ratts and Hautz helped organize a second panel discussion in February, which took place virtually with a group of School of Nursing faculty members and Michigan Medicine nurses. The event was as an informal introduction to the organization and helped set the table for their efforts in the upcoming academic year.
"Right now, our main focus is just trying to get the word out and build up our membership," said Ratts. "It's about building a support system so students know there are people who have their back. Yes, we're men in nursing, but this is really open to anyone who wants to support our endeavor to diversify the nursing program and the profession."
"I think the main goal of that event was to invite everybody, male or female, to listen to what the profession looks like from a different perspective," Hautz added. "We spoke a lot about mentorship, and that's something we're focused on right now, especially providing some kind of insight for incoming students like me who may not know their place."
Mentorship is invaluable for any nurse, but it can be especially important for men in nursing. Assistant Professor Kevin Joiner, Ph.D, APRN, ANP-BC, has been a key mentor for Ratts and Hautz throughout the last year, and he is well aware of the impact a supportive community can have.
"I've been discouraged more than once from being a nurse and a nursing scientist, and you really start to question whether you belong when that happens," he said. "There have been barriers and obstacles related to my gender that I've faced throughout my own career. Looking back, I think having the kind of support we're hoping our group will be able to provide could have made a huge difference."
Joiner is the faculty advisor for the school's AAMN chapter and has been helping the students get the organization off the ground. He's part of a team of faculty and staff helping to guide the students through this community-building process, but it's Ratts and Hautz who are leading the way.
"I really couldn't have asked for two better leaders to take on the challenges of creating this space for men in nursing," Joiner continued. "Over and over again, I've been impressed with their poise, their maturity and their generosity. They really are the leaders of this initiative, and I'm amazed at how they are able to bring the rest of us together into a well-functioning team."
A space for change
A student-led organization may be a small but significant step to building a more diverse nursing workforce, and that greater representation can ultimately lead to better health care.  
"Through recruiting and retaining more men in nursing, I strongly believe that we will not only advance our profession, but also strengthen our ability to improve the health and well-being of the people that we serve," Joiner said.
Ratts and Hautz are excited for the year ahead and believe the community they're creating can make a difference not only for individuals considering a career in nursing but for the future of the profession.
"If we can convince one high school student or other young person to pursue a career that they never thought possible for them, that would be amazing," said Hautz.
The U-M Chapter of AAMN is open to anyone who would like to participate, regardless of gender or background. For more information, contact Megan Belansky at meganbel@med.umich.edu.