Kevin Joiner, PhD, APRN, ANP-BC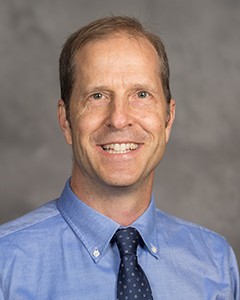 Assistant Professor
Department of Health Behavior and Biological Sciences
Room 2347 400 NIB
University of Michigan School of Nursing
400 North Ingalls Building
Ann Arbor, MI 48109-5482
Telephone: (734) 647-0127
Kevin Joiner is accepting new PhD students.
Interests
Diabetes
Vulnerable populations
Type 2 diabetes prevention
Risk perception among Latino immigrants and U.S.-born Latinos
Telehealth and mobile health
Dr. Joiner's research interests center on prevention of type 2 diabetes and improvement of health outcomes of type 1 and type 2 diabetes, and the development of self-management interventions for populations that do not have adequate access to preventive and primary care health services. Projects have included describing Latino immigrants' perceptions of risks of developing type 2 diabetes, developing and testing of a type 2 diabetes prevention intervention delivered via mobile app, describing the experiences during the transition from adolescence to young adulthood in Latino youth with type 1 diabetes, piloting an exercise and coping skills training program for adolescents with type 1 diabetes. He is currently working to develop and pilot test a Spanish-language type 2 diabetes prevention self-management support intervention that is sensitive to unique Latino cultural preferences and accessible to individuals who are limited English proficiency.
Teaching
Dr. Joiner has served as a clinical preceptor and mentor for undergraduate students from Schools of Nursing and Public Health at the University of Wisconsin-Madison. During his predoctoral training at UCSF, he served as a teaching assistant for a graduate level course on evidence based practice and quality improvement.
Affiliations / Service
Member, American Heart Association, 2012-present
Member, American Association of Diabetes Educators, 2009-present
Member, American Diabetes Association, 2011-present
Member, American Nurses Association, 1994-present
Member, Behavioral Research in Diabetes Group Exchange
Member, Sigma Theta Tau International, 1994-present
Notable Awards / Honors
Rising Star Award, Sigma Theta Tau International, Alpha Eta Chapter, 2014
Education
Ph.D., Nursing, University of California, San Francisco, 2015
MS, Nursing, University of Wisconsin, Madison, WI, 2007
BS, Nursing, University of Wisconsin, Madison, WI, 1994
BA, Spanish, University of Wisconsin, Madison, WI, 1988
Publication Highlights
Grey M., & Joiner K. L. (in press). Social level interventions: enhancing peer support and coping in pediatric diabetes populations. In A. M. Delamater & D. G. Marrero (eds.), Behavioral diabetes. New York: Springer.

Joiner, K. L., Nam, S., & Whittemore, R. (2017). Lifestyle interventions based on the Diabetes Prevention Program delivered via eHealth: a systematic review and meta-analysis. Preventive Medicine. 100, 194-207. doi: 10.1016/j.ypmed.2017.04.033.

Joiner, K. L., Sternberg, R. M., Kennedy, C. M., Chen, J. L., Fukuoka, Y., & Janson, S. L. (2016). A Spanish-language Risk Perception Survey for Developing Diabetes: translation process and assessment of psychometric properties. Journal of Nursing Measurement, 24, 365-378. doi:10.1891/1061-3749.24.3.365

Joiner, K. L., Sternberg, R. M., Kennedy, C. M., Fukuoka, Y., Chen, J.L., & Janson, S. L. (2016). Perception of risk for developing diabetes among foreign-born Spanish-speaking US Latinos. Diabetes Educator, 42, 418-428. doi:10.1177/0145721716646204

Fukuoka, Y., Gay, C. L., Joiner, K. L., & Vittinghoff, E. (2015). A novel diabetes prevention intervention using a mobile app: A randomized controlled trial with overweight adults at risk. American Journal of Preventive Medicine, 49, 223-237. doi:10.1016/j.amepre.2015.01.003
Download CV