Associate Professor Matthew Davis to receive U-M's Henry Russel Award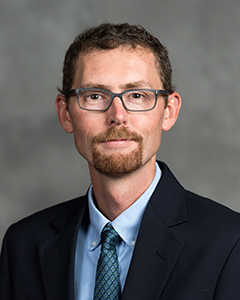 Associate Professor of Nursing Matthew Davis, Ph.D., MPH, will receive a University of Michigan Henry Russel Award during the 96th Henry Russel Lecture on Tuesday, March 9. The award is the university's highest honor for faculty members at the early to mid-stages of their careers.
Davis, who is also an associate professor of learning health sciences at the U-M Medical School, is one of four faculty members selected for the award along with Assistant Professor of Theatre José Casas, Assistant Professor of Sociology Erin A. Cech and Associate Professor of Electrical Engineering and Computer Science Johanna Mathieu.
"It's humbling to be recognized for this award, and I appreciate the opportunity to represent the School of Nursing," Davis said.
Davis has made important contributions to a variety of areas through his research, including the identification of sources of arsenic exposure in the U.S. population, tracking the national opioid epidemic and the development of methods to use social media data to measure social support and public opinion. His work is regularly published in prominent scientific journals and has received national media attention on several occasions.
A gifted educator, Davis has taught graduate students across the health sciences in courses on introductory statistics, epidemiology, statistical modeling and data analysis. In 2019, he received the U-M School of Nursing's Mae Edna Doyle Teacher of the Year award.
The March 9 Henry Russel Lecture will be livestreamed on YouTube from 3:30 to 4:30 p.m, featuring a presentation from psychology and linguistics professor Susan Gelman, who will discuss how children can provide valuable insight into the human mind. Those interested can register to receive a link for the event.