Donors decide the winner of U-M School of Nursing's inaugural We Dare Challenge during special virtual event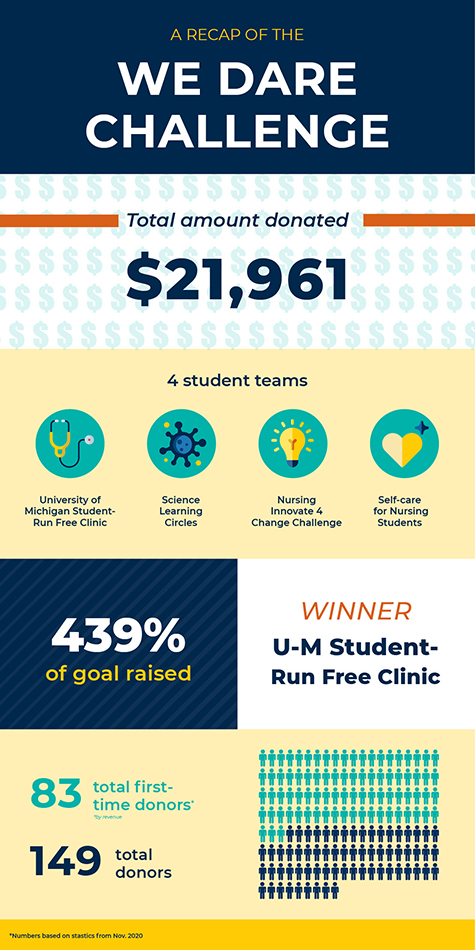 The University of Michigan School of Nursing's We Dare Challenge saw nearly 150 donors contribute $21,986 during the month of October to support student-led projects. On Nov. 2, donors took part in a livestream event to learn more about the four student groups vying to receive those funds and vote on a winner. At the conclusion of the event, donors cast votes electronically and selected the University of Michigan Student-Run Free Clinic (UMSRFC) as the top project.
As the leading vote-getter, UMSRFC received 75% of the funds, while the remaining 25% went to support the Nursing Innovate 4 Change Challenge, which received the second-highest number of votes.
UMSRFC provides free, high-quality health care to underinsured individuals in southeast Michigan while giving interdisciplinary health professional students the opportunity to confront health disparities through direct action. As demand for the clinic's services has grown during the COVID-19 pandemic, We Dare Challenge funds will help boost its capacity, expanding in-person and virtual care to more patients and increasing the number of volunteer opportunities available to nursing students.
"This vote will quite literally change lives," said UMSRFC Undergraduate Nursing Director Mikayla Morgan, a senior in U-M's BSN program. "These funds will help students and patients for many years to come. All of these projects are impactful and important, and we're so grateful to everyone who took part in the We Dare Challenge."
Leadership opportunities for nursing students at the clinic involve directorship, prescription coordination, quality improvement assessment and management, and volunteer recruitment and retention. Currently, seven nursing students hold leadership positions at the clinic, and 30 more serve as regular volunteers.
"This support will allow an incredible student-led project to grow and thrive," said Clinical Instructor and UMSRFC Nursing Faculty Lead Megan Eagle, MSN, MPH, FNP-BC. "The clinic already fills many critical roles for uninsured residents in Livingston County, and this funding will allow nursing students — along with students from other health disciplines and partners like the county health department — to create new services to address emerging needs.
"As they do this, our students gain leadership experience and learn about health care systems from the perspective of those who struggle to get access to needed care. Our students will bring this perspective to their future roles not only as direct care providers but as researchers and future policymakers."
In addition to the UMSRFC, other projects focused on efforts to increase academic support for diverse learners, create new opportunities for nursing innovation and enhance mental health and self-care services for nursing students. During the event, representatives from each group presented the details of their project and discussed how they would utilize the We Dare Challenge funds. Students delivered their presentations alongside faculty advisors and took questions from attendees on Zoom.
"The We Dare Challenge showcased the strength of our community and the great things that can happen when we all come together to support Michigan Nurses," said U-M School of Nursing Dean Patricia D. Hurn, Ph.D, FAAN, RN. "The funds raised through this challenge will have a significant impact on our students and the future of nursing education at Michigan."
Nursing students at all levels participate in a variety of projects each academic year. Despite the challenges posed by COVID-19, projects have been moving forward this year with new precautions in a public health-informed environment. The monthlong We Dare Challenge was a new effort from the U-M School of Nursing to give those who value nurses a chance to collectively support four of these dynamic projects.
Although the We Dare Challenge has come to a close, you can still support these important student projects directly.  
Learn more about opportunities to make an impact on the future of nursing education at the University of Michigan, and find out how to get in touch with the school's Office of Development and Alumni Relations.
---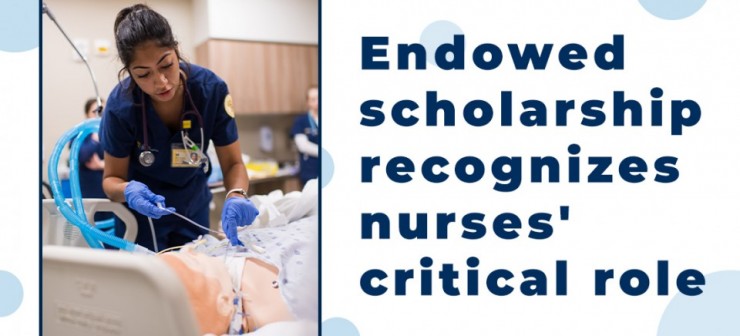 During the height of the pandemic in 2020, a couple made an anonymous gift to create an endowed scholarship at the U-M School of Nursing. They have no affiliation with the school but asked that the following affirmation accompany their gift:
Donors believe nurses play a critical role in health care but oftentimes do not receive proper recognition for their dedication and hard work. The donors have been affected by the compassion of amazing nurses and value their commitment to patient care. It is their desire to recognize the importance of nurses in the health care community by investing in nursing education to ensure the University of Michigan School of Nursing is able to remove barriers and attract highly motivated students who will make positive contributions to the profession for generations to come.
For more information on endowed funds, please contact Angela Cao at angelaca@umich.edu or call 734-615-9686.