Delivering digital education at a pivotal moment
This fall, after two years of exhaustive planning and preparation, the U-M School of Nursing welcomed its first cohort of students in the new Master of Science in Nursing programs in the Primary Care Family Nurse Practitioner (PCFNP), Adult-Gerontology Primary Care Nurse Practitioner (AGPCNP), and Leadership, Analytics and Innovation (LAI) specialties.
Seven virtual courses successfully launched this fall, with 37 new students enrolled in the clinically focused PCFNP and AGPCNP programs and 23 students entering the data-driven LAI program. In addition to students from across Michigan, the new programs welcomed others from states such as California, Texas, South Carolina and Illinois.
A dedicated team of faculty and staff, including multimedia specialists, instructional designers, project managers and technology experts, spent thousands of hours to deliver a program that would bring the excellence of a U-M School of Nursing education to an all-new platform. Their efforts over the last 24 months resulted in an innovative, interconnected digital curriculum and left School of Nursing faculty uniquely prepared when the COVID-19 pandemic forced educators around the world to pivot to remote learning.
Virtual Learning at the U-M School of Nursing
High-quality demonstrations teach students essential clinical skills such as central line placement, sterile technique and health assessment, as well as important concepts like the effects of trauma.
"We have a great group of faculty who are much more confident and comfortable because they've already completed an online teaching certificate program," said Clinical Assistant Professor and Family Nurse Practitioner Program Lead Beth Kuzma, DNP, FNP-BC, who helped steer the development of the digital education programs along with Clinical Assistant Professor and LAI Program Lead Barb Medvec, DNP, RN, NEA-BC. "Those faculty members felt more confident in their own ability to do this rapidly, but also felt confident to help their colleagues."
To build the new programs, the School of Nursing added instructional designers to its staff and increased IT capacity, which boosted the school's ability to quickly adapt to uncertainty this fall.
"We've been building an infrastructure that sets both a quality and technology standard," Medvec said.  "If there is any silver lining to this it's that everyone at the School of Nursing has been able to dip their toes into the online learning environment in one way or the other."
Welcome to the virtual classroom
New courses across the three programs feature customized homepages, which serve as the gateway to the online academic experience. From these homepages, students can view detailed course descriptions, learn more about their instructors and gain a thorough understanding of their course structure. Each course also features its own infographic syllabus to provide a concise visual summation of what students can expect throughout the term.
Learning modules are a key part of each online course and are threaded throughout the term to achieve specific objectives. Within each module are resource links, readings, videos, activities and interactive assignments centered on a specific topic.
Multimedia modalities
To help bring the traditional classroom experience online, courses feature a number of high-quality media presentations on various subjects, from skills demonstrations to scientific concepts and specific topics such as the effects of trauma on the brain. These presentations were created in state-of-the-art studios alongside media specialists and instructional designers to help give each course a uniform look and feel.
Other videos strike a more informal tone, including course introductions from faculty members to help students learn more about the personal and professional background of the instructor who will be guiding them throughout the term.
Key to reinforcing concepts throughout each course are assignments and Interactive Learning Objects — activities using concept maps, case studies and clickable presentations that allow students to go beyond a traditional reading and lecture format to more thoughtfully engage with course content.
Digital simulations for advanced health assessment allow students in clinically focused programs to examine, interview and interact with a digital patient in a safe learning environment. Using VoiceThread software, students can record and narrate their own case presentations, which faculty review by providing direct feedback on video. Students can also complete their physical exam check-offs on video, receiving a detailed evaluation from their instructors through the same medium.
"You might not think we can teach physical assessment online, but we really can," said Kuzma. "Our faculty members can be present in unique ways. Providing feedback through video allows us to demonstrate things we would have liked to see differently and lets students hear our tone of voice, see our expressions and feel more connected."
Welcome to Revision Health
A foundation of the LAI program is the development of Revision Health, an entirely virtual health system based in "Futurecare, USA."
Revision Health comprises seven hospitals, 20 physician practices, marketing and human resources departments, and more. Working within this customized system allows students to navigate the complex challenges of executive nursing leadership within a context that is applicable and adaptable. Case studies based on real-world examples are created within Revision Health and allow students to engage with concepts well beyond the reading and establish continuity by working in a fully functioning simulated health system.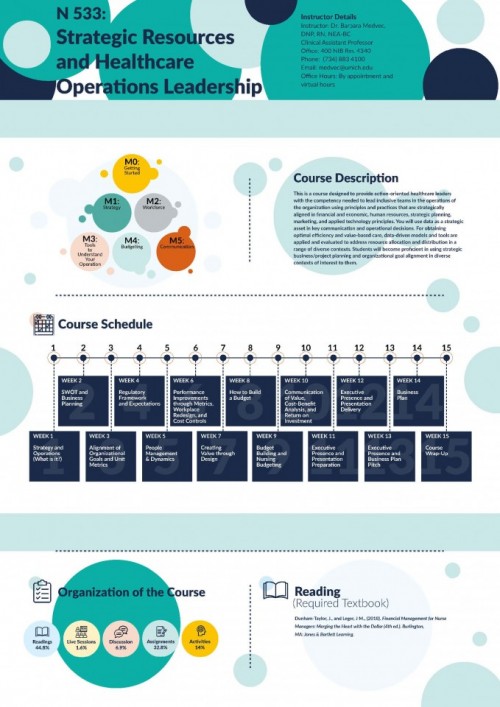 This fall, for example, LAI students were asked to develop a plan to respond to the anticipated retirement of more than 300 Revision Health nurses over the next two years.
"We don't have to constantly explain the context of a different health care system," Medvec said.
"Instead of having students buy another book or study something from different organizations, we can build case studies within a context that students will come to know in every class. From the very beginning, they can feel that they're part of a bigger health system."
Building community
Aside from creating high-quality courses and innovative content, the team developing U-M's digital nursing education knew it was essential to build an online community where students could feel connected to their peers and faculty members in a unique way.
"We had to make sure there was an active presence throughout the program that would allow students to not only engage with their instructors on a weekly basis but with their peer colleagues as well," said Kuzma. "We've been very purposeful to create ways for students to connect personally throughout the semester so it doesn't feel like you're just floating out in cyberspace."
Interactive discussion boards, live and recorded videos, and the establishment of online learning communities are just a few of the ways that those leading and learning in these programs can stay connected in an asynchronous environment.
"We wanted to find ways for our students and faculty to put their real selves out there, to tell us why they're on this journey, what they're interested in doing and what they're looking for," Medvec explained. "These communities can provide a way for students and faculty to share their ideas and connect with each other to explore their interests."
The new digital education programs will continue to evolve with emerging technologies and continuous evaluation. But with the inaugural term now in the books, students are excited about this new, flexible means to earn a U-M School of Nursing education.
"I enjoy the flexibility of having online classes, because it allows me to access the course content when it's most convenient for me. Having three young kids, most of the time that's late at night," said David Jerkins, a student in the LAI program. "I find the videos informative, as they teach us through real-world examples how to transform the way we think into that of an effective leader."