Alum's ambition paves new global pathway for DNP students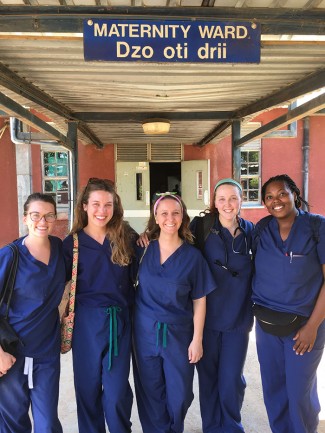 Sarah Warnez is approaching her nursing career with a global focus, motivated by her experience in the University of Michigan's Adult-Gerontology Primary Care Nurse Practitioner program. While pursuing her Doctor of Nursing Practice degree, Warnez was determined to carry out her capstone project abroad — a daunting task that had never been attempted in the fast-paced program. The process tested her resolve, but as Warnez completed her DNP last year, she laid the foundation for newly designed global health concentration available to students who share her passion.
A novel idea
"I did not plan it this way at all," Warnez said. "My first exposure to global health was volunteering on medical mission trips to Haiti, and I loved it. When it came time to think about DNP projects, I really wanted to go back."
In the BSN-to-DNP track, students have just two semesters to complete their capstone project — a tight timeframe to plan, implement and analyze international research. When Warnez decided to pursue her project abroad, she connected with Clinical Professor Ruth Zielinski, Ph.D., CNM, FACNM, who has helped develop midwifery education programs with partners at Faculty of Nursing Science of the Episcopal University of Haiti (Faculté des Sciences Infirmières de l'Université Épiscopale d'Haïti).
"Ruth was so excited about the idea, and she was confident we could make it work with the timeline," said Warnez. "It was met with some skepticism, but ultimately we got the project approved."
As Warnez's excitement grew in Ann Arbor, Haiti was experiencing the worst civil unrest it had seen in years, sparked by political corruption and anti-government protests. Student travel was suspended, and Warnez didn't have time to wait.
Opportunity in Africa
"That month was really stressful, realizing I wasn't going to be able to do my project in Haiti. But Ruth's connections in Uganda made another opportunity possible," Warnez explained.
Zielinski has had a strong presence in Uganda for years, coordinating emergency birth preparedness training for local mothers and midwives and leading clinical experiences for U-M midwifery students. Over the last two years, she has focused her efforts in the city of Adjumani and two nearby settlements for South Sudanese refugees.
"I was passionate about focusing my project on men's health," Warnez said. "When we transitioned to Uganda, the community we were partnering with wanted a program for men. There was a new influx of refugee men and I thought I could make my project fit what the community needed."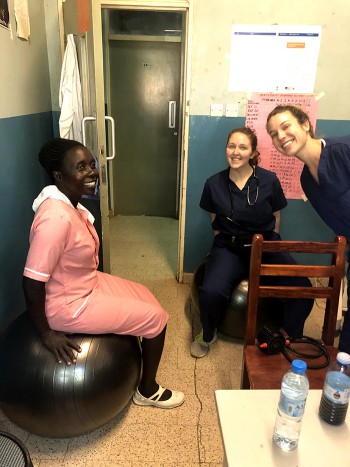 Men in Uganda have one of the shortest life expectancies in the world, and refugee men in Africa face significant health risks. Men fleeing political conflict are highly vulnerable to mental illness, and community leaders in the Ugandan refugee settlements expressed concern about a recent rise in suicide rates and intimate partner violence.
Warnez's project, "Healthy Men – Healthy Communities: A Community-led Men's Health Curriculum for South Sudanese Refugees in Uganda," centered on the development and implementation of a sustainable, community-led health curriculum to improve men's knowledge of basic health promotion and understanding of healthy relationships.
Due to time constraints, Warnez had to conduct her background research remotely, using information from a virtual needs assessment to form the basis of her curriculum. Throughout the process, she relied on Zielinski's experiences and deep understanding of the community along with guidance from Daniel Kuir Ajak, Zielinski's close friend and interpreter, who became one of Warnez's most important collaborators.
With a plan in place, Warnez arrived in Adjumani in February 2020.
"The first week, I was meeting with women from the community who were working with Ruth and her midwifery students. That set the groundwork for me, because I was immersed in their community and their story. I was also going to the hospital with the midwifery students — I learned so much," Warnez said.
To implement her project, Warnez would rely on three "facilitators," men considered leaders in the refugee communities. During her second week in Adjumani, Warnez led facilitators through a six-hour training session using a teach-back method and picture-based guide. The facilitators would then lead training sessions for 12 male volunteers in the two refugee settlements. The two-hour health education sessions included tests before and after training and a debriefing conducted by each facilitator.
"Meeting with the facilitators helped me see the bigger picture," said Warnez. "They asked so many questions, including very specific ones about things like physical activity, alcohol use and fertility. I think we were learning more from that experience than they were learning from us. They were just natural, charismatic people with great ideas."
As Warnez gathered feedback from the facilitator-led training sessions, she gained a much deeper understanding of the community's needs.
"Going there and meeting the men who were participating in my project was important to me. It was also a little intimidating," she said. "I tried to keep the curriculum very simple and focused on health education, because I didn't know what these men would be ready for. It turns out they were ready for a lot more."
New realizations
Through interaction and observation in the refugee camps, Warnez realized that the refugee men, who faced unthinkable trauma fleeing war in South Sudan, were looking for something deeper.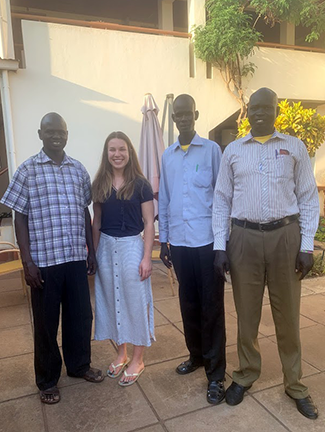 "What these men really needed was an excuse to come together to build relationships and talk about everything they've been through," she explained.
Warnez admitted an apprehension to using explicit terms about abuse and intimate partner violence, but she was surprised and encouraged as the training sessions took place.
"It turns out that's what the men wanted," she said. "They were ready to talk about how they can't be exhibiting violent behaviors in their families. They were way ahead of us, and we didn't expect that."
Ultimately, Warnez' analysis showed that her training program resulted in a community-wide increase in knowledge about health promotion, greater confidence in stress reduction and communication strategies, and stronger perceptions on the importance of health promotion.
Read a report on the project and learn more about Warnez's findings.  
Inspiring a new academic pathway: DNP Concentration in Global Health
"Being able to go to Haiti and leading this work in Uganda has changed my worldview," Warnez said. "I want to be a practitioner who cares for the underserved, and I think that desire comes from my experiences connecting with these communities. It's really made me passionate about viewing my nursing career as one of service and vocation."
Warnez's persistence to follow her passion led to the reconfiguration of the Global Health Concentration as a unique pathway for DNP students who want to advance their nursing careers with a global focus. Learn more about the DNP concentration in Global Health.