Research Day 2018: The Science of Nursing Education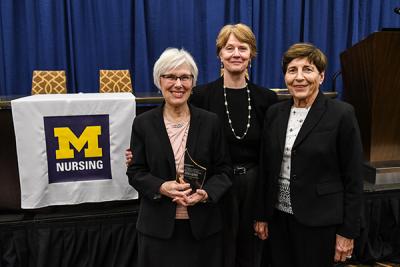 More than 200 students, faculty and researchers came together for the University of Michigan School of Nursing's eighth annual Research Day. The event celebrates the wide range of nursing research, from big data to health promotion, but this year it was nursing education that was the primary focus.
The event kicked off with the annual Suzanne H. Brouse lecture. Marilyn H. Oermann, Ph.D., RN, ANEF, FAAN, Duke University School of Nursing, delivered her presentation -titled, "A Program of Research in Nursing Education: Building Evidence for Teaching."
Research presentations and a panel discussion followed, featuring: 
Michelle Aebersold, Ph.D., RN, CHSE, FAAN
The Science of Simulation Learning
Patricia Abbott, Ph.D., RN, FAAN, FACMI
The Science of Integrating Informatics into Nursing Education
Laurie Lauzon Clabo, Ph.D., RN
Metacognition in Interdisciplinary Education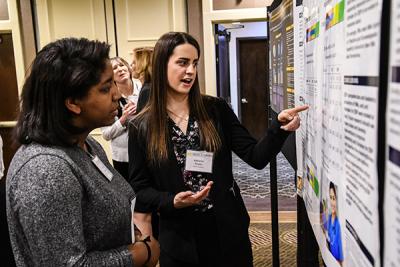 The poster session was open to all areas of nursing research. Students, many of them from UMSN's Honors program, had the opportunity to showcase their work alongside faculty research. 
Poster Awards
BSN
Building master trainers to facilitate sexual violence prevention in Ghana
Caitlyn M. Choi, BSN Honors student; Michelle L. Munro-Kramer, Ph.D., DNM, FNP-BC; Sarah D. Rominski, Ph.D., MPH; Lindsay M. Cannon, MPH, MSW; Angela D. Akorsu, Ph.D.
Sustainability of maternity waiting homes in Bong County, Liberia
Karina Zanyk McLean, BSN Honors student; Jody R. Lori, Ph.D.; Michelle L. Munro-Kramer, Ph.D.; Joseph Perosky, Ph.D.
Leadership, competency, and climate for evidence-based practice implementation in hospital settings
Katherine Powers, BSN student; Marita G. Titler, Ph.D., RN, FAAN; Clayton J. Shuman, Ph.D., RN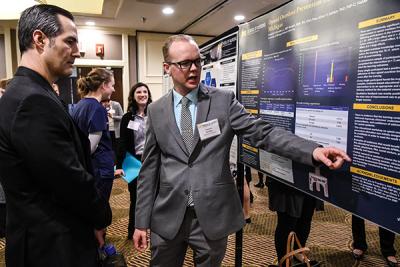 DNP
Need for integration of trauma-informed care principles in nursing education: Results from semi-structured interviews with faculty, preceptors, and lecturers
Megan Harris, CPNP; Lindsay M. Cannon, MPH, MSW; Emily Chapin, BSN, RN; Katrina Coley; Liz Coolidge; Courtney Buckley; Zeineb Selmane; Elizabeth K. Kuzma, DNP, FNP-BC
Ph.D.
Ability to predict other team members' behaviors in ICU teams is associated with routine implementation of a complex care bundle in a statewide quality collaborative
E. Boltey BSN, RN, Ph.D. student, Hillman Scholar; T. J. Iwashyna Ph.D.,MD; R. C. Hyzy MD; S. Watson MBA; C. Pope BA; D. K. Costa Ph.D., RN
Faculty
Effects of a hearing conservation program for farm and rural youth: A randomized controlled trial
M. C. McCullagh, Ph.D., RN; J. J. Yang, Ph.D.; M. A. Cohen, Ph.D.; M. Koval; E. Haberkorn, MSN; M. Wood, MSN
Photos
There are more photos on the UMSN Facebook page: facebook.com/UMichNursing.