2019 Research Day: Driving nursing innovation to the forefront
"Nurses are in closest proximity to the problems patients face and are well positioned to deliver and implement solutions," said Nancy P. Hanrahan, Ph.D., RN, FAAN, as she kicked off the Brouse Lecture at University of Michigan School of Nursing's Research Day: Innovation at the interface of knowledge development and equitable care. Research Day is a celebrated annual event now in its ninth year.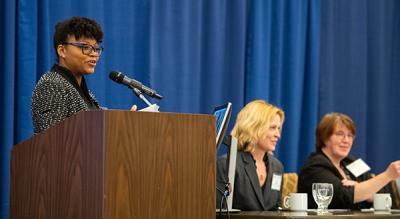 Hanrahan, executive director of Innovation and Entrepreneurship at the University of Massachusetts-Boston, focused on the largely untapped potential of nurses to disrupt the health care landscape through their extensive patient knowledge and ability to solve complex patient and environmental challenges.
The event included an interdisciplinary panel discussion focused on how innovation and technology can be used to improve the health and wellbeing of vulnerable populations, with a focus on young adults. Panelists were Laura Gultekin, Ph.D., FNP-BC, UMSN assistant professor, Michelle A. Meade, Ph.D., U-M Department of Physical Medicine and Rehabilitation associate professor, and Matthew J. Smith, Ph.D., MSW, MPE, LCSW, U-M School of Social Work associate professor.
Nearly 60 posters were presented featuring the research of UMSN students, faculty, alumni and research partners. Topics covered a wide variety of nursing research focus areas such as medical cannabis for children, palliative care, stigma for people with chronic obstructive pulmonary disease, postpartum care for people with opioid use disorders and interprofessional education.
Poster winners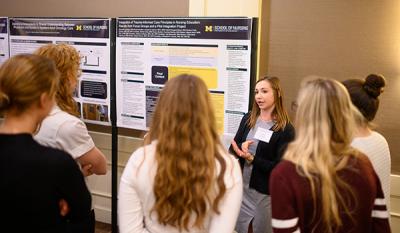 BSN
Integration of trauma-informed care principles in nursing education: Results from focus groups and a pilot integration project
Elizabeth M. Coolidge, BSN Honors Student; Lindsay M. Cannon, MPH, MSO; Mariel Arbogast-Wilson, BSN Student; Emily Chapin, BSN, RN, DNP Candidate; Katrina Coley, BSN Honors Student; Courtney Buckley, BSN Student; Megan Harris, MSN, RN, CPNP, DNP Candidate; Julianne LeGierse, BSN, RN, DNP Candidate; Yael Moskowitz, BSN Student; Chloe Marie Velasquez, BSN Student, Megan Warren, BSN, RN, DNP Candidate; Elizabeth K. Kuzma, DNP, RN, FNP-BC
Graduate
Adverse patient outcomes and nursing practice environments in ambulatory oncology settings
Alex Fauer, BSN, RN, Ph.D. Student; Milisa Manojlovich, Ph.D., RN, FAAN; Kari Mendelsohn-Victor, MPH; Christopher R. Friese, Ph.D., RN, AOCN, FAAN
Alumni/Faculty
Implementation of a protocol: Dexmedetomidine for use in long-term procedural sedation in non-intubated pediatric patients
Sherri Fannon, DNP, MSN, RN; Mary Kisting, MS, RN, CCNS, CCRN-K; Christine Anderson, Ph.D., RN
Photos
Additional photos from the event can be viewed on UMSN's Facebook page.