Bridging Climate Change and Health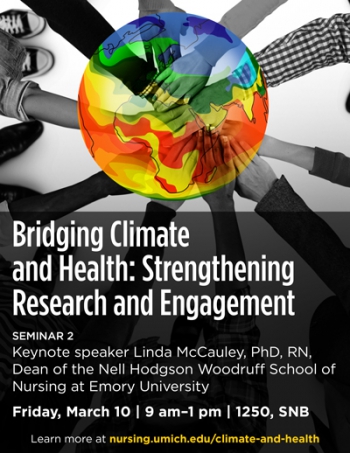 Climate change poses some of the greatest global health risks that we have ever seen. In addition, those who carry the highest burden of poor health, such as vulnerable populations and ethnic and racial minorities, will also carry the highest risk for being affected by climate change. 
Nurses have always been on the front lines of health promotion and disease prevention. Nurses, health professionals, and other researchers who can affect changes in health and health policy must be prepared to address the new and changing individual- and population-level challenges that caring for individuals and communities presents. 
Project
To create a multidisciplinary approach that combines expertise from researchers, community organizations, and governmental agencies to bring about innovative solutions to these new and pressing health concerns, and 
To advance the School of Nursing's commitment to creating new scientific directions, innovating directions in healthcare, and highlighting emerging views on community health in the context of climate change. 
We also seek to stimulate a conversation on climate change and health by engaging faculty and students. Understanding and promoting the latest science surrounding climate change and health through this seminar series will be a catalyst to the development of a collaborative research agenda.
Goals
To create awareness on this key health issue across several units on campus as well as within the School of Nursing
To establish a multidisciplinary collaborative research agenda within the University of Michigan community that will address the health impacts of climate change.
Schedule of events
2018
April 10: "This Changes Everything" film screening
This film is about communities on the front lines of climate change and opportunities to harness the crisis to create a better world.
 
2017
February 10: Climate Change and Health, focus on Health Disparities 
Speaker George Luber, Ph.D.
Dr. Luber is the Associate Director for Climate Change, Division of Environmental Hazards and Health Effects, National Center for Environmental Health at the Centers for Disease Control. 
Jalonne White-Newsome, Ph.D. Dr. White-Newsome is a U-M alumna who leads the Kresge Foundation's efforts in climate change and health.
March 10: Building an Interdisciplinary Research Agenda
Speakers:
Linda McCauley, Ph.D., RN
Dr. McCauley is the Dean of the Nell Hodgson Woodruff School of Nursing at Emory University and a national leader in the area of research on environmental exposures. She conducts interdisciplinary research using participatory research models to identify culturally appropriate interventions to decrease the impact of environmental and occupational health hazards in vulnerable populations, including workers and young children.
Rosina Bierbaum, Ph.D.
Dr. Bierbaum is a professor at the U-M School of Natural Resources & Environment and focuses her research on the interface of science and policy, principally on issues related to climate change adaptation and mitigation at the national and international levels. She has served in both the executive and legislative branches of government for two decades, as the Senate-confirmed director of the White House Office of Science and Technology Policy's Environment Division, and in multiple capacities at the Congressional Office of Technology Assessment.
Marie O'Neill, Ph.D.
Dr. O'Neill is a U-M School of Public Health Associate Professor. Dr. O'Neill's research interests include health effects of air pollution, temperature extremes and climate change (mortality, asthma, hospital admissions, and cardiovascular endpoints); environmental exposure assessment; and socio-economic influences on health. She has worked for the U.S. Environmental Protection Agency, the Pan American Health Organization, and in Mexico at the National Institute of Public Health and the National Center for Environmental Health as a Fulbright Scholar.
Lorraine Cameron, Ph.D. Dr. Cameron is a Senior Environmental Epidemiologist for the Michigan Climate and Health Adaptation Program at the Michigan Department of Health and Human Services.
Opportunities for engagement
Please contact Dr. Sue Anne Bell if you would like to get involved. 
Team
This research seminar is a joint effort by the University of Michigan's School of Nursing, School of Natural Resources and Environment, School of Public Health, and Graham Sustainability Institute's Climate Center. The core planning team is Dr. Sue Anne Bell, Clinical Associate Professor at the School of Nursing, and Beth Gibbons, the Director of the Climate Center. The seminar is funded by the Dean's Centennial Scholars at the University of Michigan School of Nursing.