Global nursing photo contest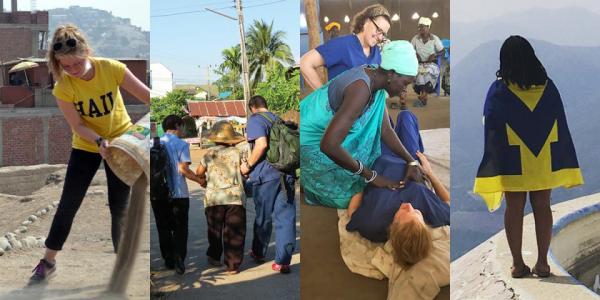 Update: The submission period is now closed. Entries are under review and winners will be announced soon.
UMSN is pleased to announce the 2017 UMSN Summer Global Nursing Photo Contest! All current UMSN students and 2017 alumni are invited to submit images showcasing their global nursing experiences. As nursing students, you bring a unique perspective to the work, adventure and learning of an international experience, and we look forward to seeing that viewpoint reflected in your photos.
Prizes
1st place: $100 + swag package (UMSN spiritwear)
2nd place: $50 + swag package
3rd place: $25 + swag package
All winners will receive recognition on UMSN platforms such as social media, The Pulse and the school magazine.
Guidelines and submission
Entries must have been taken between April 18, 2017 and Sept. 22, 2017 in a location outside the United States, and include a 75-100 word summary explaining the context of the photo.
Deadline Sept. 22. Please review our official rules and ethical guidelines before submitting your photos.
Official rules
Photo entries must have been taken between April 18, 2017 and Sept. 22, 2017.
Photos of children will not be considered without a signed photo consent form from that child's parent or guardian. The only exception will be if the photo was taken in a context where there is no expectation of privacy such as a community festival.
Photos taken of adults in private settings, such as in a hospital or clinic, will also require a signed photo consent form a signed photo consent form.
Photos must have been taken outside the United States.
Photos cannot be digitally altered. Cropping is the only exception. Filters and other photoshopping tactics are not allowed.
Photos do not have to be from a University of Michigan sponsored/organized program.
Submitted photos may be used in future UMSN material including but not limited to newsletters, public displays, social media and recruiting documents. Your name and description of photo may also be used.
In submitting a photo, you release the University of Michigan from any and all liability that may result from the use of the photo.
Winners will be selected by a panel consisting of members of UMSN's Communications & Marketing, and Global Affairs offices.
Students may submit up to six entries.
There is no cost to enter.
Ethical guidelines
Always consider patient privacy. While HIPAA may be an American law, you should extend the same considerations abroad.
Be respectful. Use your nursing lens in a thoughtful and considerate way. Your actions, such as taking and sharing a photograph, reflect back on you, UMSN, U-M, and your host organization.
In addition to patient settings, be mindful of religious spaces/buildings, homes and cultural locations where photography may not be appropriate.
Ask permission before taking the photo whenever possible.
Follow local laws.
Avoid photos that reinforce stereotypes or sensationalize individuals and/or communities.
Additional advice
Be safe! Do not put yourself or your hosts in situations that may cause physical or mental harm.
Think about photos that show the wide scope of nursing. This can be anything from clinical practice (again, be mindful of patient privacy) research, community health, health promotion, leadership, policy, environmental health to a hospital landscape.
We welcome photos that show cultural experiences that may not be directly related to nursing but are an organic part of your journey.
We would love to see photos that show U-M students, especially when they are wearing UMSN shirts or show Michigan pride in other ways.
Talk to your hosts and locals. They will likely be able to provide guidance to help you avoid missteps, and they may have great ideas for memorable photos.
Photography tips
When indoors, try to photograph in well-lit areas while avoiding backlight on your subjects, like a bright window.
When outdoors, the midday sun is harsh on the skin. Try to shoot in the morning or evening, in the shade or when it's cloudy out.
Consider the rule of thirds when framing your photo.
Shoot from different perspectives, such as photographing at eye level when someone is sitting on the ground.
Try to fill the frame up. This allows for more detail on the subject. If your subject is tiny and the background doesn't offer any value to the image, consider moving closer or zooming in.