Giving to the School of Nursing
The continued greatness of Michigan nursing - from its accessibility to deserving students from all walks of life, to its enduring ability to deliver a transformative educational experience - depends heavily on support from our alumni and friends. 
A degree from the University of Michigan School of Nursing opens doors throughout one's career. For UMSN to remain a leader in education, patient care, and research, strong financial support is essential.
Investing in the School of Nursing is an investment in the future. 
Opportunities
Establish an endowed fund
Endowed funds are meaningful ways to create a legacy by advancing nursing science. Endowed funds provide specific support for School of Nursing researchers, faculty and students.
One example is the Terri Murtland MSN, CNM, Lectureship and Scholarship. Established in Fall 2008 by Terri's mother, Audrey Murtland, it is supported by Terri's many family members and friends as a memorial to Terri who was an exemplary individual and midwife.
Name a space in the School of Nursing Building
Support for the new academic building is still needed as we expand our utilization of our first purpose-built School of Nursing Building. 
BSN Class of 2017 Bicentennial Endowment Fund
The undergraduate class of 2017 aims to establish an endowment to support undergraduate scholarships. Students recognize the invaluable support that they have benefited from and they want to have a fund that they can give back to over time.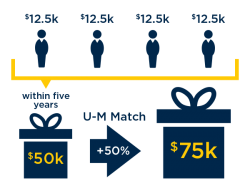 In celebration of the university's bicentennial, the university will match 50% of funds raised when the endowment minimum of $50,000 is met.
Give a gift to the Class of 2017 Endowment Fund.
Name a professorship
Support for our faculty in the form of special professorships keep our faculty body strong, helping us recruit and retain the best professors in the world. 
Annual Fund
Contributions to the School of Nursing Fund help the school remain nimble and respond to emerging needs and areas of growth. 
Alumni Society Scholarships
The Awards-Scholarship Committee of the Board of Governors administers a number of scholarships for which students are invited to apply.
For more information about the ways to give to the School of Nursing, please contact the Office of Development and Alumni Relations, (734) 763-9710 or nursingalum@umich.edu. Gifts are tax deductible, per the current and applicable tax laws. Donors receive recognition from the School of Nursing and the University of Michigan.
Ways to give
From one-time gifts to bequests and memorial giving, let us help you find the way to give that is right for you.