Rebecca Evans-Polce, Ph.D.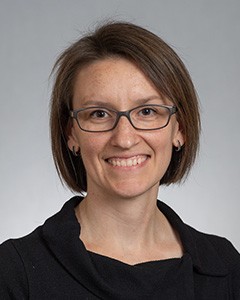 Research Assistant Professor
Department of Health Behavior and Biological Sciences
Room 2247 NURS1
University of Michigan School of Nursing
400 North Ingalls Building
Ann Arbor, MI 48109-5482
Telephone: (734) 647-1595
Rebecca Evans-Polce is accepting new PhD students.
Interests
Substance use epidemiology
Substance use treatment
Health disparities
Health across the life course
Rebecca Evans-Polce has a doctorate in public health and expertise in substance use epidemiology, disparities in substance use, analysis of large national datasets, and multiple innovative methodologies. She investigates the complexity and nuances of substance use etiology, treatment and recovery at different ages and for individuals of diverse racial, ethnic, gender and sexual identities.
Affiliations / Service
Member, Society for Research on Adolescence, 2015-present
Member, American Public Health Association, 2011-present
Member, Society for Prevention Research, 2010-present
Member-in-training, College of Problems on Drug Dependence, 2009-present
Education
Ph.D., Johns Hopkins Bloomberg School of Public Health, Baltimore, MD, 2012
BS, University of Michigan, Ann Arbor, MI, 2006
Publication Highlights
Schuler, M. S., Rice, C. E., Evans-Polce, R. J., & Collins, R. (2018). Disparities in substance use behaviors and disorders among adult sexual minorities by age, gender, and sexual identity. Drug and Alcohol Dependence,189(1),139-146. doi.org/10.1016/j.drugalcdep.2018.05.008.

Evans-Polce, R. J., Schuler, M. S., Schulenberg, J. E., & Patrick, M. E. (2018). Gender- and age-varying associations of sensation seeking and substance use across young adulthood. Addictive Behaviors, 84, 271-277. doi: 10.1016/j.addbeh.2018.05.003

Evans-Polce, R. J., Patrick, M. E., Lanza, S. T., Miech, R. M., O'Malley, P. M., & Johnston, L. (2018). Reasons for vaping among U.S. 12th graders: A latent class analysis. Journal of Adolescent Health, 62(4), 457-462. doi: 10.1016/j.jadohealth.2017.10.009. PMCID: PMC5866738

Vasilenko, S. A., Evans-Polce, R. J., & Lanza, S. T. (2017). Age trends in rates of substance use disorders across ages 18-90: Differences by gender and race/ethnicity. Drug and Alcohol Dependence, 180(1), 260-264. doi: 10.1016/j.drugalcdep.2017.08.027. PMCID: PMC5757874

Evans-Polce, R. J., Patrick, M. E., & O'Malley, P. M. (2017). Prospective associations of 12th grade drinking intensity and age 19/20 driving-related consequences in a national sample. Journal of Adolescent Health, 61(3), 389-391. doi: 10.1016/j.jadohealth.2017.04.016. PMCID: PMC5600484

Evans-Polce, R.J., Maggs, J.L., Staff, J., & Lanza, S. T. (2017). The age-varying association of student status with excessive alcohol use: Ages 18 to 30 years. Alcoholism: Clinical and Experimental Research, 41(2), 407-413. doi: 10.1111/acer.13294. PMCID: PMC527278

Patrick, M. E., Evans-Polce, R. J., Kloska, D. D., Maggs, J. L., & Lanza, S. T. (2017). Age-related changes in associations between reasons for alcohol use and high-intensity drinking across young adulthood. Journal of Studies on Alcohol and Drugs, 78(4), 558-570. doi: 10.15288/jsad.2017.78.558. PMCID: PMC5551660

Evans-Polce, R. J. & Schuler, M. S. (2016). Rates of past-year alcohol treatment across two-time metrics and differences by alcohol use disorder severity and mental health comorbidities. Drug and Alcohol Dependence, 166, 194-201. doi: 10.1016/j.drugalcdep.2016.07.010. PMCID: PMC4991640

Evans-Polce, R. J., Staff, J., & Maggs, J. L. (2016). Alcohol abstention in early adulthood and premature mortality: Do early life factors, social support, and health explain this association? Social Science & Medicine, 163, 71-79. doi: 10.1016/j.socscimed.2016.06.052. PMCID: PMC4970918

R. J., Lanza, S. T., & Maggs, J. L. (2015). Heterogeneity of alcohol, tobacco, and other substance use behaviors in U.S. college students: A latent class analysis. Addictive Behaviors, 53, 80-85. doi: 10.1016/j.addbeh.2015.10.010. PMCID: PMC4712642

R. J., Castaldelli-Maia, J. M., Schomerus, G., & Evans-Lacko, S. E. (2015). The downside of tobacco control? Smoking self-stigma: a systematic review. Social Science & Medicine, 145, 26-34. doi: 10.1016/j.socscimed.2015.09.026 PMCID: PMC4630105

Evans-Polce, R. J., Vasilenko, S. A., & Lanza, S. T. (2015). Changes in gender and racial/ethnic disparities in rates of cigarette use, regular heavy episodic drinking, and marijuana use: Ages 14to 32. Addictive Behaviors, 41, 218-222. doi: 10.1016/j.addbeh.2014.10.029. PMCID: PMC4314406

R. J., Doherty, E. E., & Ensminger, M. E. (2014). Taking a life course approach to studying substance use treatment among a community cohort of African American substance users. Drug and Alcohol Dependence, 142, 216-223. doi: 10.1016/j.drugalcdep.2014.06.025. PMCID: PMC4127101

Patrick, M. E., Evans-Polce, R. J., & Maggs, J. L. (2014). Alcohol mixed with energy drinks as a predictor of alcohol-related consequences up to two years later. Journal of Studies on Alcohol and Drugs, 75(5), 753-757. doi: 10.15288/jsad.2014.75.753. PMCID: PMC4161695

Evans-Polce, R., Hulbert, A., & Latkin, C. (2012). The association of multiple neighborhood perceptions with depression among a highly impoverished urban sample. Journal of Community Psychology, 41(1), 52-64. doi: 10.1002/jcop.21510. PMCID: PMC4219739
Download CV