Milisa Manojlovich, Ph.D., RN, FAAN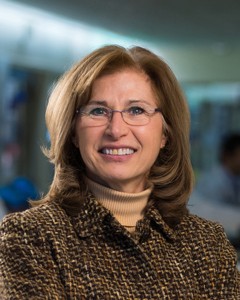 Professor
Department of Systems, Populations and Leadership
Room 4306 400NIB
University of Michigan School of Nursing
400 North Ingalls Building
Ann Arbor, MI 48109-5482
Telephone: (734) 936-3055
Fax: (734) 647-2416
Milisa Manojlovich is accepting new PhD students.
In the news
Interests
Identify how communication (i.e., shared understanding) develops between clinicians from different disciplines, and also between clinicians and patients
Measurement of communication
Describe the role of communication in different settings (e.g., the emergency department, the operating room) and its effect on patient and clinician outcomes
Understand how various healthcare environments affect nursing practice and patient safety
Link shared understanding to patient safety
Dr. Manojlovich is the only nurse scientist in the country to lead a highly productive team seeking to advance patient safety by improving communication between physicians and nurses. This topic is of critical importance because poor interdisciplinary communication is one of the most common contributors to tens of thousands of adverse events for patients every year, including death. She is confronting the problem of poor communication on two fronts – conceptual and methodological - to provide the greatest impact on patient safety. Conceptual and methodological innovations are needed in concert because neither approach alone has been sufficient to solve the problem of poor communication, which has perplexed researchers for over 50 years.
In healthcare, communication is commonly defined as information exchange, borrowing heavily from aviation which focuses on sender-receiver characterizations and thus a transactional view of communication. Dr. Manojlovich promotes a broader view of communication, one focused on developing shared understanding between communicators and the transformational nature of communication that results when two people – with different perspectives – come to understand one another and learn something new. To make the greatest impact, Dr. Manojlovich is conducting research on this topic from multiple perspectives and is expanding the focus of communication to include other disciplines such as pharmacists as well as patients. She is currently principal investigator on a grant funded by the University of Michigan School of Nursing (Jo Anne Horsley and Janet Gatherer Boyles donor funds), as well as a co-investigator on several other studies, listed below.
Visit her Prevent Harms through Discovery and Innovation (PIVOT) Hub website.
Current Research Grants and Programs
(PI: Saint, S.) Health Research and Educational Trust (HRET) from the Agency for Healthcare Research and Quality Comprehensive Unit-based Safety Program (CUSP) to reduce Central Line-associated Blood Stream Infections (CLABSI) and Catheter-associated Urinary Tract Infections (CAUTI) in Intensive Care Units (ICU). The "expansion" project. Role: Co-I 8/2017 - 9/2021 $495,000 48 months
(PI: O'Leary, K.J.) 1R18HS02564 Agency for Healthcare Research and Quality Redesigning Systems to Improve Quality for Hospitalized Patients Role: Co-I 9/2017 - 7/2022 $1,918,940 60 months
(PI: Manojlovich, M.) Jo Anne Horsley/Janet Gatherer Boyles donor funds Piloting the use of Video Reflexive Ethnography as an implementation intervention to improve symptom management Role: PI 7/2019 - 6/2021 $30,000 24 months
(PI: Likosky, D.) R01H146619-01A1 NHLBI Novel Assessments of Technical and Non-Technical Cardiac Surgery Quality Role: Co-I 12/15/2019 – 11/30/2024 $3,443,788 60 months
Teaching
Dr. Manojlovich's teaching philosophy is a blend of constructivism and humanism. She uses the principles of adult education to provide structure within which learning can occur. She invites her students to engage in learning along with her and facilitates the exploratory process by creating an environment where students feel safe to express their thoughts and ideas. Dr. Manojlovich uses creative teaching strategies to enhance classroom experiences and includes components of cooperative learning in every class session. She teaches at both undergraduate and graduate levels, in clinical and didactic courses. As a faculty member she believes that, to facilitate the School's teaching mission, her primary responsibility is to support and advocate for students.
Affiliations / Service
Member, American Association of Critical Care Nurses (AACN), 1989-present
Member, Sigma Theta Tau International; Rho Chapter, 1989-present
Member, Council on Graduate Education for Administration in Nursing, 2003-present
Academy of Management, 2005-2013
Member, AcademyHealth, 2006-present
Senior Member, Nursing Best Practice Research Unit, University of Ottawa, 2012-present
Member, American Nurses Association, 2016-present
Notable Awards / Honors
Elizabeth Grossman Award, Indiana University, 1985
Midwest Nursing Research Society (MNRS) Dissertation Grant, 2003
New Investigator Award, Interdisciplinary Research Group on Nursing Issues, AcademyHealth, 2008
Rackham Graduate School, University of Michigan, Spring/Summer Research Grants Program, 2012
Award for Excellence in Nursing Research: Sigma Theta Tau International – Rho Chapter, 2015
Fellow, American Academy of Nursing, 2018
Education
Ph.D., University of Michigan, Ann Arbor, MI
MS, Rush University, Chicago, IL
ADN, Indiana University, Gary, IN
BEd, University of Windsor, Windsor Ontario, Canada
BA, Queen's University, Kingston Ontario, Canada
Publication Highlights
Manojlovich, M. and Meddings, J. (2020). Barriers to physician-nurse communication on catheter use. Physician's Weekly, 17(1). January.

Reed-Ponte, P. (2020). Shared understanding – the underpinning of patient safety. An interview with Milisa Manojlovich, PhD, RN. Journal of Nursing Administration, 50(4), 190-191.

Lafferty, M., Manojlovich, M., Griggs, J.J., Wright, N., Harrod, M., Friese, C.R. (2020). Clinicians report barriers and facilitators to high-quality ambulatory oncology care. Cancer Nursing.

Lafferty, M., Fauer, A., Wright, N., Manojlovich, M., Friese, C.R. (2020). Causes and consequences of chemotherapy delays in ambulatory oncology practices: A multi-site qualitative study. Oncology Nursing Forum, 47(4), 417-427.

Manojlovich, M., Harrod, M., Hofer, T., Lafferty, M., McBratnie, M., Krein, S. (2020). Patient care rounds as a conduit for inter-professional communication. The Journal of General Internal Medicine, 35(3), 839-45.

Manojlovich, M., Bedard, L., Griggs, J.J., Mendelsohn-Victor, K., Ramakrishnan, A., Friese, C.R. (2020). Overcoming barriers to ambulatory oncology practice participation in research. JMIR Cancer, 6(1), e14476.

Quinn, M., Ameling, J.M., Forman, J., Krein, S.L., Manojlovich, M., Fowler, K., King, E.A., Meddings, J. (2020). Persistent barriers to timely catheter removal identified from clinical observations and interviews. The Joint Commission Journal on Quality and Patient Safety, 46, 99-108.

Manojlovich, M., Ameling, J., Forman, J., Judkins, S., Quinn, M., Meddings, J. (2019). Why don't we talk about catheters? Characterizing contextual barriers to communication between Physicians and Nurses about catheter use, American Journal of Critical Care, 28(4), 290-298.

Umberfield, E., Ghaferi, A., Krein, S.L., Manojlovich, M. (2019). Using incident reports to assess communication failures and patient outcomes. The Joint Commission Journal on Quality and Patient Safety, 45, 406 - 413. doi: doi.org/10.1016/j.jcjq.2019.02.006. PMC6590519

Manojlovich, M., Hofer, T., Krein, S. (2018). A conceptual framework to advance patient safety: Focus on communication. Journal of Patient Safety, Epub ahead of print [31 October 2018]. doi: 10.1097/PTS.0000000000000547

Manojlovich, M., Harrod, M., Hofer, T.P., Heshmati, A., Umberfield, E., Frankel, R., and Krein, S. (2018). A formative evaluation of the video reflexive ethnography method, as applied to the physician/nurse dyad. BMJ Quality & Safety. Epub ahead of print [24 June 2018] doi:10.1136/bmjqs-2017-007728
Download CV