Milisa Manojlovich, Ph.D., RN, FAAN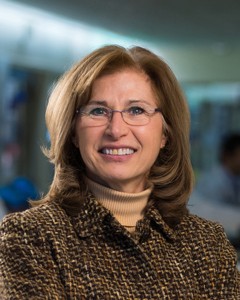 Professor
Department of Systems, Populations and Leadership
Room 4306 NURS1
University of Michigan School of Nursing
400 North Ingalls Building
Ann Arbor, MI 48109-5482
Telephone: (734) 936-3055
Fax: (734) 647-2416
Milisa Manojlovich is accepting new PhD students.
In the news
Interests
Interdisciplinary communication
Patient safety methodologies
The role of communication in diagnostic error
Health information and communication technology
Cancer care delivery
Dr. Manojlovich is the only nurse scientist in the country to lead a highly productive team seeking to advance patient safety by improving communication between physicians and nurses. This topic is of critical importance because poor interdisciplinary communication is one of the most common contributors to tens of thousands of adverse events for patients every year, including death. She is confronting the problem of poor communication on two fronts – conceptual and methodological - to provide the greatest impact on patient safety. Conceptual and methodological innovations are needed in concert because neither approach alone has been sufficient to solve the problem of poor communication, which has perplexed researchers for over 50 years.
In healthcare, communication is commonly defined as information exchange, borrowing heavily from aviation which focuses on sender-receiver characterizations and thus a transactional view of communication. Dr. Manojlovich promotes a broader view of communication, one focused on developing shared understanding between communicators and the transformational nature of communication that results when two people – with different perspectives – come to understand one another and learn something new. To make the greatest impact, Dr. Manojlovich is conducting research on this topic from multiple perspectives and is expanding the focus of communication to include other disciplines such as pharmacists as well as patients. She is currently principal investigator on a grant funded by the University of Michigan School of Nursing (Jo Anne Horsley and Janet Gatherer Boyles donor funds), as well as a co-investigator on several other studies, listed below.
Visit her Prevent Harms through Discovery and Innovation (PIVOT) Hub website.
Current Research Grants and Programs
Redesigning Systems to Improve Quality for Hospitalized Patients (PI O'Leary). 1R18HS02564. Role: co-I
Piloting the use of Video Reflexive Ethnography as an implementation intervention to improve symptom management (PI Manojlovich). School of Nursing donors JoAnne Horsely/Janet Gatherer Boyles.
Novel Assessments of Technical and Non-Technical Cardiac Surgery Quality (PI Likosky). R01H146619. Role: co-I
Improving Diagnosis in Emergency and Acute Care: A Learning Laboratory (PI Mahajan). 1R18HS026622-03. Role: co-I
Patient Engagement in Reporting Medication Events during Transitions of Care (PI Jiang). 1R01HS02784601. Role: co-I
Engineering whole health into hospital care to improve wellness: The M-Wellness Laboratory (M-Well) (PI Saint). 1R18HS028963. Role: co-I
Teaching
Dr. Manojlovich's teaching philosophy is a blend of constructivism and humanism. She uses the principles of adult education to provide structure within which learning can occur. She invites her students to engage in learning along with her and facilitates the exploratory process by creating an environment where students feel safe to express their thoughts and ideas. Dr. Manojlovich uses creative teaching strategies to enhance classroom experiences and includes components of cooperative learning in every class session. She teaches at both undergraduate and graduate levels, in clinical and didactic courses. As a faculty member she believes that, to facilitate the School's teaching mission, her primary responsibility is to support and advocate for students.
Affiliations / Service
Member, Academy of Communication in Healthcare, 2016 - present
Associate Editor, BMJ Quality & Safety, 2019 – present
Co-Director, National Clinician Scholars Program at Michigan
Notable Awards / Honors
Elizabeth Grossman Award, Indiana University, 1985
Midwest Nursing Research Society (MNRS) Dissertation Grant, 2003
New Investigator Award, Interdisciplinary Research Group on Nursing Issues, AcademyHealth, 2008
Rackham Graduate School, University of Michigan, Spring/Summer Research Grants Program, 2012
Award for Excellence in Nursing Research: Sigma Theta Tau International – Rho Chapter, 2015
Fellow, American Academy of Nursing, 2018
Education
Ph.D., University of Michigan, Ann Arbor, MI
MS, Rush University, Chicago, IL
ADN, Indiana University, Gary, IN
BEd, University of Windsor, Windsor Ontario, Canada
BA, Queen's University, Kingston Ontario, Canada
Publication Highlights
Manojlovich, M., Harrod, M., Hofer, T.P., Lafferty, M., McBratnie, M., Krein, S.L. (2021). Factors influencing physician responsiveness to nurse-initiated communication: A qualitative study. BMJ Quality & Safety, 30: 747-754. doi: 10.1136/bmjqs-2020-011441. PubMed PMID: 33168635. PMC8140397

Boltey, E.M., Wright, N.C., Mosley, E.A., White, M.R., Iwashyna, T.J., Manojlovich, M., Costa, D.K. (2021). Exploring the process of information sharing in an adult intensive care unit: An ethnographic study. Journal of Interprofessional Care. https://doi.org/10.1080/13561820.2021.1899147

Likosky, D.S., Yule, S.J., Mathis, M.R., Dias, R.D., Corso, J.J., Zhang, M., Krein, S.L., Caldwell, M.D., Louis, N., Janda, A.M., Shah, N.J., Pagani, F.D., Stakich-Alpirez, K., Manojlovich, M. (2021). Novel Assessments of Technical and Non-Technical Cardiac Surgery Quality: Protocol for a Mixed Methods Study. Journal of Medical Internet Research: Protocols. Jan 8; 10(1): e22536. doi: 10.2196/22536. PubMed PMID: 33416505; PubMed Central PMCID: PMC7822723

Fauer, A., Wright, N., Lafferty, M., Harrod, M., Manojlovich, M., Friese, C.R. (2021). Influences of Physical Layout and Space on Patient Safety and Communication in Ambulatory Oncology Practices: A Multi-site, Mixed Method Investigation. Health Environments Research & Design Journal. Published ahead of print. DOI: 10.1177/19375867211027498

Lafferty, M., Krein, S., Harrod, M., Manojlovich, M. (2021). It's like sending a message in a bottle: A qualitative study of the consequences of one-way communication technologies in hospitals. Journal of the American Medical Informatics Association, 28(12), 2601-2607. DOI: 10.1093/jamia/ocab191

Manojlovich, M., Hofer, T., Krein, S. (2021). A conceptual framework to advance patient safety: Focus on communication. Journal of Patient Safety, 17(8), e732 – e737.

DOI: 10.1097/PTS.0000000000000547. PMID: 30383622.

Sirihorachai, R., Saylor, K. & Manojlovich, M. (2021). Interventions for the prevention of retained surgical items: A systematic review. World Journal of Surgery. Published ahead of print.

Crist, K., Lafferty, M., Umberfield, E., Manojlovich, M. (2022). Which factors contribute to shared understanding between physicians and nurses in inpatient oncology care? A qualitative exploration. Cancer Nursing, 45(2), E338 – E344. DOI: 10.1097/NCC.0000000000000959

Mathis, M.R., Yule, S., Wu, X., Dias, R.D., Janda, A.M., Krein, S.L., Manojlovich, M., Caldwell, M.D., Stakich-Alpirez, K., Zhang, M., Corso, J., Louis, N. Pagani, F.D., Likosky, D. (in press). The impact of team familiarity on intra- and postoperative cardiac surgical outcomes. Journal of Surgery.

Manojlovich, M. & Krein, S.L. (2022). We don't talk about communication: Why technology alone cannot save clinically deteriorating patients. BMJ Quality & Safety. doi:10.1136/bmjqs-2022-014798. Published ahead of print.

Manojlovich M., Krein, S.L., Kronick, S.L., Mahajan, P., Graber, M.L. Distributed cognition and the role of nurses in diagnostic safety in the emergency department. Rockville, MD: Agency for Healthcare Research and Quality; August 2022. AHRQ Publication No. 22-0026-2-EF.
Download CV