Marjorie C. McCullagh, PhD, RN, APHN-BC, COHN-S, FAAOHN, FAAN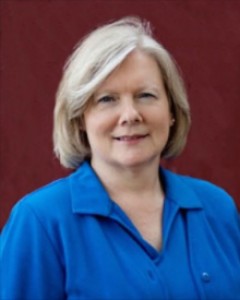 Professor
Sally L Lusk Collegiate Professor of Nursing
Director, Occupational Health Nursing Program
Department of Systems, Populations and Leadership
Room 3180 400NIB
University of Michigan School of Nursing
400 North Ingalls Building
Ann Arbor, MI 48109-5482
Telephone: (734) 763-3450
Fax: (734) 647-0351
Marjorie McCullagh is accepting new PhD students.
Interests
Community/public/population health
Health behavior
Worker health and safety
Intervention effectiveness & translational research
Randomly-controlled trials
Workers are exposed to a variety of toxic materials and substances as part of their work. These exposures are prevalent in America, and result in heavy social and economic burdens on families and communities. There are few programs to control these exposures, and fewer yet have been tested. The aim of Dr. Marjorie McCullagh's program of research is to promote health among workers by eliminating work-related toxic exposures. This work is primarily focused on toxic noise exposure and its multiple negative health effects among farm operators and farm and rural youth. Watch a University of Michigan video about Dr. McCullagh's work.
She has worked to understand how farmers and workers get information about their health and safety and developed and validated instruments to measure hearing protector use and related attitudes. In doing so, she has developed successful strategies for high subject enrollment and retention, and established strong interdisciplinary partnership in efforts to address important health issues. These include work with such fields as sociology, health communications and behavior, audiology, agronomy, web design, social work, demography, and applied statistics.
Dr. McCullagh also serves a director of The University of Michigan Center for Occupational Health and Safety Engineering (
COHSE
), which is a NIOSH Education and Research Center (ERC)
Current Research Grants and Programs
University of Michigan Education and Research Center, NIOSH T42, Director
Feasibility and Acceptability of Motivational Interviewing to Reduce the Negative Health Effects of Noise Exposure among Agricultural Producers
Teaching
Dr. McCullagh is experienced in teaching nursing at the undergraduate and graduate levels, in both didactic and clinical settings. Her methods accommodate learners from a wide range of learning styles, and include a high level of student-teacher interaction. Dr. McCullagh employs a variety of teaching-learning methods, including case study analyses, videos, gaming, and web-based technologies in both face-to-face and distance learning formats. Course teaching focuses on population-focused nursing (e.g., Evaluation in Health Systems), core graduate nursing curriculum (e.g., Leadership Immersion), and specialty-focused (e.g., Issues in Occupational Health Nursing).
Affiliations / Service
Member, Midwest Nursing Research Society, 1996-present (Health-Seeking Behavior Research Section, Co-Chair, 1999-2000; Chair, 2000-2001; Membership Committee member, 2001-2010; Membership committee chair, 2003-05, 2005-07, 2007-present; Pre-conference Planning Committee Member, 2002-2003; Scientific Session Moderator, 2000, 2002; Scientific Program Reviewer, 2010-present
Member, University of Michigan Health System Nursing Health and Safety Council, 2008-present
Member, North Dakota Department of Health Public Health Emergency Reserve/Medical Reserve Corps, 2004-present
Member, American Association of Occupational Health Nurses, 1997-present
Member, American Public Health Association, 1997-present
Staff, American National Red Cross, Disaster Health Services, 1978-present
Notable Awards / Honors
American Academy of Nursing Edge Runner Designation (2018)
Fellow, American Academy of Nursing (2015)
Fellow, American Association of Occupational Health Nursing (2014)
Sigma Theta Tau International Honor Society of Nursing, Rho Chapter, Excellence in Nursing Research Award (2014)
Education
PhD, University of Michigan, Ann Arbor, MI, 1999
MS, University of North Dakota, Grand Forks, ND, 1986
BS, State University of New York, Albany, NY, 1977
Publication Highlights
McCullagh, M.C.; Cohen, M.A.; Haberkorn, E.; & Wood, M. (2020). Evaluating the implementation fidelity of a community-based intervention to promote hearing conservation among farm and rural youth. Translational and Behavioral Medicine, 10(3), 734–740. https://doi.org/10.1093/tbm/ibz037

McCullagh, M.C., Yang, J.J. & Cohen, M.A. (2020). Community-based program to increase use of hearing conservation practices among farm and rural youth: A cluster randomized trial of effectiveness. BMC Public Health 20, 847. https://doi.org/10.1186/s12889-020-08972-3.

McCullagh, M.C.; Mecomber, J.; McBride, K.M.; Hubscher, J.J.; Kingsinger, O.G.; Park, S.; Souksay, K.J.; Velasquez, C.M.; Yake, L.M. (2020). Development and testing of a practicum matching program for baccalaureate nursing education and a local public health unit. Public Health Nursing, (37) 812–817. DOI: 10.1111/phn.12767.

Friese, C.; Mendelsohn-Victor, K.; Fauer, A.; McCullagh, M.C.; Wong, M. (2020). Oncology Nurses' Exposure to Hazardous Drugs in Ambulatory Settings: Case Report Analysis from a Prospective, Multi-Site Study. Clinical Journal of Oncology Nursing, 24(3):249-255. DOI: 10.1188/20.cjon.249-255 PMID: 32441682.

Lusk, S.L. & McCullagh, M.C. (2020). Environmental noise impacts health and well-being. In Leffers, J.; Smith, C.M.; Huffling, K.; McDermott-Levy, R.; & Sattler, B. (Eds.). Environmental Health in Nursing [e-textbook, https://envirn.org/e-textbook/]. Alliance of Nurses for Healthy Environments: Mt. Ranier, MD.

Ullman, E.D.; Smith, L.M.; McCullagh, M.C.; Neitzel, R.L. (2021). Hearing loss as a predictor for hearing protection attenuation among miners. Occup Environ Med. doi:10.1136/ oemed-2020-106838

Rosemberg, M.A.; Yang, L.; Seng, J.; McConnell, D.; McCullagh, M.C. (2021). Stressors, allostatic load, and health outcomes among women hotel housekeepers: A pilot study. Journal of Occupational & Environmental Hygiene.

Aebersold, M.; McCullagh, M.; Titler, M.; Jiang, X.; Zhang, X.; Tschannen, D.; Friese, C. (2019). Center for improving patient and population health: Using 'why' to develop a transformative research center. Research and Theory for Nursing Practice.

Lusk, S.L.; McCullagh, M.C; Dickson, V.V.; Xu, J. (2017). Reduce noise: Improve the nation's health. Nursing Outlook (65)5, 652–656. http://dx.doi.org/10.1016/j.outlook.2017.08.001

McCullagh, M.C.; Cohen, M.A.; Haberkorn, E.; & Wood, M. (2019). Evaluating the implementation fidelity of a community-based intervention to promote hearing conservation among farm and rural youth. Translational and Behavioral Medicine, ibz037, https://doi.org/10.1093/tbm/ibz037

Rosemberg, M.A.; Ghosh, B., Shaver, J.; Militzer, M.; Seng, J.; McCullagh, M.C. (20xx). Feasibility of engagement and 24-hour ambulatory blood pressure among hotel housekeepers: Results & lessons learned from a pilot study. American Journal of Industrial Medicine