Margaret M. Calarco, Ph.D., RN, NEA-BC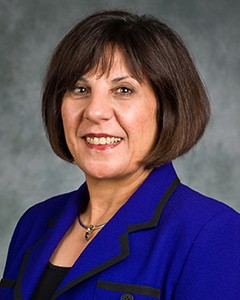 HealthyLifetime© Program Coordinator
Department of Systems, Populations and Leadership
Room 3183 NURS1
University of Michigan School of Nursing
400 North Ingalls Building
Ann Arbor, MI 48109-5482
Telephone: 734-647-3857
Fax: 734-764-5741
Interests
Practice environments
Positive organizational scholarship
Leadership
Dr. Calarco has held executive leadership roles in health care settings for more than 20 years. She is an accomplished researcher in the field of administrative and organizational change with her most recent funding in the areas of nursing environments, nurse retention and professional development. Dr. Calarco has presented on a wide array of topics nationally and internationally, and has published widely in the areas of clinical depression and in leadership and organizational change.
Teaching
Dr. Calarco lectures on a wide variety of topics to multidisciplinary audiences which include leading complex organizations, mission and vision development and topics on positive organizational scholarship and its impact in nursing work environments.
Affiliations / Service
Member, Packard Health Quality Committee , 2018
Member, Nurse Trust, 2018
Member of American Nurses Association, 1978 – present
Member, American Organization of Nurse Executives, 2000 – present (Education Committee 2013- 2015)
Editorial Board Member: Online Journal of Nursing Issues, June 2000 – present
Member, Michigan Organization of Nurse Executives, 2002 – present
Member, Sigma Theta Tau - Rho Chapter, 1977- present (President- Elect; President, and Past President, 2013 – 2017)
Notable Awards / Honors
Executive Nurse Fellow, Robert Wood Johnson, 1998 – 2001
Fellow, Johnson & Johnson Wharton, 2001
Excellence in Nursing Leadership Award, Sigma Theta Tau International – Rho Chapter
Profiled in The Journal for Nursing Administration, "Inspiration Point: Positive Organizational Scholarship," 2007
Nursing Leadership Award, Washtenaw-Livingston Monroe Nurses Association
Profiled in Sigma Theta Tau's Reflections on Nursing Leadership, 2004
Education
Ph.D., University of Michigan, Ann Arbor, MI 1992
MSN, Case Western Reserve University, Cleveland, Ohio 1981
BSN, University of Cincinnati, Cincinnati, Ohio 1978
Publication Highlights
Shirey, M.R., & Calarco, M.M. (2014). Whole Scale change for real time strategic application in complex health systems. Journal of Nursing Administration, Volume 44, Number 11., pp. 564-568.

Schoville, R., Shever, L.L., & Calarco, M.M. (2014). A cost benefit analysis: Electronic clinical procedural resource supporting evidence-based practice (EBP). Nursing Economics. September/October.

Parry, J., Calarco, M.M., & Hensinger, B. (2014). A unit-based intervention framework: De-stressing the distressed. Nursing Management , 45 (8), August, pp. 38-44.

Calarco, M.M. Interventions in the mobility domain: An organizational perspective (editorial). Critical Care Nursing Quarterly – Mobility: A successful investment for critically ill patients, 36(1):3-4, January–March 2013.

Svejda, M., Goldberg, J., Belden, M., Potempa, K., Calarco, M. Building the clinical bridge to advance education, research, and practice excellence. Nursing Research and Practice, Volume 2012, Article ID: 826061, 10 pages.

Parry, J.S., Kearly, G., Calarco, M.M., Fuhrmann, M., Shakarjian, L., Crissey, J., and Hensinger, B. Investing in the future nursing workforce. Nursing Management, 42(7):17-20, 2011.

Kim, C., Calarco, MM., Jacobs, T., Loik, C. , Rohde, J., McClish, D., Mychaliska, K., Brand, G., Froehlich, F., McNeice, J., Chang, R., Grunawalt, J., Schmidt, P., Campbell, D. Leadership at the frontline: A clinical partnership model on general care inpatient units. American Journal of Medical Quality, October 2011.

Cameron, K., Mora, C., Leutscher, T and Calarco, M. Effects of positive practices on organizational effectiveness. The Journal of Applied Behavioral Science. Published online January 29, 2011.

Calarco, M.M. The impact of positive practices on nurse work environments: Emerging applications of positive organizational scholarship. Western Journal of Nursing Research. 33(3):365-384, 2010

Calarco, M.M. Point/Counterpoint: Given the nursing shortage is mandatory overtime a necessary evil? Nursing Leadership Forum, 6(2):33-38, 2001.

Neal, D., Calarco, M. M. Mental health providers: Role definitions and collaborative practice issues. In M. Riba & R. Balon (Eds.) Psychopharmacology and Psychotherapy. Washington D.C.: American Psychiatric Press, Inc. 1999

Simms, L.M. & Calarco, M.M. Maximizing people potential: The creation of empowered environments. In S. Price, M. Kock, & S. Bassett (Eds.) Managing health care resources: Present and future challenges. St. Louis: Mosby Year Book, Inc. 1998

Coyne, J.C, Gallo, S.M., Klinkman, M.S & Calarco, M.M. Effects of recent and past major depression and distress on self-concept and coping. Journal of Abnormal Psychology, 107(1):86-96, 1998.

Coyne, J.C., & Calarco, M.M. Effects of the experience of depression: Application of focus group and survey methodologies. Psychiatry, 58, 149-63, 1995.

Calarco, M.M. & Krone, K.P. An integrated nursing model of depressive behavior in adults: Theory and implications for practice. Nursing Clinics of North America, 26(3):573-84, 1991.
Download CV