Laura Prochnow, DNP, RN, CHSE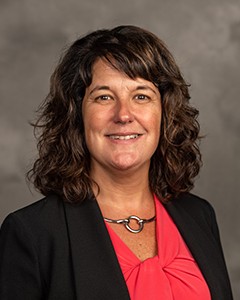 Clinical Instructor
Department of Systems, Populations and Leadership
2152 400 NIB
University of Michigan School of Nursing
400 North Ingalls Building
Ann Arbor, MI 48109-5482
Telephone: 734-615-2997
Interests
Simulation Education
Assisting nursing students with study techniques and test taking strategies
Dr. Prochnow has been a nurse for 29 years specializing in emergency and cardiac care. She has been an academic educator for 13 years with emphasis on utilizing simulation education.
Teaching
Dr. Prochnow's passion includes cultivating future nurses to become the "Great Nurse". She promotes students to develop advanced critical thinking skills which are needed to care for the current patient populations. Her specialty area includes utilizing simulation education to create and enhance these nursing skills. Dr. Prochnow creates a learner-centered, interactive classroom that endorses individual learning strategies. She also assists students with test-taking approaches to promote success on national exams.
Affiliations / Service
The Society for Simulation in Healthcare, Member 2011-present; abstract reviewer 2013-2016.
American Heart Association, Instructor BLS, ACLS, & PALS 1994-present; ACLS Regional Faculty 2014-2018.
Agency for Healthcare Research & Quality, Instructor Team STEPPS Master Trainer
Notable Awards / Honors
University of Michigan School of Nursing Dean's List during DNP program, 2016-2018
Education
DNP, University of Michigan, Ann Arbor, MI 2018
MSN, Walden University, Minneapolis, MN 2013
BSN, Madonna University, Livonia, MI 1990
Publication Highlights
Hughes-Carter, D.L., Maneval, R., Prochnow, L. (2016). A simulated multi-patient medication administration experience: Evaluating senior level nursing students' performance. Poster Presentation at the Sigma Theta Tau / National League of Nursing, Nursing Education Research Conference in Washington D.C.
Download CV