Laura L. Calamos, Ph.D., RN, FNP-BC, FHEA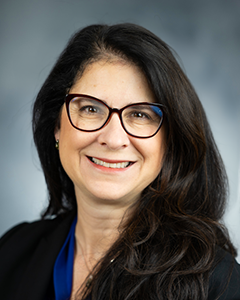 Clinical Assistant Professor
Department of Systems, Populations and Leadership
Room 4349 NURS1
University of Michigan School of Nursing
400 North Ingalls Building
Ann Arbor, MI 48109-5482
Telephone: (734) 764-2847
Interests
Community-oriented primary care
Integration in healthcare
Boundary-spanning service delivery
Comparative health systems
Transdisciplinary teamwork
Dr. Calamos is a Family Nurse Practitioner with over three decades of direct patient care experience, particularly working in family practice and public health in rural and underserved communities. Her passion is for empowering community-oriented primary care (COPC) through the co-design and integration of services, and by bringing together a wide range of stakeholders. She is a qualitative researcher, preferring to use participatory research methods to understand the sociological and systemic factors that affect the health of a community.
With training and experience in healthcare, non-profit management, and operations in the financial services industry, she endeavors to develop highly collaborative teams in all settings. She has served as a boundary-spanning executive and sits on numerous corporate, non-profit, academic, and advisory boards. In all her work, Dr. Calamos focuses on organizational behavior and strategic communications to support transdisciplinary teamwork, change management, and client-centered service delivery.
Teaching
Dr. Calamos has extensive experience teaching nurses in the United States, United Kingdom, and Switzerland. Her expertise in interprofessional training includes using a variety of methods to support lifelong learning, including developing courses and lectures, interactive workshops, coaching opportunities, dynamic projects, and hands-on clinical assessment training for advance practice nurses and other professionals. She enjoys working with teams to build skills in community-oriented primary care, health promotion, strategic communication, and leadership.
Affiliations / Service
Organization Management Committee Chair, Michigan Council of Nurse Practitioners (MICNP) State Board, 2023
Treasurer, Michigan Council of Nurse Practitioners (MICNP), Ann Arbor Chapter, 2022
Co-Chair, Community-Oriented Integration Network (COIN), United Kingdom, 2020-present.
Member, Sigma Theta Tau International Honor Society, 1998-present
Notable Awards / Honors
Fellow of Higher Education Academy (FHEA), United Kingdom, 2013
Center for Global Initiatives Faculty Curriculum Development Award, University of North Carolina at Chapel Hill, 2009
Sigma Theta Tau International Honor Society, induction to Alpha Alpha Chapter, 1998
George Livas Award for Outstanding Senior, University of North Carolina at Chapel Hill School of Nursing, 1998
Albert Schweitzer Fellowship, North Carolina Chapter, 1997
Education
Ph.D., King's College London, United Kingdom, 2014
PGCAP, Post Graduate Certificate of Academic Practice, King's College London, United Kindom, 2013
MSN, University of North Carolina at Chapel Hill, NC, 2002
BSN, University of North Carolina at Chapel Hill, NC, 1998
BA, Hampshire College, Amherst, MA, 1990
Publication Highlights
Calamos, L. and Thomas, P. (2021, May 13). Accomplishing Community-Oriented Integration at Scale – Strategies for Success. International Foundation for Integrated Care. [Conference Presentation and Workshop]. 21st International Conference on Integrated Care (ICIC21).

Thomas, S., Jenkins, R., Burch, T., Calamos Nasir, L., Fisher, B., Giotaki, G., Gnani, S., Hertel, Lise., Marks, M., Mathers, N., Millington-Sanders, C., Morris, D., Ruprah-Shah, B., Stange, K., Thomas, P., White, P., & Wright, F. (2016). Promoting Mental Health and Preventing Mental Illness in General Practice, London Journal of Primary Care,8:1, 3-9, DOI: 10.1080/17571472.2015.1135659

Nasir, L.C. (2014, April 11) Primary health care – Crossing the disciplinary divide. Plenary at the International Nursing Conference. Nursing & Midwifery @ the_Crossroads. Cape Town, South Africa.

Nasir, L.C. (2014) Prologue: A Vision Forms. Epilogue: Same Body, Different Rules. In Harlan, C.A. (Ed.) Global Health Nursing: Narratives from the Field. New York: Springer Publishing Company.

Thomas, P., Nasir, L., & Breton, M. (2014) Infrastructure to support modern primary care: the NAPCRG debate update. London Journal of Primary Care, 6:2, 35-8, DOI: 10.1080/17571472.2014.11493411

Unadkat, N., Evans, L., Nasir, L., Thomas, P. Chandok, R. (2013). Taking diabetes services out of hospital into the community. London Journal of Primary Care, 5:65-9, DOI: 10.1080/17571472.2013.11493386 Available

Nasir, L., Robert, G., Fischer, M., Norman, I., Murrells, T., Schofield, P. (2013) Facilitating knowledge exchange between health-care sectors, organisations and professions: a longitudinal mixed-methods study of boundary-spanning processes and their impact on health-care quality. Health Serv Deliv Res. 1(7). DOI: 10.3310/hsdr01070. Available at: http://www.journalslibrary.nihr.ac.uk/hsdr/volume-1/issue-7

Chandok, R., Unadkat, N., Nasir, L., Evans, L., & Thomas, P. (2013). How Ealing Health Networks can contribute to efficient and quality healthcare. London Journal of Primary Care, 5:2, 84-86, DOI: 10.1080/17571472.2013.11493385

Thomas, P., Stange, K., Nasir, L.C. (2 December 2012) Local Health Communities and Health Networks for Integrated Care. Forum Presentation at North American Primary Care Research Group (NAPCRAG) 40th Annual Meeting in New Orleans, United States.

Nasir, L., Robert, G., Fischer, M., Norman, I. (2012, October 24). Spanning boundaries between primary and social care: examining knowledge exchange and the impact of integration efforts on healthcare quality [Conference Presentation]. The International Society for Quality in Health Care (ISQua). Geneva, Switzerland.

Nasir, L.C., Stolz-Baskett, P., and Gallagher, A. (2012, August 22). APN Role Advocacy Through Health Assessment Teaching: Comparing International Experiences. [Conference Presentation]. 7th International Nurse Practitioner/Advanced Practice Nursing Network Conference. London, England.

Nasir, L.C., Robert, G., Thomas, P., Fischer, M., Norman, I. (2012, October 3). Learning from Integration: Embedding Inter-organizational Research in Primary Care. Paper presented at the Society for Academic Primary Care (SAPC) 41st Annual Conference. Glasgow, Scotland.

Thompson, E., Berry, D., Nasir, L. (2009) Weight Management in African-Americans using Church-Based Community Interventions to Prevent Type 2 Diabetes and Cardiovascular Disease. The Journal of the National Black Nurses