Janis M. Miller, PhD, RN, APRN, FAAN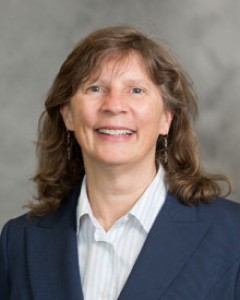 Professor
Department of Health Behavior and Biological Sciences
Research Associate Professor, Obstetrics and Gynecology, Medical School
Room 3218 400NIB
University of Michigan School of Nursing
400 North Ingalls Building
Ann Arbor, MI 48109-5482
Telephone: (734) 764-4545
Fax: (734) 615-1666
Interests:
Pelvic floor
Urinary incontinence
Effects of dietary intake, type and amount of beverages, in relation to lower urinary tract symptoms such as overactive bladder or urge incontinence
Democratic Republic of the Congo.
Dr. Miller's expertise lies in the treatment of pelvic floor disorders in women, such as pelvic organ prolapse or incontinence, and in investigating the underlying causative factors. She is a part of the Pelvic Floor Research Group at the University of Michigan, an internationally recognized team working to improve the understanding and treatment of pelvic floor disorders. In her clinical practice as a Nurse Practitioner, Dr. Millers draws on her particular expertise, seeing patients at the Taubman Obstetrics & Gynecology pelvic floor specialty clinic, which includes the Michigan Healthy Healing after Delivery Program. Additionally, Dr. Miller collaborates with an exciting team of investigators at Panzi Hospital and at the Evangelical University in Africa, in Bukavu, Democratic Republic of Congo. She has helped to launch the International Center for Advanced Research and Training (ICART) in Bukavu. This research center aims to foster local capacity to solve local problems of global significance.
Current Research Grants and Programs:
The Truly Health Bladder: Understanding Normal as a Pathway to Prevention of Lower Urinary Tract symptoms in Women (PI) NIH/NINR Goal: This project will provide us with critical evidence to guide primary care providers in understanding what constitutes a healthy bladder so we can initiate prevention strategies aimed at reducing the risk for and incidence of lower urinary tract symptoms over the lifespan.
Maternal Birth-Related Neuromuscular Injury and Recovery III: Evaluating Maternal Recovery from Labor and Delivery III (EMRLD3), (PI and Project Lead), NIH/NICHD/ORWH Goal: "Injury Extension" will determine whether minor clinically insignificant levator ani muscle injury after first birth extends to a clinically significant tear during second birth. Because a second birth doubles the risk of genital prolapse, this event offers the opportunity of preventing injury and their sequelae later in life.
The International Center for Advanced Research and Training: Development of a Research Center in the Democratic Republic of Congo, a collaboration between Panzi Hospital, Evangelical University in Africa , and the University of Michigan (PI). Goal: Build local capacity to solve local problems through research collaboratives with international significance
Study of Women's Health Across the Nation SWAN V: (SWAN V Michigan) (Co-I) NIH/NINR Goal: This well-known longitudinal trial, nearly two decades in operation, originally was designed to study the natural history of the transition to menopause. On renewal, the cohort of women is followed into old age and now includes survey data on prolapse. The relationship of prolapse to prior well-documented life events, such as lifestyle, hormonal and obstetric information, will greatly enhance our knowledge about risk factors and natural history.
Teaching
Janis's research team includes 4-5 doctoral students and 1-2 visiting scholars. Janis also enjoys teaching Pathophysiology for students preparing for advanced practice roles.
Affiliations / Service
Council for the Advancement of Nursing Science, 2012-current
American Academy of Nursing, 2012-current
National Organization of Nurse Practitioner Faculties, 2012-current
Michigan Council of Nurse Practitioners, 2010-current
International Continence Society, 2003-current
American Urogynecology Society, 2003-current
Wound Ostomy Continence Nurses Association, 1999-current
Society of Urological Nurses, 1999-current
National Association for Continence, 1995-current
Sigma Theta Tau, Rho Chapter, 1988-current
Midwest Nursing Research Society, 1987-current
American Nurses Association, 1986-current
Notable Awards / Honors
Editor's Choice manuscript, American Journal Obstetrics & Gynecology, 2015
Fellow of the American Academy of Nursing, 2012
American Urogynecological Society Best Clinical/Evaluation/Testing Paper Award, 2012
American Urogynecological Society Best Clinical Paper Award, 2010
Education
Post-Master's Certificate ANP, School of Nursing, University of Michigan, Ann Arbor, MI, 2001
Postdoc, Institute of Gerontology, University of Michigan, Ann Arbor, MI, 1999
PhD, University of Michigan, Ann Arbor, MI, 1996
MSN, Loyola University of Chicago, IL, 1988
BSN, Goshen College, Goshen, IN, 1981
Publication Highlights
Mukwege D, Peters L., Amisi C, Miller JM. Panzi Classification for Uro-Genital Fistula. Lancet Global Health, (under review).

Miller JM, Rodseth S, Guo Y, Garcia C, Schimpf M. Instruction to eliminate caffeinated, artificially sweetened, and alcoholic beverages improves bladder frequency/urgency symptoms: a prospective trial. WOCN, (in press).

Miller JM, Low L, Zielinski R, Smith A, DeLancey J, Brandon C. Evaluating maternal recovery from labor and delivery: bone and levator ani injuries. American Journal of Obstetrics & Gynecology. AJOG 2015;May 5: doi: 10.1016/j.ajog.2015.05.001. [Epub ahead of print].

Ashton-Miller J, Zielinski R, DeLancey J, Miller JM, Validity and reliability of an instrumented speculum designed to minimize the effect of intra-abdominal pressure on the measurement of pelvic floor muscle strength. Clin Biomech. 2014;29(10): 1146-50. PMID: 25307868, PMCID: PMC 4372800.

Betschart C, Kim J, Miller J, Ashton-Miller J, DeLancey J. Comparison of muscle fiber directions between different levator ani muscle subdivisions: in-vivo MRI measurements in women. Int Urogynecol J. 2014; 25 (9): 1263-8. PubMed PMID: 24832855; PubMed Central PMCID: PMC4140951

Low LK, Zielinski R, Tao Y, Galecki, A, Brandon C, Miller J. Predicting birth-related levator ani tear severity at first vaginal birth. Open J Obstet Gnecol, 2014;4(6):266-278. PMID: 25379356 PMCID: PMC4219623.

Low LK, Miller JM, Guo Y, Ashton-Miller JA, Delancey JO, Sampselle CM. Spontaneous pushing to prevent postpartum urinary incontinence: a randomized, controlled trial. Int Urogynecol J. 2013 24(3):453-60. doi: 10.1007/s00192-012-1884-y. PMCID: PMC3980478.

Seng J, Miller J, Sperlich M, van de Ven CJ, Brown S, Carter CS, Liberzon I. Exploring dissociation and oxytocin as pathways between trauma exposure and trauma-related hyperemesis gravidarum: a test-of-concept pilot. J Trauma Dissociation. 2013;14(1):40-55. doi: 10.1080/15299732.2012.694594.

Zielinksi R, Miller J, Kane Low L, Sampselle C, Delancey JOL. The relationship between pelvic organ prolapse, genital body image, and sexual health. Neurourol Urodyn 2012; 31(7): 1145-8.

Zielinksi R, Kane Low L, Miller J, Sampselle C. Validity and reliability of a scale to measure genital body image. Journal of Sex & Marital Therapy. 2012;38(4):309-24.

Brandon C, Jacobson J, Low L, Park L, DeLancey JO, Miller J. Pubic bone injuries in primiparous women: magnetic resonance imaging in detection and differential diagnosis of structural injury. Ultrasound Obstet Gynecol. 2012; 39(4):444-51. doi: 10.1002/uog.9082. PMID: 21728205.

Brincat C, DeLancey JO, Miller JM. Urethral closure pressures among primiparous women with and without levator ani muscle defects. Int Urogynecol J. 2011 Dec; 22(12):1491-5. PMCID: PMC3515874. PMID: 21617981.

Berger M, Patel D, Miller J, DeLancey J, Fenner D. Racial differences in self-reported healthcare seeking and treatment for urinary incontinence in community-dwelling women from the EPI study. Neurourol Urodyn. 2011; 30(8): 1442-7. PMCID: PMC3184333. PMID: 21717504.

Miller JM, Guo Y. S. Becker-Rodseth S. Cluster analysis of intake, output, and voiding habits collected from diary data. Nurs Res 2011; 60(2): 115-123. PMCID: PMC3140406. PMID: 21317828.

Zielinksi R, Ackerson K, Misiunas R, Miller JM. Feasibility of a longitudinal study of women anticipating first pregnancy and assessed by multiple pelvic exams: Recruitment and retention challenges. Contemporary Clinical Trials 2010; 31(6): 544-8. PMID: 20713182

North C, Kruger J, Venta P, Miller J, Winkler P, Rosenstein D, Randall E, Fitzgerald S. Congenital ureteral ectopia in continent and incontinent related Entlebucher mountain dogs: 13 cases (2006-2009). J. of Veterinary Medicine. 2010; 4(5): 1055-62. PMID: 20666980.