Janis M. Miller, PhD, RN, APRN, FAAN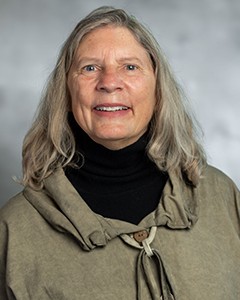 Professor
Research Professor, Obstetrics and Gynecology, Medical School
Department of Health Behavior and Biological Sciences
Room 3218 NURS1
University of Michigan School of Nursing
400 North Ingalls Building
Ann Arbor, MI 48109-5482
Telephone: (734) 764-4545
Fax: (734) 615-1666
Janis Miller is not accepting new PhD students.
Interests
Pelvic organ prolapse
Urinary incontinence
Overactive bladder
Obstetric fistula
Sexual violence related fistula
Dr. Miller's research expertise lies in finding causative factors and opportunities for prevention of disorders and injuries to a woman's "private body parts." She has had a lead role in the internationally recognized Pelvic Floor Research Group at the University of Michigan for over 20 years. In her clinical practice as a Nurse Practitioner, Dr. Miller draws on her particular research expertise, seeing patients at the University of Michigan urogynecology clinic, which specializes in pelvic floor disorders (incontinence, prolapse, and birth-related injury). Additionally, Dr. Miller collaborates with a team of investigators at Panzi Hospital and the Evangelical University in Africa, in Bukavu, Democratic Republic of Congo in research pertinent to conflict-related sexual violence, obstetric fistula, and other related matters.
Current Research Grants and Programs
Fluids and Beverages Underlying Lower Urinary Symptoms (FABULUS I & II) Pfizer & Blue Cross/Blue Shield Michigan (Principle Investigator/Co-Investigator). Goal: This two –phase RCT study will provide insights about the degree to which beverage habits relate to symptoms of overactive bladder, distinguishing ingredient type from volume of intake overall. Insights gained will guide further testing on whether specific ingredient types (caffeine, acidic beverages, alcohol) or overall volume intake of any beverage should be a primary focus in prevention initiative for common overactive bladder troubles.
The Truly Healthy Bladder: Understanding Normal as a Pathway to Prevention of Lower Urinary Tract symptoms in Women NIH/NIDDK (site Principal Investigator). Goal: This project will provide us with critical evidence to guide primary care providers in understanding what constitutes a healthy bladder. From knowledge gained, we can initiate prevention strategies aimed at reducing the risk for and incidence of lower urinary tract symptoms over the lifespan.
Maternal Birth-Related Neuromuscular Injury and Recovery III: Evaluating Maternal Recovery from Labor and Delivery III (EMRLD3), NIH/NICHD/ORWH (Principal Investigator/Project Lead). Goal: This project will provide us with critical evidence to guide women in determining their risk for a major full loss of the support muscle to the pelvic organs. two-phase that a second birth doubles the risk of genital prolapse offers the opportunity to prevent the associated injury (levator ani loss) and its consequences later in life.
The International Center for Advanced Research and Training (ICART) in Bukavu, DRC (principal investigator of founding grant in 2013, founding member, founding and current advisory steering board member). ICART is a novel research center located in a post-conflict region as a collaborative between award-winning Panzi Hospital in Bukavu, Evangelical University in Africa (EUA) in Bukavu, and the University of Michigan in Ann Arbor. ICART's mission is "Building local capacity to solve local problems" http://icart-bukavu.org/. Collaborations between local and international investigators (University of Michigan and others) center on the strength of Panzi Hospital's databases on sexual violence/obstetric fistula (lead collaborator Panzi CEO and 2018 Nobel Peace Prize awardee Dr. Denis Mukwege). EUA's unique strengths in agriculture/environment/economic sciences complement the work and offer university-to-university opportunity (lead collaborator EUA President Gustave Mushagalusa).
Study of Women's Health Across the Nation SWAN V, NIH/NINR (Co-Investigator) Goal: This well-known longitudinal trial, over two decades in operation, originally was designed to study the natural history of the transition to menopause. The cohort of women is followed into old age and now includes survey data on prolapse as well as incontinence. Prior well-documented life events, such as lifestyle, hormonal, and obstetric information. Specific to Dr. Miller's interests, SWAN will greatly enhance our knowledge about risk factors and natural history of pelvic floor disorders, along with its numerous broader contributions in knowledge about women's health across mid to old age.
Teaching
Dr. Miller has an extensive background in teaching, having taught 8 in-class courses; but much of her teaching experience comes from one-on-one advising, having advised or mentored 65 people, including high school students, undergraduates, research fellows, doctoral and postdoctoral students, international scholars and fellows, and junior faculty. Dr. Miller has presented at nearly 50 invited internal and external teaching presentations and well over 100 extramural refereed presentations, 13 of them being award-winning.
Affiliations / Service
Council for the Advancement of Nursing Science, 2012-current
American Academy of Nursing, 2012-current
National Organization of Nurse Practitioner Faculties, 2012-current
Michigan Council of Nurse Practitioners, 2010-current
International Continence Society, 2003-current
American Urogynecology Society, 2003-current
Wound Ostomy Continence Nurses Association, 1999-current
Society of Urological Nurses, 1999-current
National Association for Continence, 1995-current
Sigma Theta Tau, Rho Chapter, 1988-current
Midwest Nursing Research Society, 1987-current
American Nurses Association, 1986-current
Notable Awards / Honors
Editor's Choice manuscript, American Journal Obstetrics & Gynecology, 2015
Fellow of the American Academy of Nursing, 2012
American Urogynecological Society Best Clinical/Evaluation/Testing Paper Award, 2012
American Urogynecological Society Best Clinical Paper Award, 2010
Education
Post-Master's Certificate ANP, School of Nursing, University of Michigan, Ann Arbor, MI, 2001
Postdoc, Institute of Gerontology, University of Michigan, Ann Arbor, MI, 1999
PhD, University of Michigan, Ann Arbor, MI, 1996
MSN, Loyola University of Chicago, IL, 1988
BSN, Goshen College, Goshen, IN, 1981
Download CV