Hala Darwish, RN, APN, Ph.D., FAAN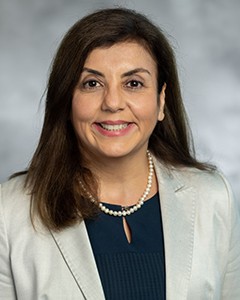 Associate Professor
University of Michigan Medical School, Department of Neurology
Department of Systems, Populations and Leadership
Room 4345 NURS1
University of Michigan School of Nursing
400 North Ingalls Building
Ann Arbor, MI 48109-5482
Telephone: 734-647-4929
In the news
Interests
Cognitive Function
Cognitive Rehabilitation
Neurocognitive disorders
Mental health
Health disparities
Dr. Hala Darwish is a researcher in the fields of nursing science and cognitive neuroscience. Her research focuses on cognitive impairment and rehabilitation in neurocognitive disorders, such as traumatic brain injury and Alzheimer's disease. She is proficient in basic science, translational, and clinical research. She has ongoing research projects investigating cognitive and affective functions, and cognitive fatigue. She received NIH training and individual research grants and has presented her work at national and international forums. Dr. Darwish is a member of the Michigan Concussion Center and affiliate of the Michigan Neuroscience Institute. She is the first Neuroscience scholar within the School of Nursing. She is a member of the Nursing Honor Society - Sigma Theta Tau and a fellow of the American Academy of the Nursing and other international and national professional organizations. She has authored several research papers about the topic.
Current Research Grants and Programs
U-M School of Nursing Donor Award funding (Intramural) Cognitive Health Research Award, A Pilot Randomized Controlled Trial of A Comprehensive Cognitive and Affective Intervention for Neurocognitive Disorders (CoINTEGRATE), PI
Teaching
Dr. Darwish's teaching expertise includes classroom teaching, undergraduate and graduate levels, and one-on-one mentoring of masters and doctorate students, including thesis and dissertation chairing. Dr. Darwish takes pleasure and pride in teaching and giving guidance to students.
Affiliations / Service
Member of the International MS Cognition Society (2019-present)
Member of the American Congress of Rehabilitation Medicine (2018-present)
Member of the International Organization of MS nurses (2013-present)
President of the AUB Alumni Nurses Chapter (2010-2015)
Member of the European Brain and Behavior Society (2010-2012)
Member of the Order of Nurses in Lebanon (2004-present)
Member of the Society for Neuroscience (2003-present)
Member of the Midwest Nursing Research Society (2002-2010)
Member of the Michigan Nurses Association (2000-2013)
Notable Awards / Honors
Fellow, American Academy of Nursing, 2018
International Organization of Multiple Sclerosis Research Award, 2017
Member of the Nursing Honor Society, Chi- Iota Chapter, Sigma Theta Tau International, American University of Beirut, 2014
Member of the Nursing Honor Society - Sigma Theta Tau International - Rho Chapter- University of Michigan- Ann Arbor, 2002
Education
Ph.D., University of Michigan, 2007
MSN, University of Michigan, 2007
Teaching Diploma, American University of Beirut
BSN, American University of Beirut, 1997
Publication Highlights
Dahham J, Rizk R, Hiligsmann M, Daccache C, Khoury SJ, Darwish H, Evers S, Kremer I (2021). The Economic and societal burden of multiple sclerosis on lebanese society: a cost-of-illness and quality of life study protocol. Expert review of pharmacoeconomics & outcomes research. Nov 27:1-8.

Saba, E. S., Karout, M., Nasralla, L., Kobeissy, F., Darwish, H., & Khoury, S. J. (2021). Long-term cognitive deficits after traumatic brain injury associated with microglia activation. Clinical immunology (Orlando, Fla.), 108815

Darwish, H., Zeinoun, P., Farran, N., Ghusn, H., Yamout, B., & Khoury, S. J. (2021). The Brief International Cognitive Assessment in Multiple Sclerosis (BICAMS): Validation in Arabic and Lebanese Normative Values. J Int Neuropsychol Soc, 1-10. doi:10.1017/s1355617721000102

Puzantian, H., & Darwish, H. (2021). Redesigning a PhD measurement course for a new era in nursing science. J Prof Nurs, 37(2), 387-390. doi:10.1016/j.profnurs.2020.04.019

El Ayoubi, N. K., Bou Reslan, S. W., Baalbaki, M. M., Darwish, H., & Khoury, S. J. (2021). Effect of fingolimod vs interferon treatment on OCT measurements and cognitive function in RRMS. Mult Scler Relat Disord, 53, 103041. doi:10.1016/j.msard.2021.103041

Zeinoun, P., Farran, N., Khoury, S. J., & Darwish, H. (2020). Development, psychometric properties, and pilot norms of the first Arabic indigenous memory test: The Verbal Memory Arabic Test (VMAT). J Clin Exp Neuropsychol, 42(5), 505-515. doi:10.1080/13803395.2020.1773408

Darwish, H., Farran, N., Hannoun, S., Tadros, N., Yamout, B., El Ayoubi, N. K., & Khoury, S. J. (2020). Serum vitamin D level is associated with speed of processing in multiple sclerosis patients. J Steroid Biochem Mol Biol, 200, 105628. doi:10.1016/j.jsbmb.2020.105628

Farran, N., Safieddine, B. R., Bayram, M., Abi Hanna, T., Massouh, J., AlKhawaja, M., . . . Darwish, H. (2020). Factors affecting MS patients' health-related quality of life and measurement challenges in Lebanon and the MENA region. Mult Scler J Exp Transl Clin, 6(1), 2055217319848467. doi:10.1177/2055217319848467

Maalouf, F.T., Alamiri, B., Atweh, S., Becker, Cheour, A E., Darwish,H., Ghandour,L.A., Ghuloum,S., Hamze,M., Karam,E., Khoury,B., Khoury,S.J., Mokdad,A., Meho,L.I., Okasha,T., Reed,G.M., Sbaity, E., Zeinoun, P., Akl, E.A. (2019). Mental health research in the Arab region: challenges and call for action. The Lancet Psychiatry, 1-6.

Fares, S., Dirani, J., Darwish, H ( 2019). Arabic Validation of the Hopkins Symptom Checklist-25 (HSCL) in a Lebanese sample of Adults and Older Adults. Current Psychology, 1-8.

Darwish, H., Farran, N., Assaad, S., & Chaaya, M. (2018). Cognitive Reserve Factors in a Developing Country: Education and Occupational Attainment Lower the Risk of Dementia in a Sample of Lebanese Older Adults. Front Aging Neurosci, 10, 277. doi:10.3389/fnagi.2018.00277

Darwish, H., Zeinoun, P., Farran, N., & Fares, S. (2018). Rey Figure Test with recognition trial: normative data for Lebanese adults. Clin Neuropsychol, 32(sup1), 102-113. doi:10.1080/13854046.2018.1480802

Darwish, H., Haddad, R., Osman, S., Ghassan, S., Yamout, B., Tamim, H., & Khoury, S. (2017). Effect of Vitamin D Replacement on Cognition in Multiple Sclerosis Patients. Sci Rep, 7, 45926. doi:10.1038/srep45926

El Ayoubi, N. K., Ghassan, S., Said, M., Allam, J., Darwish, H., & Khoury, S. J. (2016). Retinal measures correlate with cognitive and physical disability in early multiple sclerosis. J Neurol, 263(11), 2287-2295. doi:10.1007/s00415-016-8271-4

Darwish, H., Zeinoun, P., Ghusn, H., Khoury, B., Tamim, H., & Khoury, S. J. (2015). Serum 25-hydroxyvitamin D predicts cognitive performance in adults. Neuropsychiatr Dis Treat, 11, 2217-2223. doi:10.2147/ndt.S87014