Elizabeth H. Walkowiak, MS, GNP-BC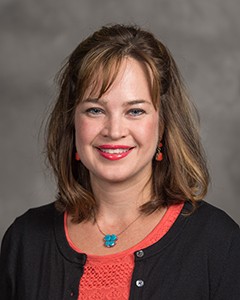 Adjunct Clinical Instructor
Michigan Medicine
3552 Taubman Health Care Center
1500 E. Medical Center Drive
Ann Arbor, MI 48109-5338
Telephone: (734) 936-8550
Fax: (734) 936-9294
Interests
Brain malignancies
Caregiver stress
Quality of life promotion in patients with brain malignancies.
Continuity of care in the preoperative, operative, and postoperative settings.
Elizabeth Walkowiak is a gerontological nurse practitioner by training, and has spent her professional career thus far in the U-M Department of Neurosurgery, caring for the specialty population of patients with brain malignancies, including primary brain tumors, and brain tumor metastasis. Her chief role is helping patients navigate the journey of a newly diagnosed brain tumor in the preoperative and postoperative settings. In addition to perioperative responsibilities, she aides in the coordination and management for radiosurgery treatments. Given the aging population, the job affords her the opportunity to care for elderly patients in a very specialized environment.
Teaching
One of Ms. Walkowiak's passions is the utilization of the intervention of nursing presence in the perioperative and radiosurgery environments for patients with newly diagnosed brain tumors, as well as their caregivers. She has spoken about this topic at the Michigan Association of Neurological Surgeons Conference in June 2010, in a presentation entitled, "Care, Coordination, and Multidisciplinary Management of Brain Tumor Patients" as well as to operating room nursing staff at the University of Michigan in July 2010. She enjoys teaching through the form of these presentations, as well as mentoring new nurse pracitioners in her work setting, undergraduate, and graduate students.
Affiliations / Service
Member, Rho Chapter, Sigma Theta Tau 2003-present
Member, Michigan Nurses Association 2003-present
Member, Michigan Council of Nurse Practitioners (MICNP) 2005-present
Member, Gerontological Advanced Practice Association (GAPNA), 2005-present
Notable Awards / Honors
John Hartford Scholarship, 2003
Angell Scholar Award, University of Michigan, 2001-2005
Education
MS, University of Michigan, Ann Arbor, MI, 2005
BSN, University of Michigan, Ann Arbor, MI, 2003
Download CV