Elizabeth A. Duffy, DNP, RN, CPNP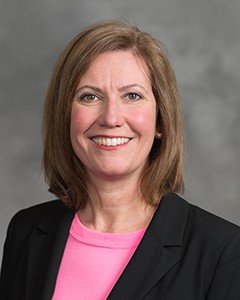 Clinical Assistant Professor
Department of Health Behavior and Biological Sciences
Room 4134 SNB
University of Michigan School of Nursing
426 North Ingalls Building
Ann Arbor, MI 48109-2003
Telephone: (734) 764-7879
Fax: (734) 936-4762
Interests:
Pediatric Oncology
Pediatric Acute Care
Quality Improvement
Central Line-Associated Bloodstream Infection (CLABSI) Prevention
Evidence-Based Practice
Dr. Elizabeth (Beth) Duffy is a clinical assistant professor. Her areas of expertise include pediatric acute care and pediatric primary care. As a former pediatric oncology nurse and pediatric nurse practitioner, she is focused upon improving patient outcomes in children with cancer through multidisciplinary quality improvement projects. One area of interest is the prevention of central line- associated bloodstream infection (CLABSI) through the implementation of evidence-based care bundles. At the national level, she serves as an evidence-based practice mentor for the Children's Oncology Group. In addition, she practices as a pediatric nurse practitioner.
Teaching
Dr. Duffy teaches in both the undergraduate and graduate programs. She is the faculty of record for N354 Infant, Child, and Adolescent Health and Illness and N344 Healthy and Vulnerable Populations. She provides clinical instruction for senior nursing students in pediatric hematology, oncology, and bone marrow transplant. At the graduate level, she is faculty of record for N541 Wellness and Illness for the Acute Care Pediatric Nurse Practitioner program and provides clinical instruction in primary care.
Affiliations / Service
Member, Association of Pediatric Hematology/Oncology Nurses
Evidence-Based Practice Mentor, Children's Oncology Group
Member, Sigma Theta Tau
Education
DNP, Duke University, Durham, NC 2014
MS, The University of Michigan, Ann Arbor, MI 1999
BSN, The University of Michigan, Ann Arbor, MI 1993, Cum Laude