Deena Kelly Costa, Ph.D., RN, FAAN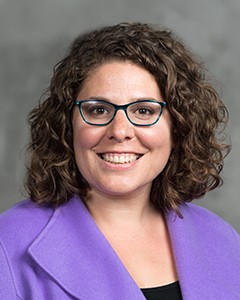 Associate Professor
Co-director, National Clinician Scholars Program at IHPI
Department of Systems, Populations and Leadership
Room 4351 400 NIB
University of Michigan School of Nursing
400 North Ingalls Building
Ann Arbor, MI 48109-5482
Telephone: 734-764-2818
Fax: 734-647-2416
Deena Costa is accepting new PhD students.
Interests
Critical care
Interprofessional teams
Teamwork
Implementation science
Alternative ICU staffing models
Dr. Costa's goal is to maximize survival and minimize morbidity for mechanically ventilated adults. She accomplishes this through her research on the organization and management of critical care. Specifically, her work identifies key structural and functional characteristics of ICU interprofessional teams that can be leveraged to improve the delivery of high quality, complex care to mechanically ventilated patients. She is a trained health services researcher with clinical expertise in adult critical care nursing. Her work care has been published in leading journals such as JAMA, Chest, and Critical Care Medicine. Her current research, funded by AHRQ, incorporates both quantitative and qualitative methods to examine ICU teamwork and patient outcomes. Prior to joining the University of Michigan faculty, Dr. Costa completed a pre-doctoral research fellowship at the University of Pennsylvania Center for Health Outcomes and Policy Research and a post-doctoral fellowship in Critical Care Medicine at the University of Pittsburgh in the Clinical Research, Investigations and Systems Modeling of Acute Illness (CRISMA) Center.
Current Research Grants and Programs
The role of interprofessional teamwork in complex care delivery. Agency for Healthcare Research and Quality (K08HS024552), Principal investigator
Patient and family engagement in the ICU: a mixed methods study. University of Michigan Center for Complexity and Self-management of Chronic Disease pilot funding, Principal investigator
National Institutes of Health, National Heart Lung and Blood Institute, Loan Repayment Program, Renewal Awardee 2018 – 2020
TACTICAL "Training to Advance Care Through Implementation Science in Cardiac and Lung Illnesses" National Institutes of Health, National Heart Lung and Blood Institute, Core faculty
Post Intensive Care Unit (ICU) Longitudinal Survivor Experience (PULSE) Clinic: Evaluation of an interprofessional approach to providing care to ICU survivors and caregivers, University of Michigan Diamond IP-X grant, Co-Investigator, 2019
Teaching
Dr. Costa teaches primarily in the Masters in Health Systems, Nursing Leadership and Effectiveness Science program in the School of Nursing. She has taught N781: Leadership Immersion for Impact and N527: Promoting Optimal Models and Systems for Healthcare delivery (one of the graduate core courses). Her prior clinical experience as a critical care nurse and her health services research training provides a firm foundation and real-world understanding of the needs and challenges nurse leaders face in the current healthcare environment. Dr. Costa is also passionate about mentoring, working with both doctoral and honors students.
Affiliations / Service
Member, American Association of Critical-Care Nurses, 2008 – present
Member, AcademyHealth, 2010 – present
Member, Society of Critical Care Medicine, 2012 – present
Member, American Thoracic Society, 2012 – present
Michigan Health and Hospital Association Keystone Center: ICU, Advisory Board Member, 2014 – present
American Thoracic Society Quality Improvement and Implementation Science Committee member, 2016 – present
American Thoracic Society, Behavioral Science and Health Services Research Program Committee, 2019
IHPI Early Career Faculty Advisory Council (Chair, 2017 – 2018), (Member, 2016 – present)
Notable Awards / Honors
Fellow, American Academy of Nursing, 2019
American Thoracic Society Assembly on Nursing Early Career Achievement Award, 2019
Harriet H. Werley New Investigator Award, MNRS, 2017
University of Toronto Bloomberg School of Nursing Emerging Nurse Scholar, 2015
Best of Annual Research Meeting, AcademyHealth, 2014
Dorothy Mereness Award for Exceptional Ability in Scholarly Writing, University of Pennsylvania, 2012
Education
Ph.D., University of Pennsylvania, Philadelphia, PA 2012
MS, University of Pennsylvania, Philadelphia, PA 2010
BSN, Binghamton University, Binghamton, NY 2005
BA, Boston University, Boston, MA 2004
Publication Highlights
Costa DK, Liu H, Boltey EM, Yakusheva O. (in press). The structure of critical care nursing teams and patient outcomes: A network analysis. American Journal of Respiratory and Critical Care Medicin

Costa DK. (in press). The team, the team, the team: What critical care research can learn from football teams. Annals of American Thoracic Society.

Yakusheva O, Costa DK, Bobay K, Parada JP, Weiss M. (in press). Variability in catheter-assocaited asymptomatic bacteriuria rates among individual nurses in intensive care units: An observational cross-sectional study. PLoSOne.

Boltey EM, Iwashyna TJ, Hyzy RC, Watson SR, Ross C, Costa DK. (2019). Ability to predict team members' behavior in ICU teams is associated with routine ABCDE implementation. Journal of Critical Care.

Costa DK, Moss M. (2018). The cost of caring: Emotion, burnout and psychological distress in critical care clinicians. Annals of ATS. *Invited perspective

Yakusheva O, Costa DK, Weiss M. (2017). Patients negatively impacted by discontinuity of nursing care during acute hospitalization. Medical care.

Costa DK, Valley TS, Miller MA, Manojlovich M, Pope C, Watson S, McLellan P, Hyzy RC, Iwashyna TJ. (2017) ICU team composition and its association with ABCDE bundle implementation in a quality collaborative. Journal of Critical Care

Costa DK, White M, Ginier E, Manojlovich M, Govindan S, Iwashyna TJ, Sales AE. (2017). Identifying barriers to delivering the ABCDE bundle to minimize adverse outcomes for mechanically ventilated patients: A systematic review. CHEST.

Costa, D.K., Yang, J., Manojlovich, M. (2016). The critical care work environment, intensivist staffing and its association with ventilator-associated pneumonia. American Journal of Infection Control.

Costa DK, Dammeyer J, White M, Galinato J, Hyzy RC, Manojlovich M, Sales AE. (2016). Interprofessional team interactions about complex care in the ICU: Pilot development of an observational rating tool. BMC Research Notes, 9 (408). doi: 10.1186/s13104-016-2213-1. https://dx.doi.org/10.1186%2Fs13104-016-2213-1

Costa, D.K., Kahn J.M. (2016). Organizing critical care for the 21st century. JAMA, 315(8): 751-752. http://jama.jamanetwork.com/article.aspx?articleid=2492885

Costa, D.K., Wallace, D.J. & Kahn, J.M. (2015). The association between daytime intensivist physician staffing and mortality in the context of other ICU organizational practices: A multi center cohort study. Critical Care Medicine, 43(11):2275-2282. *Editor's Choice

Costa, D.K., Wallace, D.J., Barnato, A.E., & Kahn, J.M. (12/2014). Nurse practitioner and physician assistant staffing and critical care mortality. CHEST.

Costa, D.K., Barg, F.A., Asch, D.A., & Kahn, J.M. (2014). Facilatators of an interprofessional approach to care in medical and mixed medical/surgical ICUs: a multicenter qualitative study. Research in Nursing & Health, 37, 326 – 355.

Kelly, D.M., Kutney-Lee, A., McHugh, M.D., Sloane, D.P., & Aiken, L.H. (2014). Impact of critical care nursing on 30-day mortality of mechanically ventilated older adults. Critical Care Medicine, 42, 1089-95.
Download CV