Deborah M. Price, DNP, MS, RN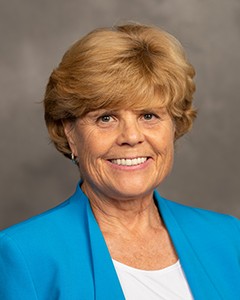 Clinical Associate Professor
Department of Systems, Populations and Leadership
Room 4122 SNB
University of Michigan School of Nursing
426 North Ingalls Building
Ann Arbor, MI 48109-2003
Telephone: (734) 763-4983
Fax: (734) 936-5525
Deborah Price is not accepting new PhD students.
Interests
Palliative care
Nursing education
End-of-life care
Patient /family decision-making
Acute medical surgical adult care
Dr. Price's program of scholarship focuses on development of palliative care competencies which impact the quality of care that patients receive in chronic illness and end-of-life situations. She seeks to promote clear interprofessional communication in order to facilitate development of a collaborative plan which ensures informed patient and family decision-making, and the provision of necessary resources and support in advanced illness situations. She advocates the critical role of the bedside nurse in the seamless delivery of quality palliative care.
Dr. Price's research focus is on interprofessional palliative care competencies, and moral distress experienced by frontline health care professionals. Additionally, she seeks to utilize and evaluate innovative teaching technologies which promote student competencies in the clinical and didactic environments.
Current Research Grants and Programs
Gilbert Whitaker Improvement of Teaching Grant (2020- present)
Moral Distress in the CVCICU (2019- present)
Center for Next Century Nursing Practice Model (2019- present)
Teaching
Dr. Price seeks to contribute to the transformation of nursing education so as to prepare confident and competent nursing graduates who are ready to transition to professional practice. She utilizes innovative technology methods and strategies in nursing education to promote student learning and engagement. Dr. Price is Faculty of Record for the undergraduate senior course N457 and N459 Nursing Care of Patients with Complex Needs I and II, and does didactic as well as clinical education.
Affiliations / Service
Member, Sigma Theta Tau, Rho chapter, 1978 – present (Board positions: Faculty Counselor, Vice-president, President-elect, President, Past-President)
Member, Hospice and Palliative Nurses Association, 2012-present
Member, American Association of Critical Care Nurses, 2012-present
Notable Awards / Honors
Excellence in Leadership Award, Sigma, Rho Chapter 2018
Excellence in Nursing Education Award, Sigma Rho chapter, 2014
Clinical Innovation Award at UMHS Nursing Poster Showcase, 2014
DAISY Award for Extraordinary Nursing Faculty, 2012
Mae Edna Doyle Teacher of the Year Award, University of Michigan School of Nursing, 2009
• Josephine M. Sana Excellence in Nursing Award, University of Michigan School of Nursing, 1987
Education
DNP, Oakland University, Rochester, Michigan, 2012
MSN, University of Michigan, Ann Arbor, 1987
BSN, University of Michigan, Ann Arbor, 1978
Publication Highlights
Price, D., Tschannen, D., & Caylor, S. (2012). Integrated learning through student goal development. Journal of Nursing Education, 52(9), 525 – 528. I.F. 1.177

Price, D., B, C. & Hagerty, B. (2015). Measuring Confidence in Nursing Graduates within the Framework of the AACN Essentials. Nursing Education Perspectives. 36(2), 116 – 117. Doi 10.5480/13-1162.1

Price, D., Strodtman, L., Brough, E., Luo, A., & Lonn, S. (2014). Digital storytelling: An innovative approach to nursing education. Nurse Educator. 40(2), pp 66 – 70.

Fenske, C., Freeland, B., Price, D., & Brough, E. (2015) Using experiential learning to enhance nursing student's knowledge and attitudes about diabetes self-care. Journal of Nursing Education and Practice, 5(12), 104-110.

Reames, C., Price, D., King, E., & Dickinson, S. (2016). Mobilizing patients along the continuum of critical care. Dimensions of Critical Care, 35(1), 10 – 15.

Fenske, C. & Price, D. (2016). Fostering clinical judgment abilities during clinical remediation: A multi-modal approach. ARC Journal of Nursing and Healthcare, 2(2), 1-7 ISSN 2455-4324.

Price, D., Strodtman, L., Montagnini, M., Smith, H., Grabowski, J., Zybert, J., Policht, T., & Oldfield, J., Ghosh, B. (2017). Palliative and end-of-life care education needs of nurses across inpatient care settings. Journal of Continuing Education in Nursing, 48 (7), 329-336.

Price, D. & Knotts, S. (2017, Aug). Communication, comfort and closure for the patient with cystic fibrosis at the end-of-life: The role of the bedside nurse. Journal of Hospice and Palliative Care Nursing, 19(4), 298-302.

Harden, K., Price, D., Duffy, E., Galunas, L., & Rodgers, C. (2017, Oct). Improving nursing knowledge, behaviors and attitudes in delivering palliative care. Clinical Journal of Oncology Nursing, 21(5), E232-E238.

Price, D. & Kocan, MJ. (Spring, 2018). Role of the CNS in fostering palliative care skills in neuroscience ICU nurses. AACN Advanced Critical Care, 29(1), 84-90.

Montagnini, M., Smith, H., Price, D., Strodtman, S., & Ghosh, B. Self-perceived end-of-life care competencies of health-care providers at a large academic medical center. Am J Hosp Palliat Care. 2018 Published on line. DOI: 10.1177/1049909118779917.

Price, D., Strodtman, S., Montagnini, M., Smith, H., & Ghosh, B. (2018). Health professionals perceived concerns and challenges in providing palliative and end-of-life.
Download CV