Deborah L. Totzkay, MSN, RN, ACNP-BC, CNOR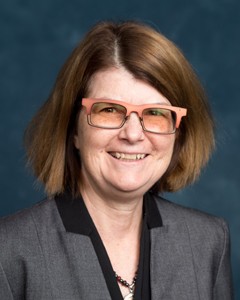 Adjunct Clinical Instructor
Undergraduate Studies Program
Educational Nurse Coordinator-Mastery Level
Room 4557, Frankel Cardiovascular Center Operating Room
1500 E. Medical Center Drive, Ann Arbor, MI, 48109​​​​​​
Telephone: (734) 232-4551
Fax: (734) 232-4539
Interests:
Resiliency development for healthcare employees and students
Nursing leadership development
Perioperative risk mitigation
Inquisitive by nature, Deborah Totzkay is committed to life-long learning and the application of that knowledge in the service of others. She has extensive expertise in developing institutional policies and evidence-based standard work processes in the perioperative realm. A former Department of Defense trained Inspector General, Deborah also has expertise in risk mitigation. She is skilled in the use of implementation science to create evidence-based, nursing practices that support patient safety. Deborah is also well-versed in multifactorial strategies that sustain safe patient handling and mobility behaviors and has contributed to the American Nurses Association's position statement on incivility, bullying, and workplace violence.
Teaching
Deborah is dedicated to implementing pedagogical methods that remain responsive to the conceptual state of the student, while also supporting the development of critical thinking, empathy, and the autonomy of that student.
Affiliations / Service
American Nurses Association, 2012- present
Association of perioperative Registered Nurses, 2003- present
Midwest Nursing Research Society, 2017
Sigma Theta Tau International Lambda Chapter, 2010- present
Notable Awards / Honors
Doctoral of Nursing Practice: Jonas Veterans Healthcare Scholar Award, 2014
Association of Perioperative Registered Nurses Elsevier Scholarship, 2014
Education
DNP, University of Michigan, Ann Arbor, MI, 2017
MSN, Wayne State University, Detroit, MI 2010
BSN, Wayne State University, Detroit, MI 2005
BS, Wayne State University, Detroit, MI 1996
Publication Highlights
Mowry, J., McKenney, K., Czernik, Silveus, L., Stieve-Swarup, J., Totzkay, D…Nault, C., (2012). Pressure ulcer prevention in high-risk cardiovascular surgery patients. Journal of PeriAnesthesia Nursing, 27(3), e 74-88. doi: 10.1016/j.jopan.2012.04.050