Caty Johnson, MSN, BSN, RN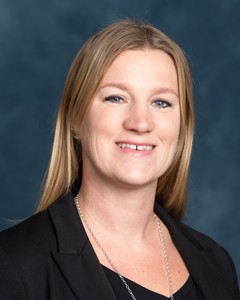 Adjunct Clinical Instructor
Undergraduate Studies Program
Program Manager, Center for Circulatory Support
F7854B UH South
1500 E. Medical Center Dr.
Ann Arbor, MI 48109
Telephone: (734) 615-3323
Fax: (734) 615-5974
Interests
Leadership and systems improvement
Critical care
Nursing quality indicators
Nursing recruitment and retention
LEAN in daily care
With experience in the Emergency Department and a Medical Intensive Care Unit, Johnson's expertise is in improving patient care in a fast-paced environment. As a leader, Johnson believes her job is to assist nurses in bettering not only the care they give but in themselves. Improving safety, quality measures, and system processes are beneficial not only to patients but to nursing as a whole.
Current Research Grants and Programs
Co-PI = The standardization of staff education related to inpatient care of ventricular assist device patients.
Education
MSN, University of Michigan, Ann Arbor, MI 2017
BSN, Eastern Michigan University, Ypsilatni, MI 2012