Angela Yee, MSN, RN, AGCNS-BC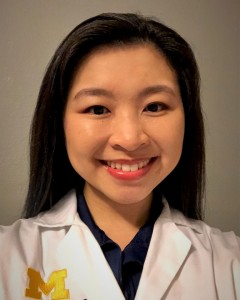 Adjunct Clinical Instructor
Registered Nurse – Michigan Medicine (Critical Care Medicine Unit)
Undergraduate Studies Program
University of Michigan School of Nursing
400 North Ingalls Building
Ann Arbor, MI 48109-5482
Interests
Critical Care
Public Health
Innovative Teaching Methodologies
Angela Yee is clinical adjunct faculty at the University of Michigan School of Nursing. She is also a Registered Nurse at Michigan Medicine on the Critical Care Medicine Unit, an adult intensive care unit (ICU) specializing in caring for patients with primary diagnoses of sepsis, COVID-19, acute respiratory distress syndrome, cardiac/respiratory arrest, hepatic failure, and renal failure. Professor Yee has nine years of critical care experience. She began her nursing journey at Oakland University where she graduated with her Bachelor of Science in Nursing in 2012. She then earned her Master of Science in Nursing majoring in Nursing Education and Adult-Gerontology Clinical Nurse Specialist (CNS) from Michigan State University in 2017. After graduation, she worked as a medical/surgical CNS at Henry Ford Hospital in West Bloomfield, MI before joining the nursing faculty team at the University of Michigan. She is currently a Ph.D. student at Oakland University.
Teaching
Professor Yee has taught in the clinical and simulation environment to undergraduate nursing students. She has taught various courses, including Sophomore and Junior year medical-surgical clinicals, health assessment lab, and guest lecturing a graduate-level course. She was also a teaching intern at Oakland University's School of Nursing where she co-led med/surg clinical to 4th-year BSN students, Fundamentals of Nursing courses to 1st-year BSN students, and an online Health Promotion course to RN-to-BSN students.
In addition to teaching in the academia setting, she also has teaching involvement at Michigan Medicine as a staff nurse, such as being a Critical Care New Hire Orientation Trainer, MiChart Superuser, Safe Patient Mobility and Handling Trainer, and new hire/charge nurse preceptor.
Affiliations / Service
Asian American Pacific Islander Nurses Association (2016 – Current)
Sigma Theta Tau International Alpha Psi Chapter (2016 – Current)
Michigan Association of Clinical Nurse Specialists (2015 – Current)
Michigan Nurses Association (2012 – Current)
University of Michigan Professional Nurses Council (2012 – Current)
Education
Ph.D. (student), Oakland University, Rochester, MI 2021-2024
MSN, Michigan State University, East Lansing, MI 2017
BSN, Oakland University, Rochester, MI 2012