CAPS Corner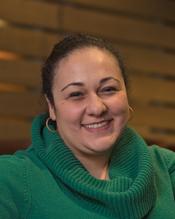 Kristen Adams is a U-M Counseling and Psychological Services (CAPS) counselor embedded at UMSN. She is available to provide undergraduate and graduate nursing students with short-term counseling to help address and overcome personal difficulties that interfere with academic and career objectives. Make an appointment at adamskri@umich.edu or call 734-764-4525.
Common concerns that CAPS helps with are: text anxiety, academic difficulties, stress, problems with relationships, self-esteem, insomnia, depression, substance use, suicidal thinking, sexuality and others. 
Kristen kicked off CAPS Corner in September 2018 to provide helpful information on different topics of importance to nursing students.
Self-Care in the midst of a global pandemic
Much in our collective lives has changed during the COVID-19 pandemic. In-person classes ended abruptly, commencement ceremonies postponed to an indefinite date, and we are relegated to living the majority of our lives in our homes, potentially states away from loved ones. This time is especially complicated for health care providers serving on the front lines. Some may be directly taking care of patients who are COVID positive, while others may wish to utilize their skills to do so but are unable for myriad reasons. Additionally, some may be nervous to work as a new nurse, nurse practitioner, tech or extern as we navigate a precarious health care landscape. In all, it is important that, regardless of our specific circumstances, we acknowledge that we as a collective are existing among the grief and trauma that is part and parcel of this generational milestone. Now, more than ever, with our new way of navigating life, it is essential that we engage in self-care throughout this time. Please find some tips that you can work to integrate into your lives as we move through this together.

Stay connected
Social distancing does not mean that we need to limit our social connections with others. Be sure to reach out to family and friends, maintaining a semblance of normalcy that existed before the pandemic. Plan for weekly coffee chats, Netflix viewing parties and Houseparty game nights. Impromptu, spur-of-the-moment connection is also encouraged. Perhaps go old school and pick up the phone or write a letter to be sent through the U.S. Postal Service! Regardless of the medium you choose, it is important to not remain isolated and to connect with others during a time when loneliness is at its peak.

Know when to disconnect
While social connection is immensely important now, forever and always, it can feel exhausting at times. Be mindful of the recent phenomenon known as "Zoom fatigue," which is related to being engaged in a plethora of meetings held via teleconferencing software. Please be attuned to your personal needs and know when to take a break from FaceTime, Snapchat or TikTok in order to decompress and recharge. This also applies to news and the media. All the information presented to us can be overwhelming. Be sure to limit your intake to an amount that feels manageable — one where you are informed without feeling overwhelmed.

Establish structure/routine
It is always important and necessary to follow a basic routine in support of our mental, physical and spiritual health. Nowadays, this is especially difficult as we are often fatigued with the exhaustion of navigating uncertain times. It is helpful for us to maintain some control over what we can. With that said, establishing a healthy sleep schedule, choosing nourishing foods and getting in moments of movement throughout the day is essential. Additionally, adding in time for journaling, meditation or prayer is equally as important in order to maintain some grounding and consistency.

Try something new
Having an established routine or structure of sorts is integral to our wellness throughout this time. Though, with many limitations set in place, it can feel monotonous at times. Therefore, it may be in our best interest to try out a new hobby or activity. Perhaps now is the time to order the embroidery kit you've been eyeing, or take up Pilates, learning from the multitude of YouTube trainers basking in their fifteen minutes of fame. Whatever it is, be it virtually touring aquariums across the globe or cultivating your green thumb, be sure to try something new that feels both fulfilling and exciting.

Maintain hope
Surely, this may be one of the more difficult tasks on this list, albeit just as important as the others. Recognize that this is the current state of the world, and unfortunately there is not much we can do about it outside of public health measures that are already being emphasized. Reassure yourself that this will eventually come to an end, in time. And while we wait and continue practicing guidelines proposed by leading experts in the field, it is necessary that we live in the moment, honoring the areas that we are privileged and grateful for while simultaneously acknowledging the difficulties and losses we are experiencing. There is always something reassuring about knowing that we are all in this together.
How trauma impacts four different types of memory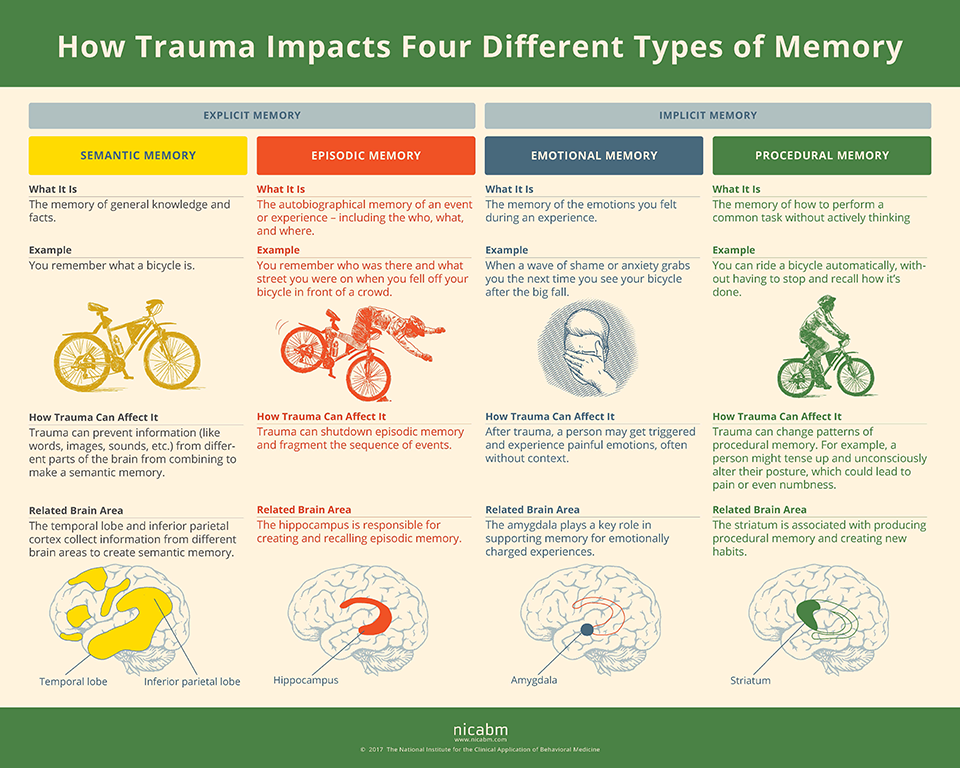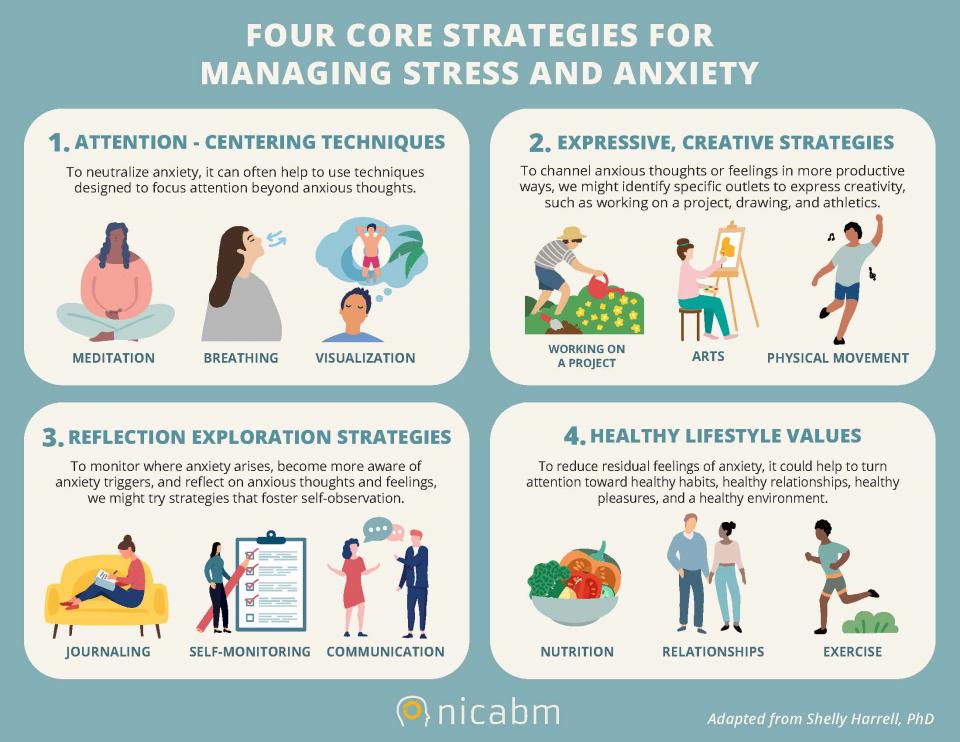 Whether this is your twentieth or your first Michigan winter, it is no surprise to anyone that it is cold, icy, and dreary. Trudging through feet of snow on your way to morning clinicals, being blasted with bone-chilling winds upon leaving your late-night study sessions, and forgetting what the sun looks and feels like can leave a lot of people feeling down. While not everyone experiences seasonal affective disorder, many do notice a shift in their mood, energy, and physical wellness.
What are the winter blues?
The winter blues consists of a set of symptoms that often present themselves during the winter months (approx. Oct-April) when it is darker and colder out. They tend to manifest through emotional, psychological, physical, and social ways. Some common experiences include:
         sleep disruptions (e.g. sleeping more or less than usual)

         sluggishness, lethargy

         decreased motivation

         feeling less social than usual

         "gloomy" mood
Why do I experience the winter blues?
The main reason for the winter blues is due to the decreasing amount of time the sun is present, which equates to darker days and earlier nights. As a result, individuals may experience a dip in serotonin and melatonin levels, which are neurotransmitters and hormones that regulate mood and sleep, respectively. Additionally, this can lead to disruptions in a person's circadian rhythm (your body's internal clock), which helps control sleep-wake cycles.
How do I work to ease the winter blues?
It's true that we have no immediate control over the weather around us. Instead, we can work to take active measures to keep ourselves as healthy as possible during the long-stretch of arctic temperatures and cloudy skies. Here are some tangible steps you can work toward integrating into your everyday routines:
Exercise: movement helps improve mood and mental functioning
Make healthy food decisions: while alright to eat refined carbs (e.g. pizza) in moderation, they can lead to increased sluggishness. Try to opt for more frequent complex carb (e.g. broccoli, lentils) consumption as they take longer to digest and don't cause sudden spikes in blood sugar
Create a sleep routine: this will help create consistency for your circadian-rhythm, which will help alleviate a decrease in energy
Get outside: while this may seem counter-intuitive as we might wish to avoid the cold; it is important to get fresh air into our lungs and absorb (what little) vitamin D the sun is giving off
Light therapy: a full-spectrum light box can help regulate your body's circadian rhythm and help release serotonin and melatonin. Check out smaller light boxes on Amazon or visit one of UM's CAPS's Wellness Zones to sit in front of a large one.
Have fun: it is important for us to keep as much consistency as we can in order to help with our mood and energy. Connect with friends, travel somewhere exciting, have a movie viewing party, or create a spa day
What if it feels like it's more than just the winter blues?
If you are noticing that you (or someone else) are:
experiencing depressed mood most of the day, nearly every day

have a loss of interest in activities you typically enjoy

withdrawing or isolating from family/friends

struggling to focus or perform at school/work

feeling constantly fatigued and lethargic

feeling hopeless about the future

having suicidal thoughts
it may be indicative of the presence of seasonal affective disorder. If this is the case, it would be helpful to consult with a professional. CAPS and/or UHS can help you discern whether your experience might necessitate something in addition to the six strategies listed above.
In the meantime, strap on your snowshoes and enjoy the crisp winter air! 
Learn how mindfulness can benefit you and find tips on how to practice it yourself with this helpful handout from Counseling and Psychological Services.
What does it mean to identify as a first-generation college student?
The term "first-generation college student" has received a lot of attention over the past decade, and yet, many are unaware of what that might mean, entail, and how it can impact a college student's experience.
Identifying as a first-generation college student means that you are of the first generation in your immediate family to attend a 4-year college/university. According to the U.S. Department of Education, a first-generation college student (first-gen for short) is identified as someone whose parent's highest level of education is that of high school or less. Those who have parents who received a post-secondary degree in another country, or only a 2-year degree are also identified as first-gen.
It is important to note that first-gen students present in all shapes and sizes. Some may come from a high-financial need background, have grandparents, aunts, uncles, or cousins who have attended college, identify as a person of color, received college counseling in high school, and/or have parents who completed some college; and some may not identify with any of these. While first-gen college students include a diverse mix of individuals, it can be helpful to speak to some of the overarching experiences that they might share.
Some challenges associated with being first-gen can include: difficulty navigating academics in a new and nuanced way, experiencing financial instability, encountering mental health stressors, difficulty adjusting and transitioning to college, navigating campus and the higher education process, having family expectations and pressures placed upon you, and feeling as if you may be leaving family and friends behind. Learning an entirely new system and environment can be taxing. Not only is there the potential strain of needing to work, learning a new "language" that is unique to the culture of higher education, and navigating the difficulty of family not understanding your experience; you are also expected to study for hours on end, complete challenging clinical rotations, and have an extracurricular and social life to boot!
Fear not, though! While identifying as first-gen can sure have its challenges, it has its unique strengths as well. Typically, first-gen students are resilient and bounce back quickly in the face of adversity. Additionally, they can be extremely adaptable and learn quickly, benefiting them throughout their adult life. With support, mentorship, and guidance, they can excel and supersede in the work that they do.
Some of you who don't identify as first-gen may be asking what relevance this has for you. It is likely that some of your friends and classmates identify as a first-gen student. As such, it can be helpful to be a source of understanding by hearing about their experiences in an empathically curious way, while collaborating on how you can be a support for them.
About 13% of UM students, with approximately 15% of UMSN students, identify as first-gen. There are plenty of opportunities for first-gen students to get involved in first-gen activities and endeavors while gaining support from each other and from other departments/entities on campus. Please visit firstgen.studentlife.umich.edu for more information.
Intimate Partner Violence (IPV) Awareness Month - October
October is Intimate Partner Violence (IPV) Awareness Month. This month, we'll take a look at what IPV is, its prevalence, signs, impact, and resources.
What is Intimate Partner Violence?
IPV is violence that occurs when physical, sexual, and/or psychological harm is caused by a former or current partner. It can occur amongst all genders and sexual orientations. It includes:
Physical violence (e.g. hitting, strangling, shaking, restraining)
Sexual violence (e.g. attempted or actual sexual contact when one partner is unwilling or unable to consent [as in, affected my alcohol/substances, illness])
Threats of physical or sexual abuse (e.g. causing fear through words, actions, weapons)
Psychological/emotional abuse (e.g. bullying, isolating, controlling)
Stalking (e.g. following, harassing, or unwanted contact that elicits fear)
Coercive control (e.g. exploitation, deprivation of freedoms, intimidation)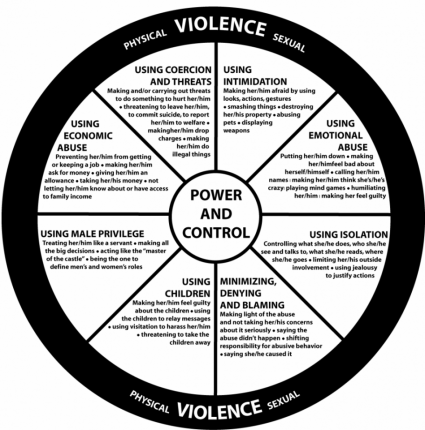 Prevalence
According to the American Psychological Association (APA):
More than 1 in 3 women and 1 in 4 men in the U.S. have experienced rape, physical violence, and/or stalking by an intimate partner in their lifetime.
Women with disabilities have a 40% greater risk of IPV, especially severe violence, than women without disabilities.
1 in 5 female high school students reports being physically and/or sexually abused by a dating partner.
IPV is the leading cause of female homicides and injury-related deaths during pregnancy.
Signs
Some characteristics of a partner that is engaging in IPV can include:
Acting jealous and possessive
Exhibiting controlling behavior (e.g. being bossy, giving orders, making all the decisions)
Being frightening and causing worry about reactions to things said or done
Blaming the partner for their own mistreatment
Not accepting responsibility for their actions
Pressuring a partner for sex, or being forceful/threatening about sex
Unpredictable mood swings with a history of fighting, mistreatment of others, or cruelty
Having a history of tumultuous relationships and blaming the other partner
Misuse of alcohol and/or other drugs and blaming behavior on substances
Impact
The consequences of IPV do not just affect the person being abused. It is also a societal and public health concern. Some consequences (for both the abuser and society) include:
Physical injury (e.g. cardiovascular, gastrointestinal, reproductive, musculoskeletal, etc.)
Mental health concerns (e.g. depression, PTSD)
Homicide
Suicide
Child maltreatment (e.g. exposure to abuse, neglect, physical/psychological harm)
Economic costs (e.g. medical and criminal justice costs)
Lost productivity from paid work
Property damage or loss
Resources:
IPV is both preventable and survivable. There are many resources available to those who might be affected. At U-M, both Counseling and Psychological Services (CAPS – caps.umich.edu) and The Sexual Assault Prevention and Awareness Center (SAPAC – sapac.umich.edu) are two departments that can help provide resources to those impacted by IPV.
For further reading on IPV, its causes, signs, impact, and additional resources, please visit:
https://apps.who.int/iris/bitstream/handle/10665/77432/WHO_RHR_12.36_eng.pdf;jsessionid=60B804A69A9F818F6403DC0A2BB05C18?sequence=1
The Importance of Self-Care
Self-care is certainly a buzzword these days—and for good reason! Self-care as a practice was born in the medical field during the late 1960s, catching momentum into the early 1970s. It was (and is) used by healthcare professionals to help provide a sense of autonomous care for patients who were often elderly and/or quite ill. This momentum forced its way into academia, in which individuals employed in emotionally-heightened professions (e.g. social workers, EMTs, nurses, etc.) were encouraged to engage in self-care under the notion that "one cannot adequately take on the concerns of others without taking care of themselves first".
While the concept of self-care has been steadily making its way into mainstream American culture since its inception, it is important to demystify what exactly self-care is. Essentially, self-care is an activity that we deliberately engage in, in an effort to take care of our physical, mental, and emotional health. Such an activity is defined by the person choosing to engage in self-care. Therefore, for one person, self-care may be saying "no" to an invitation to a party, while to another person it may mean saying "yes". Whatever the self-care activity is, it is important that we choose to engage in it as a way to live in accordance with our values and to promote positive wellbeing.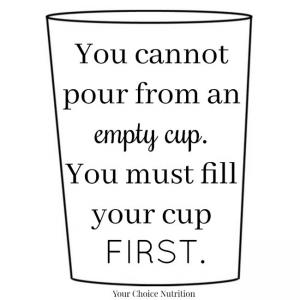 It is important to note that self-care is neither selfish nor indulgent. While it does often mean that we are taking time out of the day to take care of ourselves, whether by taking a stroll through the Arb, enjoying a long, hot shower, or watching a third episode of Friends; these are intentional undertakings that help refuel our soul in an effort to make us more available to those around us.
Some helpful tips to living a balanced life via self-care, include:
Stick to the basics: engaging in healthy eating, consistent exercise, and plentiful sleep provide us with the foundation we need to implement more original forms of self-care activities into our lives.
Self-care is something that needs to be actively planned: over time, you will find your own rhythm and routine. Until then, self-care activities need to be an active choice you make. Be sure to schedule such activities in your planners and set reminders on your phone.
Keep a conscious mind around self-care: in order for us to feel taken care of by ourselves, it is important that we view self-care activities as such. When you are choosing to take a break from studying to have lunch with a friend, know that this is a decision made in order to treat your body and soul as a whole. 
For a list of 45 simple self-care practices, please see: https://tinybuddha.com/blog/45-simple-self-care-practices-for-a-healthy-mind-body-and-soul/
Mindful Eating
February 25th is the start of National Eating Disorders Awareness (#NEDAwareness) week sponsored by National Eating Disorders Association (NEDA). In honor of paying tribute to the week, and in keeping with wellness and wellbeing, we will explore some tips to help with engaging in both mindful and intuitive eating practice.
Mindful Eating is the practice of paying attention to and become aware of our thoughts, feelings, and physical sensations related to eating, while avoiding judgment or criticism. This practice allows us to be more in tune with our body's needs, as well as more engaged in the act of eating. Here are some helpful tips on how to engage:
Listen to your body and stop when full: the body responds to its satiation signal about 20 minutes after reaching satiety. By letting our body catch up to our brain by chewing our food more thoroughly and taking breaks between bites, we are able to honor our body's natural signals as to when it is satiated.
Eat when your body tells you to: know your body's personal hunger signals. Too often, we eat when our mind tells us to, which frequently leads to stress-eating or eating out of boredom. Instead, pay attention to what your body is communicating to you. Is your stomach growling, energy low, or are you feeling lightheaded? Become acquainted with your body's way of letting you know it needs to refuel.
Eat with others at set times and set places: while we can't always control our aimless snacking that occurs from time to time, it can be helpful to schedule meals at a consistent time and in a consistent place. Creating an environment that is conducive to mealtime (e.g. putting food on a plate and sitting at a table with others) helps slow us down and increases connection with others.
Eat food that are nutritional: we are often drawn to foods that produce emotional comfort during times of stress. While this is appropriate in moderation, it can be helpful to find nourishing foods that are also satisfying and comforting. By taking the time to engage our 5 senses when consuming a meal or snack, we are more apt to enjoy the experience of eating over the actual food that we are ingesting.
When eating, just eat: when we try to multitask while eating, we tend to distract ourselves from being able to listen to our body's needs and wants. Instead of eating in front of Netflix, perhaps try sitting at table by yourself or with a friend and engage in a full-body experience and/or good conversation.
Consider where food comes from: it can be hard to not feel both grateful and interconnected to the food we consume when taking the time to pause and consider all the people involved in the meal sitting on our plate. Consider those who planted and harvested the ingredients, those who supported them, those who stocked the shelves, and the loved ones (and yourself) who prepared the meal.
For tips on intuitive eating, please go to intuitiveeating.org/10-principles-of-intuitive-eating/
How to make the most of our time
Living in a society that constantly expects us to add to our proverbial plate means that time management can often times be a struggle. Included are some tips to help with effective time management strategies as you plan to navigate a busy semester ahead.
Tip 1: "Thin out" your responsibilities
Try not to read texts word for word. Instead, focus on key points and essential information. Also, use time-consuming strategies (e.g. color-coded notes/flashcards) only on "difficult to master" subjects. This will help save time in the long run, allowing you to focus on the most pertinent material.
Tip 2: Let it go
A lot of time is likely to be freed up when we let go of the desire to "be perfect" and the need to "finish it now". Perfectionism is one of the greatest causes of anticipatory anxiety, which frequently leads to procrastination. Instead, aim to do your best. Additionally, our minds are actually able to be more productive and creative when we come back to our work after taking small breaks.
Tip 3: Treat your body and soul
You get the most done when you lead a balanced life. Therefore, take some time to exercise, sleep well, socialize, and engage in hobbies. By living a full and well-rounded life, we tend to be more productive in general.
Tip 4: Break it down
Having a task that is tangible and more manageable increases the likelihood that it will be successfully completed. Instead of telling yourself "I need to memorize all of the pharmacology material" break it into smaller pieces. First, make a study guide for chapters 1-5. Then, create potential test questions. Next, work with a classmate to test each other on your knowledge. This way it is three smaller sprints, as opposed to one long marathon.
Tip 5: Map it out
Regarding effective time management, it can be helpful to have a loose framework to work off of. Invest in a good planner and use it! Visualize your semester ahead and plan for it. Make sure to have a general sense of important deadlines and plan around those. It can be beneficial to create a to-do list for the next day, prioritizing tasks into high, medium, and low importance categories.
Tip 6: One thing at a time
While individuals today may claim to be great at multi-tasking, the truth is that they absolutely are not. In fact, the human brain is notoriously awful at focusing on more than one thing at a time. Try focusing on the assignment that is due this week and not the exam that is at the end of the month. Also, while helpful to take social media breaks, it can be important to only study when you're studying. Then when you're Facebooking, only Facebook.
Self-care for the Holidays!
The holidays can be an exciting time of the year. Between trimming the tree, lighting the menorah, seeing extended family, watching cheesy Hallmark movies, and snuggling with pets by the fire, there is no shortage of things to do. While this time can be invigorating, it can also quickly become stressful and exhausting if we're not mindful and intentional about the ways in which we choose to engage.
During this time, we are often tasked with traveling, socializing, shopping, cooking, and the list goes on. While these might not be inherently negative activities, they can impart a mix of emotion. Sometimes we might be asked to spend time with those we don't get along with, are expected to spend money when funds are tight, and/or feel compelled to host the "perfect" party. In order to sustain our energy and live into the holiday spirit in its most authentic form, it's important that we practice some self-care.
In prioritizing wellness over the holiday season, some tenets to lean into include:
Listen to your needs and give yourself permission: Check in with yourself and decide whether or not you have the energy to visit with some old acquaintances. If you're not feeling it, respect this, and allow yourself to politely turn down plans and take a raincheck for later. Really listen to what your mind, body, and soul are asking of you.
Try not to get swept up in the hustle and bustle: The holiday time can be a whirlwind. If we're not careful, we can run from errand to errand, city to city, house to house. It can be helpful to plan for activities like shopping and cooking early on, in order to be the most present that we can be in each and every moment. When spending time with others, focus on that experience. Planning for check-offs can wait another day.
Engage in moderation: This is often a time of excess— people, food, sleep, libations—you name it! Be sure to integrate some of your usual routines and activities in an effort to maintain some semblance of normalcy and to not overdo it. And, with that said, do make sure to enjoy a third, or fourth, cookie following dinner.
Maintain realistic expectations: The holidays can be a really special time of year. Outside can look like a scene from a snow globe and there is usually an air of merriment and whimsy. Yet, beyond this façade, it can be just like any other time of year. Therefore, it can be important to remember that we will still experience our usual ups and downs regardless of whether Santa plans to pay us a visit or not.
Binge Drinking
Binge drinking is defined as consuming 5 standard drinks for males and 4 standard drinks for females over a 2-hour period. When binge drinking, a person's Blood Alcohol Content (BAC) will likely rise to 0.08 and above. At this BAC, it is illegal to operate heavy machinery and a person's motor functioning, coordination, balance, reaction time, speech, vision, memory, judgment, self-control, awareness, and emotional functioning are significantly compromised.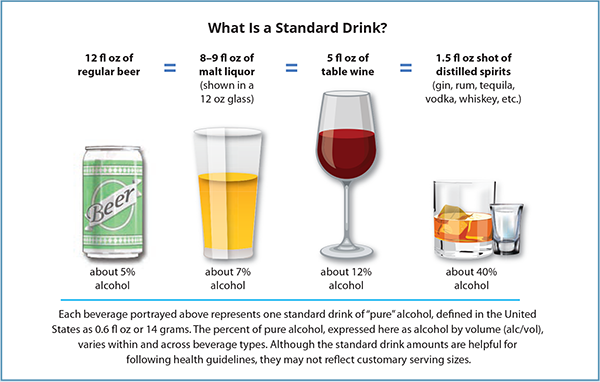 The Substance Abuse and Mental Health Services Administration (SAMHSA) reports that approximately 40% of U.S. college students have endorsed engaging in at least one incidence of binge drinking over the past two weeks. Binge drinking can result from a variety of factors such as stress, anxiety, decreased self-confidence, traumatic experiences, and pressure to fit in. Additionally, binge drinking is more likely to occur on campuses that have a large fraternity/sorority presence and a strong athletic program. 
As the saying goes: "too much of anything can be bad for you." This is also true for too much alcohol, which can have negative and lasting effects. Each year, alcohol use is responsible for 1,825 deaths, 696,000 assaults, and 97,000 sexual assaults on college campuses. Additionally, 1 in 4 students report negative academic consequences as a result of alcohol use (e.g. missed classes, falling behind, lower grades), and 20% of college students meet criteria for an Alcohol Use Disorder (AUD) at any given time.
If you or someone you know is looking to decrease their alcohol consumption, it is important to first ask "why" you are engaging in binge drinking. Having an awareness and understanding of certain behaviors is the first step toward enacting change. Seeking support from friends, family, and/or professionals may help you to uncover the "why", help reduce stressors in your life, and allow you to move toward change.
Since it may be unrealistic to completely eliminate alcohol from your life, if you are looking to cut down, some helpful tips include:
identifying (and sticking to) the number of standard drinks that you intend to consume over the course of a day/night/event
having a glass of water between every drink
eating a filling meal before drinking
not drinking while getting ready to go out, and instead, waiting until you're already at the event
Sleep
Did you know that according to the American Sleep Association, 37% of adults ages 20-39 report being sleep-deprived? Shockingly, sleep deprivation accounts for 100,000 medical mishaps that occur in U.S. hospitals each year. Not only is sleep important for the safety of others, it is also extremely important for an individual's physical, mental, and emotional wellbeing.
Studies have shown that when we are well-rested, we are more likely to experience greater physical health including increased immune system functioning, improved memory, and decreased susceptibility to infection and disease. Adequate restful sleep also helps improve mental efficiency, which can lead to higher grades, sharpened attention, and increased creativity. Overall, sleep allows us to function at our best!
While adequate and restful sleep is sometimes seen as a luxury, especially while being busy and in school, it is important to prioritize and make time for it. 

Establish a consistent, relaxing bedtime routine: e.g. a warm shower, followed by light stretches, and 30 minutes of reading for pleasure.
Create a comfortable sleep environment: try comfy pillows, a cool room, ear plugs, and blackout curtains.
Avoid caffeine and disruptive foods just before bedtime: it may help to limit caffeine intake to the morning and early afternoon, while also steering clear of heavy, rich, and/or spicy foods late into the night.
Limit daytime naps: while 20-30 minutes of "power-napping" can lead to improved mood, alertness, and performance, anything longer may be draining and disrupt established sleep patterns.
Exercise and movement: exercising well before bedtime promotes continuous sleep and allows for drastically improved sleep quality.
Turn off electronics: while very tempting, using phones/tablets/laptops in bed causes our brain to associate being in bed with wakefulness, as opposed to sleeping. Additionally, it can lead to overstimulation, making it more difficult for us to fall asleep.
Stress has been found to be the number one indicator of disrupted sleep, so please take care of yourselves by engaging in self-care and stress-reducing activities.