Admissions & aid
Welcome! Take the first step to beginning or advancing an exciting career in the field of nursing. Students come here because
Our faculty are leaders in their field and active in researching and publishing.
We have a unique model of clinical education and a close relationship with Michigan Medicine as well as other health systems.
We are highly ranked.
Our NCLEX rate is one of the best in the state. From January 1-June 30, 2018, UMSN test-takers had a 97.84% NCLEX pass rate.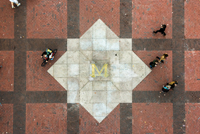 We offer undergraduate, sophomore transfer, and graduate student information sessions and webinars.
Application process
Application requirements and deadlines lists all of the application eligibility criteria, instructions, required materials, and deadlines for each program that you need to know.
Students applying from outside the United States should submit all application materials at least one month before all published deadlines.
All programs have a fall term start date (September), unless otherwise indicated. The NursingCAS application is used for all of our programs except for our BSN and Ph.D. degrees.
Special information
If you are a sophomore transfer student, view information on transfer equivalencies.
International applicants welcome; view international applicant requirements.
FAQs
See the list of admissions frequently asked questions (FAQs).
University of Michigan Undergraduate Admissions ask us knowledgebase provides FAQs for all undergraduate admissions on all topics.
Financial aid
New

Go Blue Guarantee

: free tuition for in-state students with annual family income less than $65K
Unique opportunities
Students in the undergraduate Honors program receive special opportunities to work on meaningful research with faculty; participate in a student mentorship program; and cultivate their leadership capabilities through community service and Honors activity planning. The Honors program sets high expectations for selected students.
Students of the incoming freshman class who meet criteria for the Honors program will receive information about it and will be invited to apply.
Jonas Nurse Leaders Scholars program
The Jonas Center for Nursing Excellence has three key missions: to develop outstanding faculty, to advance scholarship, and to spark innovative practice. The program focuses on increasing the number of advanced practice nurses who can excel as health care leaders, nursing school faculty and as primary care providers. It also prepares doctoral candidates to address the needs of future patients, including co-morbidities, chronic illnesses, and culturally competent care. Eligible Ph.D. and DNP students are nominated to become Jonas Nurse Leaders Scholars; students do not need to apply.
Contact us
BSN program: UMSN-UndergradAdmissions@med.umich.edu
Graduate programs: UMSN-GradAdmissions@med.umich.edu
Phone calls for all academic related inquires, including prospective student questions or calls from parents of current and prospective students: (734) 763-5985 (Hours: 8:00am - 5:00pm EST).