Brigadier General Carol Ann Fausone (ret.) named keynote speaker for U-M School of Nursing 2023 Spring Commencement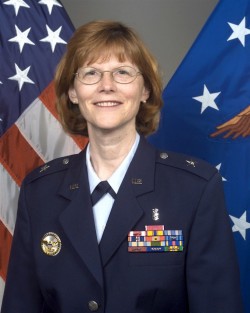 The University of Michigan School of Nursing is pleased to welcome Brigadier General Carol Ann Fausone (ret.) as the keynote speaker for its 2023 Spring Commencement ceremony, which will take place on Saturday, April 29th at Hill Auditorium.
General Fausone, a U-M School of Nursing alumna, is Michigan's first ever woman brigadier general and is nationally recognized as a key supporter of women in military. She is a decorated veteran with 36 years of combined active duty in the United States Air Force and Michigan Air National Guard, serving in nursing, administrative, and managerial roles.
General Fausone earned her baccalaureate in Nursing from the University of Michigan School of Nursing in 1975. She also holds a Master of Science in Administration and a Master of Science in Nursing, both from Madonna University. She has worked directly with the Deputy Assistant Secretary of Defense for Health Affairs, Force Health Protection and Readiness. General Fausone was also the Assistant Adjutant General of Veterans Affairs for the Department of Military and Veterans Affairs, State of Michigan. She established The Veteran Advocate, LLC, which is a Service-Disabled Veteran-Owned Small Business (SDVOB) that assists veterans with health care, housing, and education challenges. She also serves at Legal Help for Veterans, PLLC, to help veterans obtain health and disability benefits.
In addition to her military career, General Fausone is a strong advocate for veterans, nurses, and for the U-M School of Nursing, specifically. She served as the School's campaign committee chair during the Victors for Michigan – Champions for All School of Nursing capital campaign, which ran from 2013 to 2018, and exceeded its original philanthropic goal. The Fausone Patient suites within the U-M School of Nursing Clinical Learning Center were named in honor of General Fausone and her husband, Jim. General Fausone's leadership, wise counsel, and philanthropic efforts have been invaluable to the success of U-M Nursing. She and her husband currently reside in Ann Arbor, Michigan.