Assistant Professor Jade Burns earns NIH K08 Mentored Clinical Scientist Career Development Award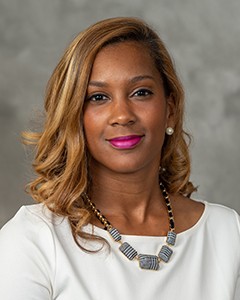 U-M School of Nursing Assistant Professor Jade Burns, Ph.D., RN, an expert in using community-based participatory research and technology (e.g., social media, mobile apps) to improve sexual health services for adolescents and young adults., was officially notified that her National Institutes of Health (NIH) K08 would be funded. The four-year, $794,162 award is supported by the National Institute on Minority Health and Health Disparities and will fund Burns' NIH K08 Mentored Clinical Scientist Research Career Development Award: The Use of New Media to improve Access to Sexual Reproductive Health Services among Young Black Males in a Community-Based Setting.
"The purpose of this award is to promote my development as an independent investigator and support my program of research involving new media [e.g., social media, digital technologies] to reduce sexually transmitted infections and improve access to sexual health services for young Black males (YBM) in urban settings, thereby improving a broad range of health outcomes," commented Burns.
With a wealth of knowledge and experience working in urban areas like Detroit, Burns is looking forward to the impact her research may be able to have on underserved communities.
"The results of this research will allow me to apply cutting-edge techniques to address sexual and reproductive health challenges among YBM and build effective intervention strategies, programs, and services that can positively impact the health outcomes of these underserved communities," said Burns.  
Burns' primary mentors for the N08 award are U-M School of Nursing Associate Professor Lynae Darbes, Ph.D., and U-M Diversity and Social Transformation Professor Daphne Watkins, Ph.D.
"I am truly appreciative of such supportive and patient mentors who took the time to help guide me through this process," said Burns. They didn't have to do it, but they did, and as an early career scholar, I will be forever grateful."  
In addition to her research, Burns is a pediatric nurse practitioner who has practiced for more than 15 years in urban settings. Her area of clinical expertise is adolescent health care, family planning, health promotion, and HIV/STI prevention, while her secondary area of interest is improving nursing practice and training programs in underserved areas.