World-class faculty expertise
At the U-M School of Nursing, you'll benefit from the breadth of our faculty's knowledge and expertise. Leading clinicians, renowned researchers and internationally recognized data scientists will help you build skills to inform evidence-based nursing practice, looking beyond the basics to care for the whole patient.
Faculty scholars use their skills as data scientists, public health experts and internationally recognized researchers to lead you through courses that are essential to your development as a well-rounded nurse, while clinical faculty members apply their years of experience in different specialties to lead you through hands-on, immersive instruction in the classroom and clinical settings
Faculty Q&A: Assistant Professor Akshay Sharma. MBBS, MPH, Ph.D.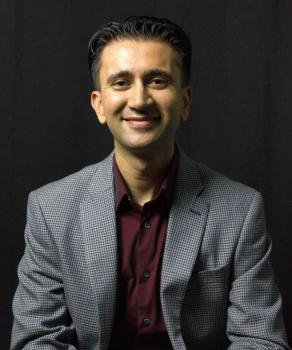 Dr. Sharma received the School of Nursing's 2020 Mae Edna Doyle Teacher of the Year Award. He leads BSN students through courses in pathophysiology, microbiology and infectious diseases. Trained as a physician and an infectious disease epidemiologist, Dr. Sharma's research focuses on HIV and STD prevention, sexual and gender minority health and more.
What guides your approach and teaching style when leading BSN students through complex subjects?
Dr. Akshay Sharma: I think undergraduate students appreciate structure, direction and guidance in their education. I usually start with an outline of the topics I plan to cover and break down each 3-hour session into modules. During each module, I employ an interactive approach that emphasizes active participation using mobile and online technologies. I also try to make the material relatable by showing YouTube videos of the impact of diseases on individuals and communities. I strongly believe that engaging students in a supportive environment facilitates better learning and enhances retention.
How do you bring your expertise as a physician, epidemiologist and researcher into the classroom?
AS: The combination of my medical and epidemiological training allows me to bring a unique perspective to the courses I teach. The emergence of novel infectious diseases and the resurgence of known ones, often complicated by changing drug-resistance patterns, pose a threat to the well-being of people across the globe. The rise of chronic diseases in the past two decades also presents an enormous challenge. Besides focusing on the underlying pathophysiological mechanisms and progression of various diseases, I make it a point to highlight potential risk factors and discuss public health tools used to identify and evaluate these risk factors. Because nurses play a significant role in preventive health care, I ensure my courses include basic content on prevention strategies. I also present the latest available data on infectious and chronic disease trends from national and international organizations in each lecture.
Why is it important for undergraduate students to be exposed to data science, research principles and other related perspectives?
AS: Nurses are expected to demonstrate critical thinking and application of relevant research evidence in their primary role as a caregiver and advocate for their patients. It is critical that our students gain an understanding of why nursing research is important, how research is conducted and how research informs clinical practice. Learning how to retrieve, interpret and critique peer-reviewed studies is an invaluable skill that can help nurses stay informed and up to date on new treatment protocols and innovative approaches to improve patient outcomes throughout their careers. Exposure to research at the undergraduate level can allow students to discover a passion they might not know existed and consider pursuing a graduate education.
How does your experience as a leader in HIV and STD prevention studies and sexual and gender minority health research inform your teaching?
AS: I regularly attempt to incorporate different aspects of my research in the classroom, as that helps promote an inquisitive approach to learning. In my course on microbiology and infectious diseases, I introduce undergraduate students to research study designs in one lecture, focus on viral infections of humans in another lecture, and integrate these concepts by showing a presentation from the Centers for Disease Control and Prevention on the early days of the HIV epidemic. I also provide specific examples of successes and challenges that I have encountered while conducting research with vulnerable populations, and encourage students to explore the latest developments in the field of sexual health promotion.
---

Faculty spotlight: Clinical Instructor Kim Bradshaw, DNP, RN
"I teach by putting students right in middle of it," she explains. "Dealing with things like the loss of a newborn are completely different than what you've experienced up to this point, so you need to see what you want to do, and you need to know whether you can handle it or not."
Informed by her decades of clinical experience, Bradshaw works to bring realities of OB nursing to the forefront in a pivotal clinical rotation that many students look forward to, as it's often their first time caring for mothers and babies.
"In this rotation, students get an idea of what it takes to care for a laboring mom and being responsible for two lives — one you just can't see," Bradshaw said. "Is it all roses? No, it's not. But this has to be real, and you need to know what it's like to be an OB nurse."
The OB rotation also provides a valuable opportunity for students to hone skills as a communicator and educator, as they engage with a diverse array of patients and families in an environment that can change rapidly.
"We do a lot of education with our patients, so I always tell students, 'Don't tell a patient what to do if you're not going to tell them why they need to do it," Bradshaw emphasizes. "You need explain why something has to be done, what we are looking for and the expected outcome."
Whether or not they ever set foot in a birthing center again, this all-encompassing clinical learning experience, guided by an expert clinician in one of the nation's top hospitals, can help students realize why they chose to become a nurse.
"After you become a nurse, you realize it's not what I do, it's who I am," Bradshaw tells her students. "You do whatever needs to be done, because that's just who you are. And soon you'll get to that point."