The Art of Queer Health Sciences featured in new exhibition led by U-M School of Nursing staff member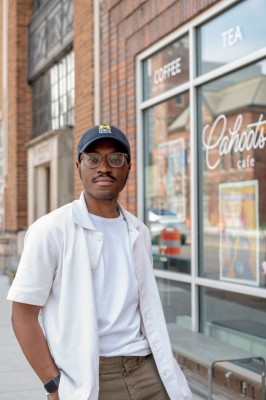 "If our work as researchers took up space in the same way art does, that could help the people we work with feel seen. We expect communities to be vulnerable with us when participating in research, so why not also create a pipeline for creatives who exist in those communities to process that vulnerability and share it in a way that's respectful, disarming and accessible?"
This question inspired Tanaka Chavanduka, a project manager at the U-M School of Nursing's Center for Sexuality and Health Disparities, to organize a new community art exhibition to explore what happens when science prioritizes empathy. In addition to highlighting queer experiences, his goal was to help individuals rethink how art can transform communities, generate healing and share knowledge.
The exhibition, "The Art of Queer Health Sciences," will be on view on the windows of several downtown Ann Arbor businesses until May 5. Locations include Cahoots, Abracadabra, Vault of Midnight, Vinology, Thrive Juicery, Avalon Cafe, Bløm Meadworks and Zingerman's Greyline.
The project was funded by the U-M Arts Initiative as part of its "exploration pilot grants" awarded in September 2020.
The artwork aims to communicate research findings from the Center for Sexuality and Health Disparities, whose mission is to improve sexual and reproductive health, and reduce health disparities in marginalized communities, with a specific focus on sexual and gender minorities. Chavanduka worked with Renee Pitter, CSHD research programs manager and exhibition coordinator, to select four student artists from the Penny W. Stamps School of Art & Design — all of whom self-identify as queer — to participate.
Read more about the project from The University Record.
To learn more about the artists and researchers involved in the project, view a gallery of the exhibition and find out more about the process behind the project, visit queeringart.com.