Alumni News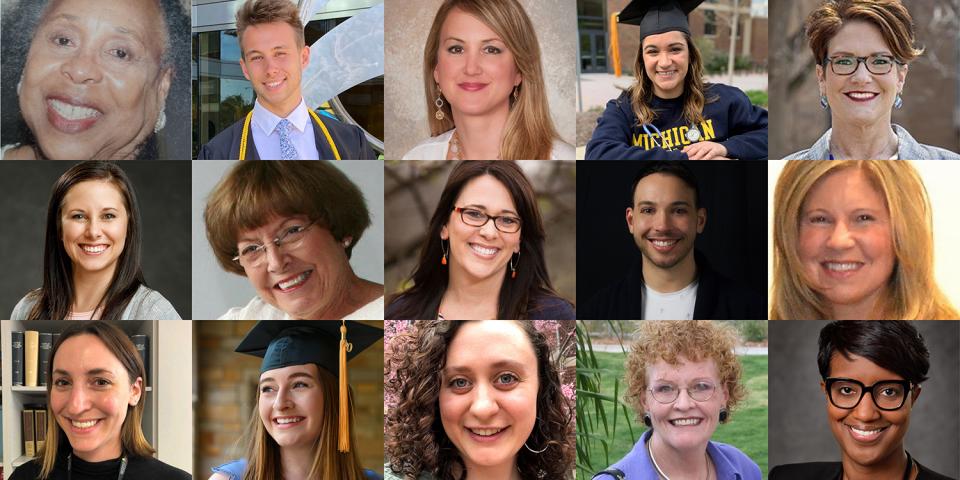 Thank you to the alumni who shared their latest news and accomplishments with us. And thank you to all of the U-M School of Nursing alumni who have displayed tremendous courage and selflessness caring for patients during the COVID-19 pandemic. 
The future of nursing depends on world-class education and research. In this uncertain time, you can provide critical support to the U-M School of Nursing in a number of ways:

Betty Carrington (BSN '58)
Featured  on the cover of Marquis Who's Who 2020 Millennium Magazine fourth edition.

Denise Cooper (MS '05, DNP '13)
Promoted to associate professor with tenure at UM-Flint.
Created the Cooper Urinary Tract Infection Program housed in the U-M Office of Technology Transfer to improve accurate diagnosis and treatment of urinary tract infections in nursing home residents.

Sharyn Van Gorder Chesser (BSN '68)
Appointed to adjunct instructor at the University of Arizona College of Nursing.

Sally Danto (BSN '07)
Awarded $2,500 grant from Clinical Services Research Council at Children's Hospital Los Angeles to fund an evidence-based practice project, "Supporting Mothers through Providing Breast Milk to Babies with Clefts."

Sarah Janek (BSN '20)
Starting as an RN in Northwestern Memorial Hospital's orthopedic unit.

Christian Mayer (BSN '20)
Accepted an RN position on the cardiovascular surgical open heart unit at Cleveland Clinic.

Jill McFarland (MS '09)
Received post-master's certificate in online teaching from Walden University.

Nick Metheny (Ph.D. '19)
Completing postdoctoral fellowship at the University of Toronto. 
Accepted a tenure-track position at the University of Miami School of Nursing and Health Studies in Coral Gables, Forida. 

Gabriela Miles (BSN '20)
Recently accepted a position in the neonatal intensive care unit at DMC Sinai Grace Hospital in Detroit, Michigan.

Sarah Peper (BSN '20)
Started as an RN in the medical ICU at St. Joseph Mercy Ann Arbor Hospital.

Kathie Pereira (BSN '07)
Named director of clinical oversight at Concordia University Ann Arbor School of Nursing.

Nutrena Tate (BSN '96, MS '00)
Honored as one of the Crain's Detroit Business 2020 Notable Women in Health Care
Named co-chair of the National Association of Pediatric Nurse Practitioners Partners of Vulnerable Youth Development Committee.

Marty Tousley (BSN '65)
Her Grief Healing blog and online Grief Healing Discussion Groups were recently recognized for helping the bereaved stay connected, especially while living with grief amid the COVID-19 pandemic.

Pamela Weber (MS '08)
Received Ph.D. in Nursing Science from Uniformed Services University of the Health Sciences in Bethesda, Maryland.

Kayla Wilkerson (BSN '13)
Graduated from the Saint Mary's College  Doctor of Nursing Practice program with a family nurse practitioner focus.
Received the inaugural Saint Mary's College Madeleva Award for scholastic distinction and exceptional achievement her DNP Practice Innovation Project initiating an evidence-based electronic documentation system in rural Uganda.
Not pictured
Jean S. Anderson (BSN '53)
Published the book Nurturing From Afar.
---
Chandice Covington (Ph.D. '90)
Retiring as dean of the Martin-Herold College of Nursing & Health at Mount Mercy University.
Developed Covington Nursing Education Consulting, LLC, providing consulting services that include establishing new nursing programs and supporting existing programs in curriculum redesign, accreditation, regulatory affairs and grant writing.
---
Jenna Dran (BSN '01, MS '05)
Dran's solo-authored paper, "A Unique Institutional Response to the Zika Virus Epidemic," published in Obstetrics & Gynecology, was referenced in the  World Health Organization's 2020 State of World Nursing Report.
---
Kelley Hammis (BSN '92)
Received the American College of Nurse Midwives' Clinical Star Award, which honors a midwife in clinical practice for 25 years or more and a member of ACNM who shows excellence in clinical practice and positive mentoring in the profession.
---
Sherri Fannon (DNP '18)
Presented "Silos: The enemy of interprofessional communication and transformation"  as part of an online webinar for the National Nursing Practice Network lunch-and-learns.
Received a teaching innovation grant from Grand Valley State University for the interdisciplinary project, "Acting for Health: A program to improve communication in healthcare."
---
Kenyatta Herndon (BSN '13, MS '17)
Hired as a full-time certified nurse-midwife at St. Joseph Mercy Ann Arbor Hospital.
---
Stefanie Kelley (BSN '91)
Transitioned to assist with policy and training for Shawnee Mission School District and Johnson County Department of Health and Environment in Kansas in response to the community-wide COVID-19 outbreak and global pandemic.
---
Angela Lukomski (BSN '94)
Promoted to full professor at the Eastern Michigan University School of Nursing. 
---
Jason Patton (BSN '94)
Received MSN in Executive Nurse Leadership from Saint Xavier University.
---
Lisa Riedel (BSN '95)
Started a new position as director of the nurse anesthesia program at The University of Tulsa. The new program is the first of its kind in Oklahoma.
---
Nah-Mee Shin (Ph.D. '05)
Published "South Korea and the coronavirus: from the biggest outbreak outside of China to containment" in Reflections on Nursing Leadership.
---
Andrea VanDenBergh (BSN '89, MS '93)
Named hospital director of Michigan's Center for Forensic Psychiatry in Saline, Michigan.
---
Leontine Wallace (BSN '15)
Opened Mother Strong Maternal Infant Health Program, LLC in January, serving Genesee, Shiawassee, Oakland and Livingston counties in Michigan. 
---
Winna Wu (BSN '17)
As clinical innovation project manager at Boston Children's Hospital, Wu has assisted their coronavirus response by optimizing the patient communications channel via the patient portal and helped develop the COVID symptom checker chatbot, available on the hospital's website. 
---
U-M School of Nursing alumni in the MI-COVID-19 registry, a collection of Collaborative Quality Initiatives funded by Blue Cross Blue Shield of Michigan:
Annemarie Forrest (BSN '00), BMC2
Amanda Stricklen (BSN '02, MS '12), Michigan Bariatric Surgery Collaborative
Elizabeth McLaughlin (BSN '06, MS '10), Michigan Hospital Medicine Safety Consortium
Rachel Ross (BSN '07, MS '13), Michigan Bariatric Surgery Collaborative
Kate Buehler (BSN '07, MS '11), Anesthesiology Performance Improvement and Reporting Exchange
Tami Szuba (BSN '07), Michigan Hospital Medicine Safety Consortium
Nkiru Okammor (MS '09), Integrated Michigan Patient-Centered Alliance in Care Transitions
Carrie Smith (MS '11), Michigan Emergency Department Improvement Collaborative
Rachel Burris (BSN '12, MSN '16), Michigan Hospital Medicine Safety Consortium
Tawny Czilok (BSN '13), Michigan Hospital Medicine Safety Consortium
Karly Hendee (MS '13), Integrated Michigan Patient-Centered Alliance in Care Transitions
Jessica Southwell (BSN '13, MS '19), Michigan Hospital Medicine Safety Consortium
Brooke Szymanski (BSN '15, MS '19), Anesthesiology Performance Improvement and Reporting Exchange