Dean's Research Day 2017: The science of addictions: From risks to recovery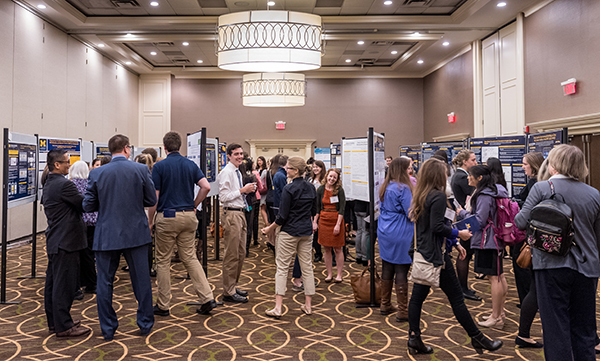 "I am knocked away by the poster session; I don't think I've ever seen one with that kind of vigor," said University of Michigan School of Nursing (UMSN) Dean Patricia Hurn, Ph.D., RN, as she greeted the crowd of approximately 200 guests, faculty, staff and students gathered for UMSN's annual Dean's Research Day. Eight months into her role as dean, this was the first Dean's Research Day for Hurn.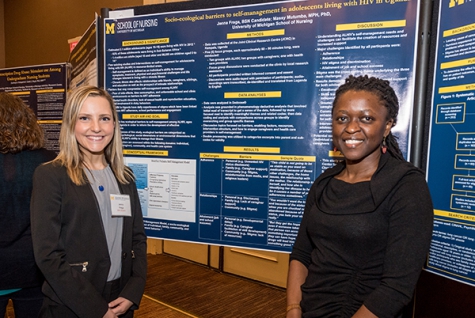 The event celebrates nursing research and provides a forum for faculty, students and collaborators to present their work. While the theme focused on addictions, opioids and substance use, poster presenters showcased research on a wide array of topics including health promotion, evidence-based practice, system and population-level interventionsand the use of technology in patient care.
PhD Reunion
This year included a special element as dozens of alumni attended the event as part of UMSN's Ph.D. reunion. "It was a joy to watch our heritage of previous Ph.D. classes come together with current Ph.D. students and their faculty, to dissect how best to move to the next level," said Hurn. "I always think that any academic program, Ph.D. or otherwise, must deal with the need for continuous improvement, no matter how great the starting point."
Joanne Pohl, Ph.D., ANP-BC, FAAN, FAANP, attended the event as both an alumna and professor emerita. "The reunion was great, but meeting the current young Ph.D. students was quite impressive," said Pohl. "At one of the poster sessions we also had the opportunity to meet some of the incredible undergrads who are so excited about nursing including research. We are in good hands for the future!"
Suzanne H. Brouse Lecture
Peggy Compton, Ph.D., RN, FAAN, an associate professor at the University of Pennsylvania School of Nursing, presented the annual Suzanne H. Brouse Lecture. Dr. Compton's lecture, "Addiction, Opioids, and Pain: Exemplar Nursing Science," highlighted the challenges and progress of treatment for patients with chronic pain and opioid use disorders.
Research Presentations and Panel Discussion
Three UMSN faculty members gave presentations on their work and participated in a panel discussion highlighting the synergy of UMSN's focus on addressing addiction and substance use behaviors.
Carol J. Boyd, PhD, RN, FAAN: Your Pills or My Pills? Youth and Prescription Drug Use
Sarah A. Stoddard, PhD, RN, CNP, FSAHM: Thinking about the Future as a Substance Use Prevention Strategy: The Role of Positive Future Orientation on Adolescent Substance Use Intentions and Behaviors
Chin Hwa (Gina) Dahlem, PhD, FNP-C, FAANP: Take A.C.T.I.O.N: Naloxone Training for Law Enforcement and Community Laypersons
Awards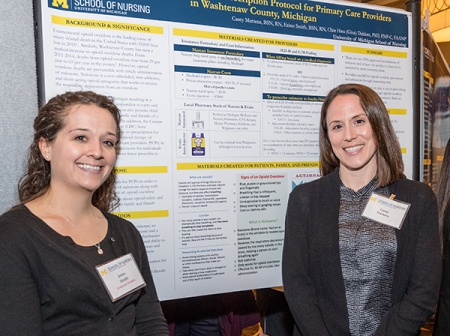 Master's students Casey Martens and Erinn Smith, the winners of the Medvec Nursing Innovation Award, presented their poster, "Naloxone Co-prescription for Adults at High-Risk for Opioid Overdose: Protocol Development and Implementation for Primary Care Providers in Washtenaw County, Michigan." Their proposal was selected in advance of Dean's Research Day by a faculty review committee.
The award is part of the Barbara R. and Michael E. Medvec Nursing Innovation Endowment Fund. It is for graduate students to promote the development and application of innovations in nursing practice. These projects are aimed at improving health care delivery, quality of care, patient outcomes, and population health.
Posters are under review for faculty and student awards.