Global opportunities send UMSN students across the globe, including to India to learn about health care from a fellow Wolverine
October, 2013
UMSN junior and Southern California native Magdalene Kuznia had never left the United States except for a few quick excursions to Mexico. Through the University of Michigan (U-M), however, in the past year she's gone to Peru and India on service and educational journeys.
With a Summer in South Asia (SiSA) Fellowship from the U-M Center for South Asian Studies, Magdalene recently spent five weeks as the academic guest of the Salokaya College of Nursing in New Delhi. Her main projects focused on HIV prevention and education and making medical resources more accessible to patients.
Salokaya is run by Jayaa Singh, a U-M Ross School of Business alumna, and her husband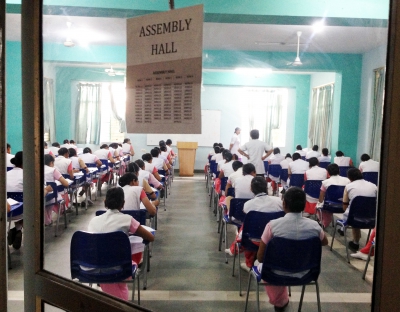 Pradeep. They opened their home to Magdalene and guided her experience. "Jayaa wanted to make sure I saw more than HIV/AIDS centers, so I was able to see cancer hospitals, public and private hospitals, and non-government organizations," says Magdalene. "Every hospital in New Delhi was very different, depending on where we were. It was really surprising to see the big differences in the loud, public hospitals compared to the private hospitals that are much more like what we are used to in the United States. It was really interesting to see how the large population affects the hospital systems."
Magdalene credits Jayaa as a strong force in increasing her own cultural competency. "She helped me see beyond my perspective," says Magdalene. "She's traveled all over the world and really brings a global perspective. My first reaction to the public hospitals was negative. They were so noisy and there was a lack of privacy with patient files out in the open.  But Jayaa helped me see more structure—and how important they are in helping to people who otherwise wouldn't receive health care."
"Magdalene is a bright nursing student who blended very well in new culture and with new people," says Singh. "She was eager to learn and didn't shy away to step out of her comfort zone even in the most challenging situations. I'll say she is representative of the true Michigan spirit. I hope her experiences in Salokaya and India enrich her both personally and professionally. "
In a recent presentation to the U-M Regents, Magdalene's trip was highlighted by Vice-Provost for Global and Engaged Education James Holloway, who praised the connection with a U-M global alumna and encouraged others to work along these lines. He said he considers global alumni a source of "largely untapped opportunities" for sponsored study because "they want to give back to Michigan and they want to help their current home country."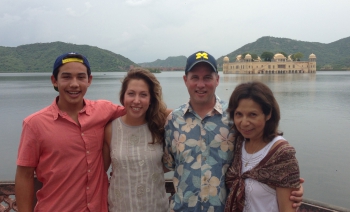 Magdalene also took a leadership role during her fellowship, teaching several introductory nursing demonstrations, including how to do head-to-toe physical assessments. She encourages all UMSN students to seek out global experiences.
"We have so many resources here," she says. "The UMSN Office of Global Outreach helped me with everything from preparing my application to planning the details of my trip. Find out who your resources are and don't be afraid to ask questions."
"Our partnership with Salokaya College of Nursing is an example of the kind of mutual and reciprocal relationships that are crucial to advancing the global health goals of both countries," said UMSN Associate Dean for Research and Global Affairs Antonia M. Villarruel, Ph.D., RN, FAAN. "Working with an institution founded by a U-M Ross alumna also creates synergy for building interprofessional collaborations, which are also vitally important for global health and development."
UMSN will be honored to host Jayaa during her October 2013 visit to Ann Arbor when, among other activities, she will appear as part of a Careers in Global Health panel sponsored by the International Center. Details on future collaborations are forthcoming.