Honors program information meeting
Date
Friday, April 13, 2018 -

11:00am

to

12:00pm
Location
Room 2000, School of Nursing Building, 426 N. Ingalls Building, Ann Arbor, MI 48109
Cost
Description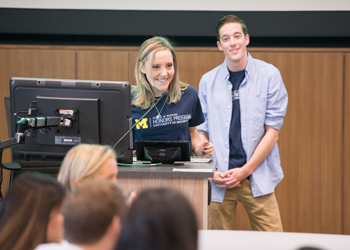 The Honors program would like to invite you to attend an informational meeting regarding the Honors program application process.
You will learn about the Honors program, what it entails, the expectations placed on you, and the experiences you will have. You will learn about the application process including dates and deadlines for when you need to apply. You will also hear from current Honors students about their experiences and how the Honors program has benefited them.
To be accepted into the Honors program, you need to have a 3.5 cumulative GPA by the end of the winter 2018 semester and be in good academic standing at the university.
If you are unable to attend the meeting, but would like information regarding the Honors program, please let your advisor know. They will be able to provide you the information, or put you in contact with the Honors program.
If you have any other questions, do not hesitate to reach out to Rachel Patterson at rjpatt@umich.edu.