Research
Services for investigators
The UMSN Grants and Research Office (GRO) supports our research enterprise by providing a variety of services to faculty and student investigators during the grant application process (pre-award) and in post-award management.
Ongoing research
The University of Michigan School of Nursing (UMSN) distinguishes itself through an emphasis on building robust science. Being at the forefront of high-impact scientific discoveries, our faculty engage in research across the globe and in broad areas such as
Acute and chronic symptom science, including diabetes, pain management, cancer fatigue, and childbearing recovery

Big data, including visualization, analytics, and informatics

Health system and care effectiveness research.
Transdisciplinary research, education and clinical practice are also integral to much of nursing science at UMSN. Read our 2017-2018 The State of Research at the University of Michigan School of Nursing annual newsletter.
Centers, institutes and initiatives
Center for Sexual and Health Disparities (CSHD)

The Center for Sexual and Health Disparities, directed by Dr. Rob Stephenson, conducts research on sexuality, gender, and sexual health with a specific focus on the individual, community, and structural factors that shape the risk of poor sexual health and HIV/STIs.
Statistical Online Computational Resource (SOCR)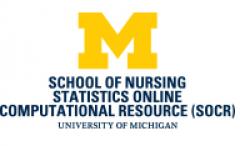 The Statistical Online Computational Resource, directed by Dr. Ivo Dinov, develops, validates and shares Big Data modeling techniques, statistical analysis methods, and computational tools that can be used for many health science applications.
Center for Complexity and Self-Management of Chronic Disease
The Center for Complexity and Self-Management of Chronic Disease, funded by the National Institute of Nursing Research and co-directed by Dr. Debra Barton and Dr. Ivo Dinov, provides an infrastructure to support interdisciplinary approaches to self-management of chronic disease. One of the components of the center is funding interdisciplinary pilot projects, which could lead to additional studies with a larger reach.
Health Analytic Collaboratory (HAC)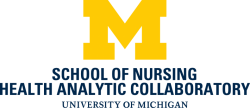 The Health Analytic Collaboratory is an open incubator for collaboration and digital scholarship that emphasizes team-based trandisciplinary data science and advanced health analytics. A core mission of HAC is to foster integration of innovative research, development, education and training, and outreach in data and health sciences.
Center for Study of Drugs, Alcohol, Smoking and Health (DASH Center)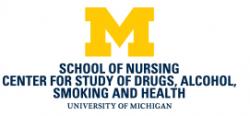 The DASH Center is inter-professional and interdisciplinary center focused on addressing clinical, educational, and research issues related to substance use. It is directed by Carol J. Boyd, Ph.D., RN, FAAN.
Center for Improving Patient and Population Health (CIPPH)

Launched in 2017 under the directorship of Christopher R. Friese Ph.D., RN, AOCN®, FAAN, the Center for Improving Patient and Population Health (CIPPH) works to address some of the most vexing problems faced by patients and vulnerable populations.
Fogarty International Training Program
The Fogarty International Training Program for Strengthening Non-Communicable Disease Research and Training Capacity in Thailand builds on a long-standing collaboration between UMSN and the Thai Ministry of Public Health. UMSN hosts trainees for postdoctoral research at our school.
CASCAID
CASCAID (Complex ACEs, Complex Aid) is a study group developing an active program of research to redress the adverse impacts of trauma by studying and creating complex interventions. The project is funded through UMSN's Dean's Centennial Seminar Series.
Funding
UMSN faculty are funded from major federal agencies and mechanisms including:
National Institutes of Health (NIH)

Centers for Disease Control (CDC) including the National Institute for Occupational Safety and Health (NIOSH)

Department of Defense

Department of Justice

USAID

Agency for Healthcare Research and Quality (AHRQ)

Patient-Centered Outcomes Research Institute (PCORI)
Additional research support comes through national and regional foundations providing a broad portfolio with significant resources to faculty and students engaged in research. In 2016, UMSN received $12.3 million in allocations for research and training.