Clinical Learning Center
"Our goal is to create the richest possible teaching environment, one that promotes interactive learning by mimicking the practice environment down to the smallest detail." -Michelle L. Aebersold, PhD, RN, Clinical Associate Professor of Nursing and Director-Simulation and Educational Innovation
Overview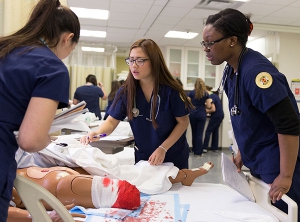 The new state-of-the-art clinical learning facility engages students more than ever before. Our focus continues on active learning that fosters greater understanding and more advanced clinical reasoning. Unparalleled learning resources are provided for our nursing students. From simulation rooms housed with high-fidelity mannequins for replicating realistic health care situations, to skills labs for honing basic and advanced skills, to staff rich with knowledge, experience and expertise, this environment enables students to apply their knowledge of nursing theory in an interactive and challenging yet safe and supportive environment.
Ultimately, students need to be active participants in the learning process, and this is the place to do so while gaining both experience and confidence in the lab and simulation settings. If you are a prospective student interested in learning more about the U-M School of Nursing, please follow up with us soon.
Nursing Skills Lab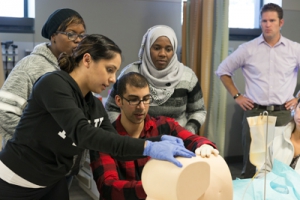 With bedside care areas populated with mid-fidelity mannequins, the Nursing Skills Lab allows students to practice and perfect their skills prior to
patient interaction. Lab learning tools include:
Fully equipped and functional head wall units

Two patient lift systems for the demonstration and practice of safe patient handling

Equipment such as: infusion pumps, PCA pumps, feeding pumps, and syringe pumps

Bedside computers on which simulated patients' electronic health records can be accessed and documented
Physical Assessment Lab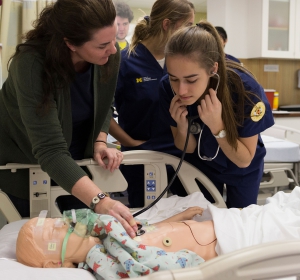 The Physical Assessment Lab is home to 16 examination areas which replicate traditional exam rooms.
Simulation Rooms
Six simulation rooms emulate a variety of environments in which students are able to develop their assessment, critical thinking, and clinical reasoning skills while caring for patients in birthing, pediatric, medical/surgical, ICU, and geriatric suites. All are populated with high-fidelity mannequins such as Victoria, the latest high-end birthing simulator from Gaumard, and Laeradal's Sim Man 3G. Additionally, students provide care for Laerdal's SimMom and Gaumard's Newborn Hal and Pediatric Hal. Our high-fidelity mannequins are complemented with Nursing Annie, Nursing Kelly, Nursing Kid, Nursing Baby, and various other simulators.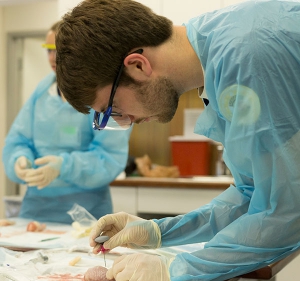 From the Control Room, instructors control the mannequins and observe via one-way glass as students participate in the simulation. Within a faculty-created scenario, students are able to practice skills, including tracheostomy care, wound care, urinary catheterization care, CPR, injections, chest tube insertion, and shocking of the heart to name a few. More importantly, they learn to assess, plan care, react to changes in their patients and the environment, problem solve, and think critically. Instructors can film and record students' simulations for later and more in-depth review.
Debriefing Rooms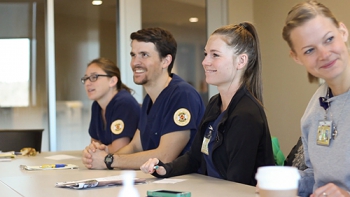 These three rooms provide space in which students come together to observe real-time video footage of their peers in simulation or to gather with their faculty instructor to dialogue and to give and receive constructive feedback regarding what was learned in the process of simulation.
Standardized Patient Rooms
Four standardized patient rooms are set up as primary care clinic rooms. Each includes a sink, exam table, diagnostic and physical examination equipment, an examination lamp, and a computer on which to document findings.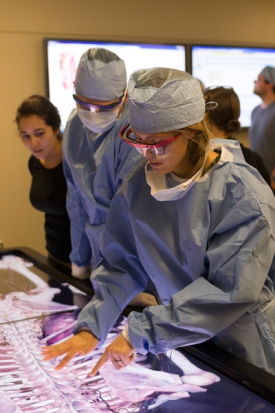 Skills Training Room
Our skills training room is primarily used by graduate-level students and houses our task trainers which allow students to practice skills such as lumbar puncture, central line placement, and intubation. This space can also be used to do casting and practice suturing.
Anatomy Lab
Our new lab, with its 3D Anatomage Table, offers students one of the most technologically advanced systems for visualizing the gross and regional anatomies of the human body.
Interaction Area
This space enables students to gather, collaborate on projects,and just take a break from their busy schedules, with vending machines and student printers available.
Additional Equipment
In an effort to provide the most realistic setting possible and enable students to practice most effectively, we have the following equipment on-site:
Pyxis Medstation

Birthing bed

Infant warmer

Defibrillator

Crash carts
In the News
NPR explains why the CLC's high-stakes, high-tech, and sometimes high-stress simulations are improving the way students learn.
UMSN's CLC received national press coverage from the Associated Press and USA Today (with video).

The new School of Nursing Building and the CLC were highlighted by the Ann Arbor News.
Videos
Watch Dr. Aebersold's TEDxUofM Talk:
Spanish Language Videos:
UMSN produced a series of eight videos using conversational and medical Spanish to prepare current and future nurses for common clinical situations they might encounter.
The videos are now available free of charge on
Open.Michigan
.
Services Provided by the Clinical Learning Center
Information for Faculty and Staff
This
CLC Information Memo
outlines some basic operating principles of the CLC. Anytime faculty and staff want to use space or supplies in the CLC, we ask that you partner with us in advance.
Lab Request Reservations
A lab request is needed a minimum of two weeks prior to a scheduled event and request fulfillment is subject to availability.
Lab Equipment Loans
Effective August 29th 2016, the CLC will no longer be loaning equipment. During the fall semester, Open Labs will take place in Assessment Room B from 1:00pm-5:00pm every Tuesday and Friday for any student who would like additional time to practice with blood pressure cuffs and/or otoscopes. For students that can't make these Open Labs and would like to schedule a different time, please
contact the CLC
. All requests will be subject to staff/space availability. Please be advised that any student that comes to the CLC for Open Labs outside of the regularly scheduled hours and without prior authorization will be sent away and directed to pre-schedule via the link (no drop-ins).
The School of Nursing requires incoming students taking N152 and N300 to have a stethoscope with a diaphragm and bell, single strand preferred.
Clinical Learning Center Personnel
---

Michelle Aebersold
, RN, PhD, CHSE, FAAN
Director-Simulation and Educational Innovation (Faculty appointment: Clinical Associate Professor), TeamSTEPPS Master Trainer
(734) 615-8498, Office: 4112 SNB
Areas of Interest: Simulation, serious games, virtual reality and augmented reality, and technology-assisted learning
Outside Interests: Running, hiking, photography, quilting, and reading
Professional Aspirations/Dream Work Environment: "My dream work environment is what I get to come to every day in the Clinical Learning Center."
---
Jeri Antilla
, MSN, RNC-OB
Instructional Learning Intermediate
Areas of Interest: Obstetrics, research surrounding pregnancy loss, legal issues in nursing practice, patient safety initiatives, leadership, and simulation education.
Outside Interests: Spending time with my family, traveling, and Michigan football.
Professional Aspirations/Dream Work Environment: "I am currently pursuing my PhD in Nursing, which has been a life-long goal. The focus of my research is to identify ways of preventing and/or treating the negative impact perinatal loss can have on prenatal attachment and parenting of subsequent children following a loss in African-American women. Being able to work at a research intensive university is truly a dream come true."
---
Amy Blinder
, BS in Biology
Lab Attendant
Areas of Interest: The use of simulation technology in educating and training future health care professionals
Outside Interests:
All things movies: film history, trivia, technique, and analysis. Reading - mostly non-fiction, playing guitar and chess, and all kinds of DIY projects
Professional Aspirations/Dream Work Environment: I plan to pursue a career in biological research. My dream work environment is one where I can learn something new every day.
---
Lab Attendant
Areas of Interest: Interdisciplinary approaches towards health and wellness
Outside interest: Outdoor activities with my dog: hiking, running, and camping; reading and journaling; arts and crafts
Professional Aspirations/Dream Work Environment: As I grow professionally, I aspire to constantly learn new skills and improve the wellbeing of those around me. My dream work environment is filled with optimistic mindsets and outside-the-box thinking that inspires positive change.
---
Instructional Learning Intermediate
Areas of Interest: Pediatrics, maternal and newborn health, mentoring, quality initiatives, leadership and simulation education
Outside interest: Family, travel, yoga, and reading
Professional Aspirations/Dream Work Environment: I am currently pursuing a Doctorate in Nursing Practice (DNP) in Nursing Leadership. The focus of my project is to engage nurses to be leaders through nurse-to-nurse mentoring. My professional goal is to cultivate the next generation of nurse leaders through engagement, curiosity, and inquiry. My dream work environment is one that offers challenges and provides opportunities to cultivate critical thinking and creativity.

Nina Favor,
MSN.Ed, BSN, RN
Instructional Learning Intermediate
Areas of Interest: Assessment skills, critical-thinking, diversity awareness, medical/surgical, nursing education, and simulation.
Outside interest: Spending time with my husband and sisters going to Metro Detroit restaurants, taking my children to cultural events; dance, football, baseball, and volunteering at community health fairs/events.
Professional Aspirations/Dream Work Environment: Remain current in evidence-based practices and theoretical frameworks in order to bridge gaps in clinical practices. My ideal work environment is to provide students a safe, fun, but challenging atmosphere that stimulates critical thinking and emotional intelligence in clinical and ethical dilemmas.
---

Assistant Director of the CLC
Areas of Interest: Leadership, Talent Development, Schedule Optimization, Customer Service
Outside Interests: Family time with my husband, children, and dog; attending and volunteering with my church; spending as much time relaxing in the backyard as possible; reading and journaling
Professional Aspirations/Dream Work Environment: My professional aspirations are to use my talents, skills, and experience to make a positive difference in the world (believing that big change can start with small actions). My dream work environment is positive, colorful, and bustling with activity.
---

Ben Oliver
,
EMT-P, I/C
Simulation Specialist/Coordinator
Areas of Interest: Education on all levels for emergency care (critical airway/trauma), simulation education, critical care, OB, and leadership
Outside Interests: Spending time with his family, outdoor activities: biking, hiking, camping, and water activities, community educational outreach (teaching With Survival Flight), and medical mission trips
Professional Aspirations/Dream Work Environment: Lead the development of the equivalent of our 911 system in Kenya, Africa. Continue my own education and increase community education and awareness of advancements in simulation education. My dream work environment "would be much like I am in right now. We have such a great team in which where one is not so strong the other is strong. We have transparency, openness, and a willingness to work. Our team is always looking towards the future and how we can increase the educational development of our students."
---

Areas of Interest: Cardiology, Critical Care, bedside nursing skills, patient education, and patient advocacy.
Outside Interests: Traveling with my family, golfing, surfing...basically any water sport.
Professional Aspirations/Dream Work Environment: I would like to achieve a CNE and SIM certification. Working here at the U of M Nursing School has been a great fit for me. I have really enjoyed the teaching aspect of nursing. I work with a very knowledgeable and team-oriented crew which makes being here a lot of fun. XX
---

Katie Wilson
, BSN, RN
Lab Attendant
Areas of Interest: Simulation education along with technology to assist in educating our future health care professionals.
Outside Interests: Traveling with my husband, family and friends. I am an avid walker and am interested in health related issues. My best role yet is being grandmother to my three wonderful grandsons.
Professional Aspirations/Dream Work Environment: I am retired from my nursing career and enjoy the flexibility that I have to further explore my interests and fun time. I enjoy the opportunity that I have been given to join the School of Nursing's Clinical Learning Center to give back by assisting our future health care professionals in any way that I can.
---