Clinical Education
Clinical Placements
Experience in a clinical setting is an integral part of all U-M School of Nursing academic programs. Through working side-by-side with some of the best nursing and medical professionals in the country, our students benefit from the knowledge and hands-on learning that is only possible through actually applying theoretical skills in practice.
To expose our students to the variety of practice settings and specialty fields available to them as professionals, we strive to provide diverse clinical experience locations. Find out more about clinical placements.
Overview of the Clinical Learning Center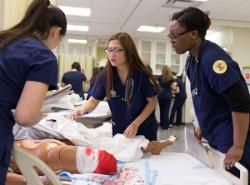 This state-of-the-art clinical learning facility engages students more than ever before.
Our focus on active learning fosters greater understanding and advanced clinical reasoning. Unparalleled learning resources are provided for our nursing students.
From simulation rooms housed with high-fidelity mannequins for replicating realistic health care situations, to skills labs for honing basic and advanced skills, to staff rich with knowledge, experience and expertise, this environment enables students to apply their knowledge of nursing theory in an interactive and challenging yet safe and supportive environment.
Students are active participants in the learning process, and they do so here while gaining both experience and confidence. Prospective students can learn more about the program of study here by talking to our admissions team.
Facilities
The Clinical Learning Center includes a variety of facilities designed to support learning.
Services
Information for Faculty and Staff
This
CLC Information Memo
outlines some basic operating principles of the CLC. Anytime faculty and staff want to use space or supplies in the CLC, we ask that you partner with us in advance.
Lab Request Reservations
A lab request is needed a minimum of two weeks prior to a scheduled event and request fulfillment is subject to availability.
Lab Equipment Loans
The CLC does not loan equipment. During the fall semester, Open Labs will take place in Assessment Room B from 1:00pm-5:00pm every Tuesday and Friday for any student who would like additional time to practice with blood pressure cuffs and/or otoscopes. For students that can't make these Open Labs and would like to schedule a different time, please
contact the CLC
. All requests will be subject to staff/space availability. Please be advised that any student that comes to the CLC for Open Labs outside of the regularly scheduled hours and without prior authorization will be directed to pre-schedule a time via the above link.
The School of Nursing requires incoming students taking N152 and N300 to have a stethoscope with a diaphragm and bell, single strand preferred.
Staff
The Clinical Learning Center is staffed by a professional team.
Videos
Watch Dr. Aebersold's TEDxUofM Talk:
Spanish Language Videos:
UMSN produced a series of eight videos using conversational and medical Spanish to prepare current and future nurses for common clinical situations they might encounter.
The videos are now available free of charge on
Open.Michigan
.