Visit us
Learn about our school and our programs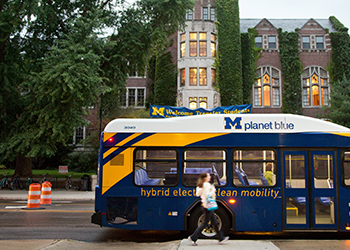 Attend an information session, webinar, or drop in to our office hours.
Learn more about your program of interest, the admissions process, and what to expect as a student.
Admission Drop-In Hours
Mondays and Thursdays, 2:00 p.m. - 4:00 p.m. Drop-in hours will be held at the School of Nursing Building, 426 N. Ingalls, Ann Arbor, MI 48109
Prospective students are welcome to visit the admissions team during regular drop-in hours. Admissions representatives will be available to answer program questions and offer advice on the application process.
There will be no drop-in hours if the University is closed.
Undergraduate student information sessions
Graduate information sessions and webinars
Graduate open houses
Graduate open houses are held during the fall semester for master's and post-baccalaureate DNP. Lead faculty members from each of our areas of specialization will be available to answer questions about the programs offered. Don't miss this opportunity to meet our world class faculty and learn about applying to graduate school at the University of Michigan. You will also have the opportunity to tour our state of the art facilities and meet current School of Nursing students.
Dates
Saturday, September 30, 2017, 10:30 a.m. - 12:30 p.m. EST
Saturday, October 21, 2017, 10:30 a.m. - 12:30 p.m. EST
Saturday, November 11, 2017, 10:30 a.m. - 12:30 p.m. EST
All graduate open houses will be held at the School of Nursing Building, located at 426 N. Ingalls, Ann Arbor MI 48109.
Register for a graduate open house
Campus tours
Take a tour of campus through the U-M Office of Undergraduate Admissions.
Additional resources
Maps & directions
The maps, directions, and parking information needed to get to the School of Nursing Building as well as internal maps of the building itself.
Discover Ann Arbor
Learn about Ann Arbor - a city of arts, entertainment, and culinary excellence.
Airport information: The closest airport to Ann Arbor is the Detroit Metropolitan Airport (DTW) which serves as a hub for Delta flights. Located in nearby Romulus, Michigan, alongside I-94, Detroit Metro is about 25 miles east of Ann Arbor. Taxi and limousine service is available from the airport to Ann Arbor. All major rental car companies also serve airport patrons from counters within the terminal. For more information, visit the Detroit Metropolitan Airport website.