Marjorie C. McCullagh, PhD, RN, APHN-BC, COHN-S, FAAOHN, FAAN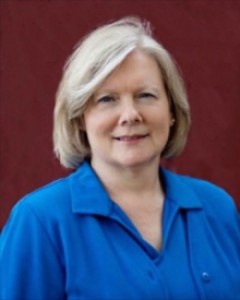 Professor
Director, Occupational Health Nursing Program
Department of Systems, Populations and Leadership
Room 3182 400NIB
University of Michigan School of Nursing
400 North Ingalls Building
Ann Arbor, MI 48109-5482
Telephone: (734) 763-3450
Fax: (734) 647-0351
Scholarly Expertise / Activity
Interests:
Occupational health
Behavioral intervention
Understanding adoption of self-protective behavior among workers
Prevalence and risk factors for use of personal protection equipment among workers
Workers are exposed to a variety of toxic materials and substances as part of their work. These exposures are prevalent in America, and result in heavy social and economic burdens on families and communities. There are few programs to control these exposures, and fewer yet have been tested. The aim of Dr. Marjorie McCullagh's program of research is to promote health among workers by eliminating work-related toxic exposures. This work is primarily focused on toxic noise exposure and its multiple negative health effects among farm operators and farm and rural youth.
She has worked to understand how farmers and workers get information about their health and safety and developed and validated instruments to measure hearing protector use and related attitutes. In doing so, she has developed successful strategies for high subject enrollment and retention, and established strong interdisciplinary partnership in efforts to address important health issues. These include work with such fields as sociology, health communications and behavior, audiology, agronomy, web design, social work, demography, and applied statistics.
Dr. McCullagh also serves a director of The University of Michigan Center for Occupational Health and Safety Engineering (
COHSE
), which is a NIOSH Education and Research Center (ERC)
Current Research Grants and Programs:
University of Michigan Education and Research Center, NIOSH T42, Director
Test of hearing health education programs for farm and rural youth, NIH/NIDCD R01, PI
Antineoplastic Drug Exposure of Health Care Workers in an Ambulatory Oncology Setting, University of Michigan Center for Occupational Health, Safety, and Engineering Pilot Research Program, Co-I
Teaching
Dr. McCullagh is experienced in teaching nursing at the undergraduate and graduate levels, in both didactic and clinical settings. Her methods accommodate learners from a wide range of learning styles, and include a high level of student-teacher interaction. Dr. McCullagh employs a variety of teaching-learning methods, including case study analyses, videos, gaming, and web-based technologies in both face-to-face and distance learning formats. Course teaching focuses on public health nursing (e.g., Health Program Planning, Implementation and Evaluation), core graduate nursing curriculum (e.g., nursing theory in advanced practice), and specialty-focused (e.g., issues in occupational health nursing).
Affiliations / Service
Member, Midwest Nursing Research Society, 1996-present (Health-Seeking Behavior Research Section, Co-Chair, 1999-2000; Chair, 2000-2001; Membership Committee member, 2001-2010; Membership committee chair, 2003-05, 2005-07, 2007-present; Pre-conference Planning Committee Member, 2002-2003; Scientific Session Moderator, 2000, 2002; Scientific Program Reviewer, 2010-present
Member, University of Michigan Health System Nursing Health and Safety Council, 2008-present
Member, North Dakota Department of Health Public Health Emergency Reserve/Medical Reserve Corps, 2004-present
Member, American Association of Occupational Health Nurses, 1997-present
Member, American Public Health Association, 1997-present
Staff, American National Red Cross, Disaster Health Services, 1978-present
Notable Awards / Honors
Fellow, American Academy of Nursing (2015)
Fellow, American Association of Occupational Health Nursing (2014)
Sigma Theta Tau International Honor Society of Nursing, Rho Chapter, Excellence in Nursing Research Award (2014)
Michigan Association of Occupational Health Nurses Medique Unique Leadership Award for initiative, motivation, productivity, creativity, and commitment (2011)
North Dakota State University Impact Award (awarded as member of NDSU FORWARD, recognizing those who have demonstrated a significant contribution to advancing diversity; 2008)
Education
PhD, University of Michigan, Ann Arbor, MI, 1999
MS, University of North Dakota, Grand Forks, ND, 1986
BS, State University of New York, Albany, NY, 1977
Publication Highlights
Lusk, S. L., McCullagh, M. C., Dickson, V. V., & Xu, J. (2016). Position statement: harmful effects of environmental noise exposures. Nursing Outlook, 64(4), 395-396. doi:http://dx.doi.org/10.1016/j.outlook.2016.06.001

McCullagh, M.C., Banerjee, T., Cohen,, M.A., & Yang, J.J. (2016). Effects of interventions on use of hearing protectors among farm operators: A randomized controlled trial. International Journal of Audiology, 55 (Suppl 1):S3-S12. doi: 10.3109/14992027.2015.1122239. PubMed PMID: 26766172; PubMed Central PMCID: PMC4740201.

Friese, C., McCullagh, M.C. (2016). Personal protective equipment use and hazardous drug spills among ambulatory oncology nurses: Results from a mailed survey. Journal of Occupational and Environmental Medicine. (Manuscript accepted for publication)

Lori, J.; McCullagh, M.C.; Krueger, A.; Oteng, R. (2016). Sharps injuries among emergency department nurses in one tertiary care hospital Ghana. International Emergency Nursing. Epub ahead of print. DOI: 10.1016/j.ienj.2015.11.007

Rosemberg, M.A.; Lawerance, V.; McCullagh, M.C. (2016). Significant associative factors for hypertension among new us immigrants: An exploration of the 2003 New Immigrant Survey (NIS) data. Journal of Community & Public Health Nursing. Manuscript accepted for publication.

McCullagh, M.C., Banerjee, T., & Yang, J.J. (2015). Protocol of a test of hearing health education programs for farm and rural youth. BMC Public Health, 15(1): 393. DOI: 10.1186/s12889-015-2393-y.

Duffy, S.A., McCullagh, M.C., & Lee, C. (2015) Future of advanced practice public health nursing education. Journal of Nursing Education. Manuscript in press.

Geun, H.G.; McCullagh, M.C.; Redman, R. (2015). Predictors of turnover among Asian foreign-educated nurses in their first year of US employment. Journal of Nursing Administration: 46(5), 271-277. doi: 10.1097/NNA.0000000000000342

Sanon, M.A., Mohammed, S., & McCullagh, M.C. (2015). Definition and management of hypertension among Haitian immigrants: A qualitative study. Journal of Health Care for the Poor and Underserved, 25, 3, 1067-1078.

Friese, C.R. McArdle, C. Zhau, T., Sun, D.,Spasojevic, I., Polovich, M., & McCullagh, M.C. (2015). Antineoplastic drug exposure in an ambulatory oncology setting. Cancer Nursing, 38 (2), 111–117. PMCID: NIHMS566595. DOI: 10.1097/NCC.0000000000000143

Friese, CR; Victor, K; Bo Wen, M; Sun, D.; Sutcliffe, K.; Yang, J.J.; Ronis, D.L., & McCullagh, M.C. (2015). A cluster randomized controlled trial to improve personal protective equipment use during hazardous drug handling: The DEFENS study protocol. Trials, 16:171, DOI: 10.1186/s13063-015-0674-5

McCullagh, M.C. & Berry, P. (2015). A safe and healthful work environment: Development and testing of an undergraduate occupational health nursing curriculum. Workplace Health and Safety, 63(8), 328-332. DOI: 10.1177/2165079915584127.

Rosemberg, M.A., McCullagh, M.C., & Norstrom, M. (2015). Farm and rural adolescents' perspectives on hearing conservation: Results of a focus group study. Noise and Health, 17(76), 134-140. DOI 10.4103/1463-1741.155836

McCullagh, M.C., Rosemberg, M.A. & Foley, J. (2015). Cultural health practices of migrant seasonal farmworkers. Journal of Cultural Diversity, 22(2), 64-67. DOI: 10.1353/hpu.2014.0147. PMID: 26245012.

McCullagh, M.C., Rosemberg, M.A. & Ronis, D.L. (2015). Social desirability bias in self-reporting of hearing protector use among farm operators. Annals of Occupational Hygiene, 59(9), 1200-1207. DOI:10.1093/annhyg/mev046.