Clayton J. Shuman, PhD, RN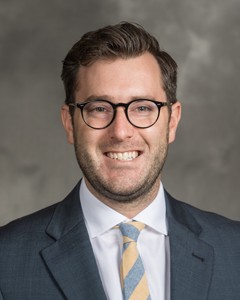 Assistant Professor
Department of Systems, Populations and Leadership
Room 4162 400 NIB
University of Michigan School of Nursing
400 North Ingalls Building
Ann Arbor, MI 48109-5482
Telephone: (734) 763-1302
Scholarly Expertise / Activity
Interests:
Implementation
Dissemination
Organizational culture and climate, evidence-based practice
Executive and unit level nursing leadership
Neonatal and pediatric nursing
Dr. Shuman's expertise is in implementation and translation science with a specific focus on the effect of context on implementation success/failure; outcomes (patient, unit, and organization level); and sustainability of intervention effects following implementation. His research advances the science of implementation by examining the process of transferring interventions into local practice settings and developing and testing implementation interventions that expedite and sustain evidence-based practices (EBP), thus, ultimately improving patient care delivery and outcomes. His current work investigates the role of nurse managers in creating and fostering climates conducive for implementation and use of evidence-based practices. Dr. Shuman's clinical background is in neonatal intensive care nursing and maternal health, with specific interests in high-risk pregnancy and delivery, improving care of high-risk neonates, and supporting families caring for newborns.
Current Research Grants and Programs:
Older adults and informal caregiver perceptions on prevention of falls during care transitions (co-I). U-M Injury Center. 6/1/2016-7/31/2017
Teaching
Dr. Shuman's teaching has taken numerous forms, including: classroom instruction, hands-on training and presentation with clinical units, webinars, student mentoring, and even wilderness first aid courses. To facilitate numerous learning preferences and add dimension to his teaching, Dr. Shuman uses various teaching methods, such as, interactive lecture, group discussion, guided reading, written work, and student presentations. Dr. Shuman hopes that when students finish his courses, not only have they mastered the content, but are also better learners, critical thinkers, and problem solvers.
Affiliations / Service
Member, Midwest Nursing Research Society, 2015-present
Member, Leaders Workgroup, National Nursing Practice Network, 2014-present
Member, Sigma Theta Tau, 2011-present
Member, Academy Health, 2015-present
Notable Awards / Honors
SAGE/WJNR Best Graduate Student Paper, 2017
Sigma Theta Tau Rising Star of Research, 2016
Education
PhD, University of Michigan, Ann Arbor, 2017
MSN, Rush University, Chicago, 2012
BA, Moody Bible Institute, Chicago, 2007
Publication Highlights
Shuman, C., Xie, J., Herr, K., & Titler, M. (In press). Sustainability of evidence-based acute pain management practices for hospitalized older adults. Western Journal of Nursing Research.

Shuman, C., Montie, M., Galinato, J., Patak, L., & Titler, M. (In press). Registered nurse and nursing assistant perceptions of limited English proficiency patient-provider communication. Journal of Nursing Administration.

Shuman, C.J., Ploutz-Snyder, R.J., & Titler, M.G. (2017). Development and testing of the Nurse Manager EBP Competency Scale. Western Journal of Nursing Research. 10.1177/0193945917728249

Titler, M. G., Visovatti, M. A., Shuman, C., Ellis, K. R., Banerjee, T., Dockham, B., ... & Northouse, L. (2017). Effectiveness of implementing a dyadic psychoeducational intervention for cancer patients and family caregivers. Supportive Care in Cancer, 1-12.

Montie, M., Shuman, C., Galinato, J., Patak, L., & Titler, M. (2017). Perspectives of 30 English patients on call light technology, Eloquence revisited. CIN: Computers, Informatics, Nursing. doi: 10.1097/CIN.0000000000000345.

Montie, M., Shuman, C., Patak, L., & Titler, M. (2017). Conduits to care - Call lights and patients' perceptions of communication. Journal of Multidisciplinary Healthcare, 2017(10), 359-366.

Galinato, J., Montie, M., Shuman, C., Patak, L., & Titler, M. (2016). Perspectives of nurses on patients with limited English proficiency and their call light use. Global Qualitative Nursing Research, 3(1), 1-9.

Shuman, C., Liu, J., Montie, M., Galinato, J. G., Todd, M. A., Hegstad, M., & Titler, M. (2016). Patient perceptions and experiences with falls during hospitalization and after discharge. Applied Nursing Research, 31(1), 79-85.