Akshay Sharma, MBBS, MPH, PhD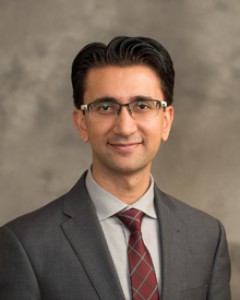 Assistant Professor
Department of Health Behavior and Biological Sciences
Room 3186 400NIB
University of Michigan School of Nursing
400 North Ingalls Building
Ann Arbor, MI 48109-5482
Telephone: (734) 647-0151
Fax: (734) 763-0681
Scholarly Expertise / Activity
Interests:
HIV and STD prevention
Epidemiological methods
Sexual minority health
Vulnerable populations
Infectious diseases
Dr. Sharma's research interests include examining new approaches for increasing the frequency of HIV testing among men who have sex with men in the United States, with a focus on rapid home HIV self-testing. He is also interested in evaluating behavioral and biomedical interventions for HIV prevention, and epidemiologic study design and methodological issues such as identifying analytical approaches to improve the detection of true underlying benefits of primary prevention strategies. Before moving to the United States, Dr. Sharma was involved in community HIV and STD risk reduction activities such as encouraging safe sex and promoting the use of barrier contraceptives in rural areas in the southern Indian state of Karnataka.
Teaching
Dr. Sharma strives for effectiveness and excellence in his pedagogical techniques. He employs an interactive approach in the classroom which emphasizes active participation using mobile and online technologies. Dr. Sharma has taught various graduate level epidemiology courses and labs at Emory University. He is currently co-teaching the undergraduate level anatomy and physiology course, and the pathophysiology course for nursing students. The combination of Dr. Sharma's medical and epidemiological training allow him to bring a unique perspective to these subjects. He has worked closely with students from varying academic, cultural, and demographic backgrounds, and believes that engaging them in a supportive environment facilitates better learning and enhances retention.
Notable Awards / Honors
Texas HIV/STD Student Research Award, Texas Public Health Association and Texas Department of State Health Services, Austin, TX, 2014
Network Modeling for Epidemics Fellow, University of Washington, Seattle, WA, 2014
Honorary Member, Emory University's Phi Chapter of the Delta Omega Honorary Society in Public Health, 2009
Education
PhD, Emory University, Atlanta, GA, 2015
MPH, Emory University, Atlanta, GA, 2010
MBBS, Bangalore Medical College and Research Institute, Bangalore, India, 2006
Publication Highlights
Sharma, A., Wang, L., Dunville, R., Valencia, R., Rosenberg, E. S., & Sullivan, P. S. (2017). HIV and sexually transmitted disease testing behavior among adolescent sexual minority males: Analysis of pooled Youth Risk Behavior Survey data, 2005-2013. LGBT Health, In press.
Jenness, S. M., Sharma, A., Goodreau, S. M., Rosenberg, E. S., Weiss, K. M., Hoover, K. W., Smith, D.K., & Sullivan, P. S. (2017). Individual HIV risk versus population impact of risk compensation after HIV preexposure prophylaxis initiation among men who have sex with men. PLOS ONE, 12(1), e0169484.
Johnson, B. A., McKenney, J., Ricca, A. V., Rosenberg, E. S., Liu, C., Sharma, A., & Sullivan, P. S. (2016). Risk factors associated with repeated HIV testing among internet-using men who have sex with men. AIDS Education and Prevention, 28(6), 511-523.
Shah, M., Perry, A., Risher, K., Kapoor, S., Grey, J., Sharma, A., Rosenberg, E.S., Del Rio, C., Sullivan, P. & Dowdy, D. W. 2016. Effect of the US National HIV/AIDS Strategy targets for improved HIV care engagement: a modelling study. The Lancet HIV, 3(3), e140-e146.
Sharma, A., Johnson, B. A., & Sullivan, P. S. 2015. Evaluating interventions to promote routine preventive screenings: A comparison of analytical outcomes. Contemporary Clinical Trials, 41, 152-159.
Spaulding, A. C., Sharma, A., Messina, L. C., Zlotorzynska, M., Miller, L., & Binswanger, I. A. 2015. A comparison of liver disease mortality with HIV and overdose mortality among Georgia prisoners and releasees: a 2-decade cohort study of prisoners incarcerated in 1991. American Journal of Public Health, 105(5), e51-e57.
Sharma, A., Stephenson, R. B., White, D., & Sullivan, P. S. 2014. Acceptability and intended usage preferences for six HIV testing options among internet-using men who have sex with men. Springerplus, 3(1), 1.
Rogers, C., Sharma, A., Rimland, D., Stafford, C., Jernigan, J., Satola, S., Crispell, E. & Gaynes, R. 2014. Duration of colonization with methicillin-resistant Staphylococcus aureus in an acute care facility: a study to assess epidemiologic features. American Journal of Infection Control, 42(3), 249-253.
Sharma, A., Rogers, C., Rimland, D., Stafford, C., Satola, S., Crispell, E., & Gaynes, R. 2013. Post-discharge mortality in patients hospitalized with MRSA infection and/or colonization. Epidemiology and Infection, 141(06), 1187-1198.
Sharma, A., Sullivan, P. S., & Khosropour, C. M. 2011. Willingness to take a free home HIV test and associated factors among internet-using men who have sex with men. Journal of the International Association of Physicians in AIDS Care (JIAPAC), 10(6), 357-364.