Diversity, equity and inclusion
Inclusive UMSN
The University of Michigan School of Nursing is committed to being a welcome, diverse community. We believe that everyone's education is enriched when varying viewpoints and backgrounds are engaged.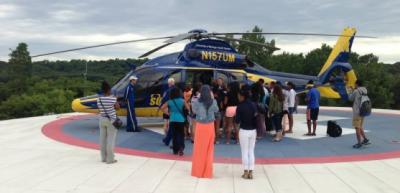 We are a community that is built from diversity. We believe that diversity, the presence of difference, must be joined with equity, the parity of difference, and inclusion, an open welcome to difference. Read Dean Hurn's full Diversity Statement.
We cannot be excellent if we do not welcome all experiences in our community. Read Chief Inclusion Officer Rushika Patel's full Diversity Statement.
We welcome your involvement. Contact Chief Inclusion Officer Rushika Patel. Find her on twitter: @UMSNInclusion.
Apply now to join us as a student. For questions on applying, contact Admissions and Records.
Apply now to join us as a faculty or staff member. For questions about working at UMSN, contact Human Resources.
Organizing Inclusivity
Mainstreaming diversity
We aim to incorporate a strategy for centering diverse voices in all we do, including in the structure of our organization. Our five-year strategic plan highlights recruitment, retention and development, education and scholarship, and promoting an equitable and inclusive community.
The UMSN DEI strategic plan is available, as is a summary.
Communal effort
We believe that it is everyone's responsibility to create and maintain an inclusive environment, and we spread leadership opportunities throughout the school. This grassroots approach helps to bring in all voices. The School's Implementation Committee for DEI works concurrently on multiple fronts.
Students are an important part of Diversity, Inclusivity, and Equity leadership. We have two graduate students research assistants, and the Inclusive UMSN Student Advisory Board works actively with the Chief Inclusion Officer.
Numbers matter
At UMSN we understand that passion and good intentions are important, but not enough. Impact is everything and this is why our efforts for inclusion are guided by data and assessment.
Get involved
UMSN Student Advisory Board
The Student Advisory Board meets monthly over lunch to talk about any and all aspects of the student experience at UMSN and in the larger campus community. The Board serves as a voice and source of support for UMSN students - especially students for whom topics related to diversity, identity, access and inclusion are particularly salient - personally, academically and/or professionally.
The Board advises UMSN's chief inclusion officer, Dr. Rushika Patel and works closely as well with UMSN's faculty and staff advisory board to steer the school's implementation of programs and resources designed to support and enrich student experiences.
The Student Advisory Board also discusses critical issues and events beyond UMSN, including the social, political and economic directions and policies of our times that impact the communities we come from, care about, and are committed to serving as nurses, advocates, activists, educators, and expert communicators.
To join
All are welcome. Email Coreen Abston and in a few sentences explain why you are interested in becoming a member of the Advisory Board, what you think you would bring to the group, and what you hope to gain from the experience.
UMSN Gateways 21st Century Fellowship Program
UMSN Gateways 21st Century Fellowship is an opportunity for undergraduate and graduate students to explore critical issues and their relationship with the intersection of ability, citizenship, class, cultural geography, gender, race and/or sexual identity.
Resources and more information
Health disparities
The School of Nursing is committed to research, education and service to a broad spectrum of communities, needs, and concerns. We recognize that disparities in health and healthcare have significant implications for the state and the country as a whole, and we work to educate future leaders to address those challenges.
Research, education and service addressing health disparities occurs in a number of ways.
Coursework at the School of Nursing incorporates the social dimension of health and allows students to explore the health consequences of factors such as income, geography, and race.
Clinical locations for students vary in location and in type, such as schools, community centers, and major health systems such as Michigan Medicine. In the past, students have worked with the Detroit Climate Action Collaborative, another way in which our students are exposed to a major health challenge, climate change, and a unique way of conceiving of health care: through climate education, action, and health preparedness and prevention.
Our clinical faculty practice in a number of locations, from urban to rural and everything in between. Our faculty also practice in a variety of settings, such as schools, community centers, small clinics, and homeless shelters, in addition to clinical locations at major healthcare systems such as Michigan Medicine. Learn more about faculty practice.
Vulnerable and underserved populations
Research at the school is varied, according to the interests and backgrounds of students and faculty. Research on sexual health and education addresses disparities as does research on quality care for childbearing women, sexual health and safety, trauma-informed care for vulnerable populations, chronic disease, and the emerging challenges of climate change for urban areas and the young, the old, and the poor. Research at the school is also international, from non-communicable disease in Thailand to reproductive health in sub-Saharan Africa.