Center for the Study of Drugs, Alcohol, Smoking and Health (DASH Center)
DASH Center
The Center for the Study of Drugs, Alcohol, Smoking and Health (DASH) is an inter-professional and interdisciplinary center directed by Dr. Sean E. McCabe. Based in the School of Nursing, it brings together faculty from health science professions to address clinical, educational, and research issues related to substance use.
The DASH Center is committed to advancing knowledge of substance use and its consequences through pioneering scholarship, evidence-based prevention, innovative clinical training and timely public policy and service. DASH Center scholars recognize that the use, misuse and abuse of drugs, alcohol, and tobacco or nicotine products cause broad-reaching social despair, impaired health, and substance use disorders.
Sexual, ethnic and gender minorities, adolescents, pregnant women, veterans and the elderly are at highest risk for the negative consequences of substance use, including HIV, injury, birth defects, suicide, cancer, and liver disease. These at-risk populations are the primary focus of the DASH Center scholars. 
Follow DASH on Twitter @UMichDASH.
Read more about Dr. Boyd's research. 
ABCs of Prescription Drug Safety
The DASH Center has created an educational brochure and poster to inform patients and families about the proper use, control, and disposal of prescription medications.
To purchase brochures and posters, click the red box below and you will be directed to our online storefront. If ordering with short code through QTO, please contact Francis Olegario at Allegra Print-Mail-Marketing at francis@allegra.net or 734-944-1404 ext. 115.
 

Leadership
 
Affiliated faculty
Affiliated faculty and researchers who join DASH as members have access to resources of the center. This includes access to large conference rooms, classrooms, library and technical support facilities within the University of Michigan School of Nursing. DASH also offers a wide range of research meetings, lectures, seminars, presentations, and workshops focused on substance use topics focused on vulnerable populations. Affiliated faculty also have access to collegial consultation with researchers connected to grant-funded projects housed at the University of Michigan. 
DASH is committed to the training of minority scholars and early and new substance abuse investigators.  
Brooke Arterberry, Iowa State University, Psychology
Elizabeth Austic, Senior Program Manager
Erin Bonar, Psychiatry, Michigan Medicine
Kao-Ping Chua, Pediatrics and Communicable Diseases, Michigan Medicine
Chin Hwa (Gina) Y. Dahlem, Nursing
Angela R. Fernandez, Social Work
Jason Ford, Sociology Department, University of Central Florida
Andria Eisman, College of Education, Wayne State University
Rebecca Evans-Polce, Nursing
Kristi Gamarel, Public Health
Margaret (Peggy) Gnegy, Pharmacology
Emily Jutkiewicz, Pharmacology
Luisa Kcomt, Nursing
Elizabeth King, Public Health
Yasamin Kusunoki, Nursing
Vita McCabe, Michigan Medicine, Surgery and Psychiatry
Massy Mutumba, Nursing
Quyen Ngo, Emergency Medicine, Michigan Medicine
Yusuf Ransome, Yale School of Public Health
Jennie Ryan, Jefferson College of Nursing
John Traynor, Pharmacology
Ty S. Schepis, Ph.D., Department of Psychology, Texas State University
John Schulenberg, Psychology and Institute for Social Research
Clayton Shuman, Nursing
Rob Stephenson, Nursing
Sarah Stoddard, Nursing
Stephen Strobbe, Nursing
Terri Voepel-Lewis, Nursing
Phil Veliz, Nursing
Golfo Tzilos Wernette, Psychiatry, Michigan Medicine
Timothy Wilens, Psychiatry, Massachusetts General Hospital and Harvard Medical School
Selected grants and current projects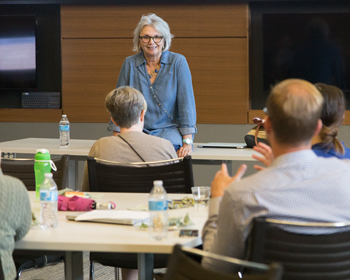 Over $25 million in federal research and training grants were received by DASH members for substance use research in the past 5 years from the U.S. Department of Justice, NCI, NIAAA, NICHD, and NIDA. A selection of key projects include:
Tobacco Use Trajectories and Disparities among Sexual Minorities in U.S. Adolescents and Adults (NIH/NIDA, R21DA051388)
Discrimination, Stress and Substance Use Disorder among Sexual Minority Adults (NIH/NIDA R01DA043696)
Longitudinal Changes in Recovery from Drug Use Disorders (NIH/NIDA R01DA036541)
Trajectories of Nonmedical Prescription Drug Misuse (NIH/NIDA R01DA031160)
Scenario-Tailored Opioid Messaging Program: An Interactive Intervention to Prevent Analgesic-Related Adverse Drug Events in Children and Adolescents (NIH/NIDA R01DA044245)
Prospective Examination of E-Cigarette Use, Tobacco Use Disorder and Health Consequences by U.S. Youth (NIH/NIDA R01DA044157)
Sexual Orientation Discrimination and Health Disparities in DSM-5 Alcohol Use Disorders (NIH/NIAAA R01AA025684)
E-Cigarette Use and Longitudinal Changes in Cigarette Smoking and Health (NIH/NCI R01CA203809)
Health, Stress, and Tobacco Use Disparities among Sexual Minority Populations (NIH/NCI R01CA212517)
Prescription Drug Misuse Characteristics in Adolescents and Young Adults: Influence of School Enrollment (NIH/NIDA Subaward R01DA043691)
Nonmedical Prescription Drug Misuse among Older Adults: Subtypes, Motives, and Sources (NIH/NIDA Subaward R01DA042146)
Community Overdose Assessment Team (U.S. Department of Justice 2018-AR-BX-K037)
Adolescent Sexual Violence: A Longitudinal Examination of Outcomes and Risk (NIH/NICHD R03HD087520)

Interprofessional Integration of Adolescent Screening, Brief Intervention, and Referral to Treatment (SBIRT) for Substance Use on an Inpatient Mental Health and Wellness Unit (Ethel and James Flinn Foundation, Grant #1125)
Read about other work on U-M's campus to address the opioid problem. 
Clinical initiatives
Integrating substance use screening with youth psychiatric care
Young people with mental health problems are at increased risk for substance use and related disorders, which can lead to further complications and poorer treatment outcomes. 
Stephen Strobbe, Ph.D., RN, PMHCNS-BC, CARN-AP, FIAAN, FAAN is supported by a Flinn Foundation grant (2018-2019) for work integrating adolescent screening, brief intervention, and referral to treatment for substance use (Adolescent SBIRT) into the model of care for youth receiving inpatient psychiatric care at U-M's C.S. Mott Children's Hospital. Strobbe works with UMSN colleagues and the Nyman Family Center for Mental Health and Wellness of Children and Adolescents (8CAP) on the project. 
This project provides interprofessional education and training across all clinical disciplines and integrates this process into the inpatient care delivery model.
Integrating reproductive health services into substance use treatment
Women with substance use disorders are at higher risk for negative sexual and reproductive health outcomes, including unintended pregnancies and sexually transmitted infections.
Yasamin Kusunoki, Ph.D., MPH and Carol Boyd, Ph.D., RN, FAAN build on an existing collaboration with Vanessa Dalton, MD, MPH (University of Michigan Medical School) and Lauren MacAfee, MD (University of Vermont Medical Center) to explore integrating reproductive health services into substance use treatment facilities. Building on findings from Dalton and MacAfee's mixed-methods project evaluating the broad need for reproductive health services at substance use treatment facilities, the current project encompasses a needs assessment at two substance use treatment centers, a sustainability assessment of models of integration of care, and partnership building with substance use treatment centers in preparation for integration of reproductive health services into these treatment facilities. 
This project is supported by pilot funding from the University of Michigan School of Nursing (2018-2019).
Resources for the public
National Institute on Drug Abuse for teens has useful information for parents, families, and kids.
Collaborative Research on Addiction at the National Institute of Health (CRAN) provides information on current interdisciplinary research on addition. 
Local Resources:
24/7 Crisis Hotlines for Addiction & Mental Health
*For Immediate Assistance, Call 911*
Washtenaw Community Mental Health Crisis Hotline - 734-544-3050
U-M Psychiatric Emergency Services - 734-936-5900 or 734-996-4747
National Suicide Prevention Lifeline - 1-800-273-TALK (8255) or 1-888-628-9454
LOCAL Online/Virtual Addiction & Recovery Resources
U-M Collegiate Recovery Program provides holistic, tailored support to Michigan students who are in recovery from alcohol or other drug problems. If you are a student in recovery or are curious about recovery, give us a call.
Huron Valley Intergroup provides a list of local AA online meetings
Washtenaw Alano Club provides a wide range of online and face-to-face recovery meetings
Washtenaw Families Against Narcotics provides online meetings and resources for families coping with loved ones who are involved with narcotics including those who have lost loved ones
Washtenaw County Alcoholics Anonymous Meetings lists online and face-to-face AA meetings in Washtenaw county
National Alliance on Mental Health (NAMI) Washtenaw County
Online Yoga for Recovery (Y4R) - Washtenaw Families Against Narcotics
National Resources:
SAMHSA's National Helpline – 1-800-662-HELP (4357) - SAMHSA's National Helpline is a free, confidential, 24/7, 365-day-a-year treatment referral and information service (in English and Spanish) for individuals and families facing mental and/or substance use disorders.
SAMHSA Disaster Distress Helpline - 1-800-662-HELP (5990) OR text TalkWithUs to 66746
Online/Virtual Addiction & Recovery Meetings-
AAOnlineMeeting - online AA meetings
Alcoholics Anonymous - virtual meetings
International AA Online Meetings (link to online meetings in Europe)
Families Against Narcotics - List of online recovery resources
In the Rooms - Online recovery AA, NA, and other meetings
Narcotics Anonymous - NA meetings online & by phone
National Alliance on Mental Illness (NAMI) - List of COVID-19 mental health resources
Guidance for People Who Use Substances
COVID-19 Guidance for People Who Use Substances (Yale)
Substance Use & Behavioral Health Treatment Services Locator
Addiction, Substance Use and Recovery during the COVID-19 Pandemic
Online support community for parents & caregivers
Recovery Dharma - List of virtual meetings
Smart Recovery - List of outline/remote meetings and 24-7 message boards
Educational Resources
COVID-19: Accessing Critical Medication Assisted Treatment for Your Loved One
Dealing with Isolation: Northwest Wayne Families Against Narcotics Family Forum Recorded Meeting
Drugfree.org: One-on-One Help to Address Young Person's Substance Use: text, email, or call
In a Time of Disruption, Protecting Your Child from the Risks of Substance Use
Welcoming An Adult Child Back Home Because of COVID-19
6 Alternative Zoom Happy Hour Ideas
Managing Substance Use Disorder During Quarantine Recorded Interview with Dr. Jonathon Morrow
Mental Health Resources
COVID-19 Well-Being Help Center - Michigan Medicine Wellness Office
Department of Psychiatry COVID-19 Mental Health Resource Page
Suicide Prevention Resource Center: COVID-19 Resources
Taking Care of Family Well-Being
Tips for Social Distancing, Quarantine, and Isolation
Recovery Support and Treatment Apps and Resources
Sober Grid allows you to create online profiles and interact, support, and engage with other people in recovery using a platform similar to Facebook. You can also use the app to create anonymous check-ins about whether you're sober or not, your mood, and what's going on.
SoberTool is an easy way to track your clean and sober days. The app includes daily motivational messages and reminders to keep you on target
WEconnect provides you with daily reminders to stay on track with your recovery plan. You can create reminders to call your sponsor, go to a group meeting, or meditate—anything you need to provide that extra push.
AA Big Book is an app that gives you access to the full text of the Big Book, along with a meeting finder, podcasts, prayers, and personal stories. You can use the app to bookmark meaningful passages, make notes on individual chapters in the comment section, and search for specific keywords.
12 Step Meditation Daily Reflections for AA, NA, Al-Anon is an app that features hundreds of easy-to-follow guided meditations, as well as soothing music, prayers, and 12-step recovery audio.
I Am Sober tracks your sober days and milestones, build new habits, and enjoy ongoing motivation from a community of people who get it.
Pink Cloud find meetings near you based on your location.
Workit Health provides telemedicine addiction treatment with clinicians, therapists, and coaches over live chat and video.
Further resources for researchers
University of Michigan Addiction Center is housed in the Michigan Medicine Department of Psychiatry.
University of Michigan Tobacco Research Network is an effort of the University of Michigan School of Public Health, led by Clifford E. Douglas, J.D.