Center for Complexity and Self-Management of Chronic Disease
The burden of chronic disease
"Life is messy and complex, and the science doesn't always match the complexity of life," says Dr. Debra L. Barton, co-director of UMSN's Center for Complexity and Self-management of Chronic Disease (CSCD). That's why Dr. Barton, co-director Dr. Ivo D. Dinov, and a team of UMSN and interdisciplinary researchers are dedicating their work to support people with multiple or complex health conditions.
Cancer, dementia, heart disease, obesity, arthritis, neurodegeneration and diabetes are just a few of the chronic conditions that millions of Americans struggle to manage. These conditions not only reduce quality of life, they can be direct causes of unforgiving complications such as disability, blindness and death. In addition, they can cause severe financial strain for patients and their families. The burdens grow exponentially for the 1 in 4 Americans who have multiple chronic conditions.*
Finding hope through self-management
For many patients, successful self-management of their condition(s) can improve quality of life. For example, patients can learn how improved adherence to a treatment plan could lead to fewer medications, less stress, and improved cognitive function. Giving patients the resources they need to take an active role in managing their own health can help them physically, emotionally and financially.
Nursing is precisely suited to push forward the science of self-management of complex and chronic conditions because of its long-established emphasis on prevention, living well with chronic disease, health education, and patient advocacy and involvement.
What the center does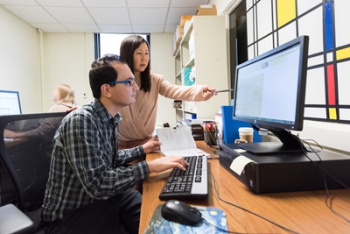 CSCD researchers are dedicated to tackling the questions surrounding care for these complex conditions. They're committed to understanding how one condition may impact another, why a woman with cancer and heart disease may need different treatment than a man with the same conditions, and why some people need more support to follow a treatment plan.
With funding from the National Institutes of Nursing Research, CSCD provides an infrastructure to support interdisciplinary approaches to self-management research at U-M and beyond. In addition, one of the most vital components of the center is funding interdisciplinary pilot projects, which could lead to additional studies with a larger reach.
Current projects:
Other resources include methodological consulting, data analytics, training opportunities, and a seminar series.
Supporting the work
If you would like to support the center, please contact the Office of Development and Alumni Relations, (734) 763-9710 or nursingalum@umich.edu. There are opportunities to support research development, students and trainees and pilot projects.
Contacts
General: CSCD-info@umich.edu
400 N. Ingalls, Room 3245, Ann Arbor, MI 48109