Celebration of Graduates
Victors 2020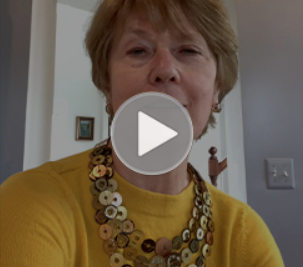 A message to our graduates from the Dean
While this year's celebration may look different, taking the time to honor our U-M School of Nursing graduates has never been more important. Even though we can't be together, every member of our community, from faculty and staff to alumni and friends, is proud to celebrate your accomplishments. Remember that this is the Year of the Nurse and the Midwife, a year when nurses are on the front lines around the world. You are already sought-after as Michigan nurses, and right now, your knowledge, skills and leadership are needed more than ever. It took countless hours of hard work and dedication to reach this moment. Be proud of what you have achieved, and be successful in all your future endeavors.  Congratulations to the U-M School of Nursing Class of 2020, and GO BLUE!
Patricia D. Hurn, Ph.D., RN
Dean and Professor
University of Michigan School of Nursing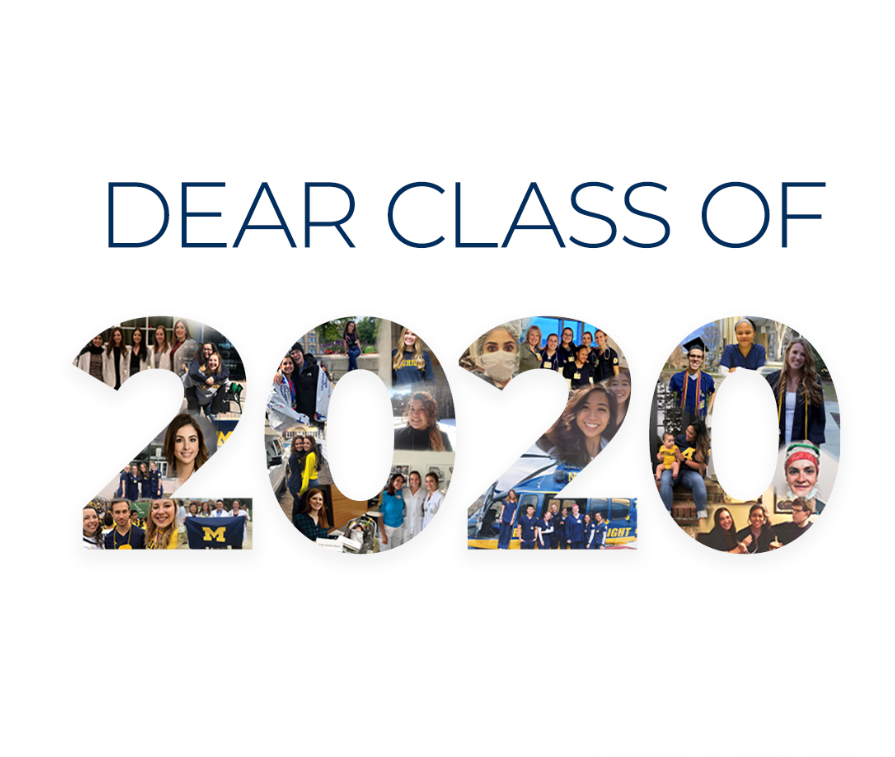 entering the field in a time of crisis
Alumna shares her story about beginning her career in Chicago at the start of the AIDS epidemic.
'Trust your training, you are here for a reason'
Alumna offers advice to new graduates and discusses what it means to be a nurse. 
Awards 
Josephine M. Sana Award 
Kristina Sangalang
This award was established in honor of Professor Sana, who retired after 25 years of contributions to the School of Nursing and the University of Michigan. Professor Sana was known for her humanitarianism and her emphasis with students on scholarly excellence in medical-surgical nursing. She served as a role model for graduat-level students and as a mentor for junior faculty, treating each person with respect and great dignity. Professor Sana worked closely with students to assist them in developing their abilities in critical thinking and synthesis of knowledge. She was instrumental in the establishment of gerontological courses in the school and in incorporating gerontological content into other courses at all levels in the curriculum.
Dumas Leadership Award For Excellence 
Katie Burlen-Davis
The Dumas Award is presented to a student who has displayed excellence in leadership in the school. It honors the pioneering leadership and vision of Dean Dumas in bringing together scholarship and diversity.
Systems, Populations And Leadership Award to an Outstanding Graduate Student
Kari Szczechowski
Established by the Department of Systems Leadership and Effectiveness Science faculty to annually recognize a master's graduate student who has demonstrated outstanding scholarship and leadership in nursing administration and who holds great potential for significant contributions to nursing in the future. 
Systems, Populations And Leadership Award to an Outstanding Undergraduate Student
Claire Vogel
Established by the Department of Systems Leadership and Effectiveness Science faculty to annually recognize an undergraduate program student who has demonstrated outstanding leadership and management potential in nursing.
Jane Wilson Coon Undergraduate Student Award
Lauren Almy
Established in 1997 in recognition of Dr. Coon's 30 years of contributions to undergraduate nursing education. In the 15 years that she taught at the University of Michigan, Dr. Coon made substantive contributions in the areas of nursing management and leadership, clinical integration, and bioethics. This award recognizes an undergraduate student who demonstrates leadership and academic excellence.
Jennifer S. Joscelyn Memorial Award
Sofia Ramirez
The Jennifer S. Joscelyn Memorial Award was established by family, friends and colleagues of this honors graduate of the class of 1995 who died from complications of surgery for infectious bone disease. In 1990, Jennifer fractured her left ankle. Reflex Sympathetic Dystrophy (RSD) resulting in chronic pain complicated the healing process. Her left foot was in a cast or brace from 1990 until her death. She completed nursing school and advanced training on crutches or in a wheelchair. She was an Angell Scholar and a member of the Rho Chapter of Sigma Theta Tau International Honor Society of Nursing. At her graduation she received the Hazel M. Avery Maternity Award for demonstrating her commitment to childbearing families. Following graduation she completed a yearlong residency program at Parkland Hospital in Dallas, Texas, and was certified as a neonatal nurse. Shen then served as a neonatal and pediatric nurse at Parkland and Baylor Medical Center in Dallas. At the time of her death in 1999, she was a charge nurse at Our Children's House, a unit of Baylor Medical Center that is an internationally recognized chronic care unit for infants and children with serious illnesses. This award recognizes the graduating senior who has demonstrated outstanding determination and dedication to providing excellent care to infants and their families, thereby reflecting the values and accomplishments of Jennifer's life.
Ellen H. Toporek Memorial Award
Eric Beedle
The Ellen H. Toporek Memorial Award, established in 1955 by Milton and Pauline Toporek in memory of their daughter, Ellen, is presented annually to the student nurse exhibiting a high degree of excellence and aptitude in nursing and, in particular, possessing those essential attributes of love, warmth and understanding, which are so important for successful pediatric nursing. Success in pediatric nursing depends upon the ability of the nurse to instill in her patients a sense of confidence, belonging and the will to recover.
Judy M. Judd Alumni Award          
Lauren Stephens  
The Judy M. Judd Alumni Award was established in 1989 to honor Professor Judd for 30 years of service to the University of Michigan School of Nursing. Committed to both the care of childbearing families and the education of students, Professor Judd challenged students to give critical examination to maternity health practices. She provided students with the skills, the opportunity and the support to make a positive impact on the lives of the childbearing families for whom they cared. The recipient of this award has demonstrated a commitment to childbearing families, in particular, affirming the rights of the families with whom he or she worked.
Sally Lechlitner Lusk Award for the Outstanding Occupational Health Nursing Graduate 
Karen Myers
In 2003, the Sally Lechlitner Lusk Award was established to biennially honor an outstanding graduate of the Occupational Health Nursing master's program. This award is in recognition of Dr. Lusk's contributions to the field of occupational health nursing as well as her initiation of the master's degree option in occupational health nursing and the occupational health nursing focus in the doctoral program at the University of Michigan.